Samsung Bootloader Unlock: Everything You Need to Know
by Jenefey Aaron Updated on 2023-07-25 / Update for Unlock Android
Do you know to experiment with software modifications on your Samsung mobile? Samsung bootloader unlock is what you need here. The practice can help you unlock the full potential of your Samsung mobile and allow you to modify the system.
Learn more about how you can unlock the Samsung bootloader here.
Part 1: What Is Samsung Bootloader?
Samsung bootloader is a tool used for loading system software on your Samsung devices. The bootloader tool also helps determine which device process will run in priority on your Samsung device. Typically, the bootloader is locked on the new Samsung devices. It helps the bootloader to get damaged by any modification or unauthorized access.
However, you can use bootloader unlock to unlock this tool. Samsung unlocks bootloader can help you to access various special functions of your system.
For instance:
Samsung bootloader unlock will let you install custom firmware on your Samsung mobile phone.

In addition, it will also give you complete access to modify your phone. Some of the most common modifications that you can access with Samsung bootloader unlock involves the following:

Changing pre-loaded software.
Replacing your entire Samsung mobile's operating system.
Some enthusiasts and developers unlock and root the Samsung bootloader. They do so to experiment with custom builds and applications in their Samsung devices.
Part 2: Does Samsung Allow Unlocking Bootloader?
Fortunately, yes, Samsung allows its consumers Samsung Bootloader Unlock. However, more often, it carries a disable option. If you want to check whether you can unlock the Samsung bootloader, enable your device's developer option. You can turn this option on to Settings on your Samsung mobile.
Enabling that is just the beginning of unlocking the bootloader Samsung. Enabling Samsung bootloader unlock and then restarting your Samsung device will factory reset your mobile phone.
Sometimes, you can't find the option to unlock the bootloader Samsung, don't worry. Sometimes, the option doesn't show for about 7 days after enabling developer mode. In addition, the carrier turns the greyed-out option off, and you need to look for other ways to unlock bootloader Samsung.
Part 3: How to Unlock Bootloader without OEM Unlock in Samsung?
If you want to unveil your Samsung mobile's amazing possibilities, you must consider using the Samsung bootloader unlock tool. Learning how to unlock the bootloader in Samsung without using OEM unlock can be helpful for you. It is because sometimes unlocking the bootloaders in Samsung is impossible without an additional Android bootloader unlock tool.
Kingo App is, fortunately, the easiest way to do this.
Important Information:Back up your device data before downloading and using Kingo App on your Samsung device to unlock the bootloader. It is because the process of unlocking the bootloader can sometimes become quite lengthy. Making even a small mistake during the process can result in losing all your precious device data. Therefore, backing up your data is always a good strategy.
The first step to using the Kingo app to unlock the Android bootloader is downloading the application. You can click here to start the downloading process of the Kingo App. Clicking this link will automate the download process on your device. Once the application download process has been completed successfully, start its installation.
Here are the next steps you should follow to complete the process of unlocking the bootloader in Samsung:
Use a USB cable to connect your Samsung mobile to the system. Keep the USB debugging option enabled on your Samsung mobile phone. If it is disabled, you can go to your mobile's Settings application and click "Developer Options." Toggle the switch titled "USB Debugging" to turn it on.

Now launch the Kingo App on your computer system, allowing it to download appropriate device drivers automatically.
Now open the drive where you have installed the Kingoroot App. Open the application's folder and then double-click on the "tools."

You can also type CMD in the screen's address bar.

The above step will let you open the command prompt in your system. In the command prompt, add ADB devices and then hit Enter. This practice will let you see your device's dedicated serial number.

Now add "ADB reboot bootloader" in the command prompt. It will let you boot Samsung mobile phone in fast-boot. Ensure that your device is connected to the computer when performing these steps.

Select the token number, copy it from the command prompt, and now visit the official site of your mobile manufacturer. Open the form available for bootloader unlocking. Enter all the details and create your new account. You can get the bootloader Samsung unlocking key here by entering the token number you copied from the system.

When you receive the key through email, run the following command: fastboot OEM unlock UNIQUE_KEY (Enter the key you received in place of UNIQUE_KEY)
Typing fast boot reboot is the final step before restarting your device to unlock the bootloader Samsung.
Part 4: How to Unlock Bootloader with OEM Unlock in Samsung?
Another possible method to unlock the bootloader is using OEM unlock in Samsung. You need to unlock OEM on your Samsung mobile for multiple reasons. These reasons typically include:
Installing custom recovery
Unlocking Samsung bootloader
Rooting Samsung device
Modifying system files and more.
Before enabling OEM to unlock, take the backup of your device data. Arguably, unlocking OEM is safe, but bootloader unlock may erase your device data when it's to Samsung.
Here are some other options that you should look for before unlocking OEM:
Go to Settings on your Samsung mobile.
Click on "About Phone" and then tap "Software information."
Tap on the build number repeatedly to turn developer mode on.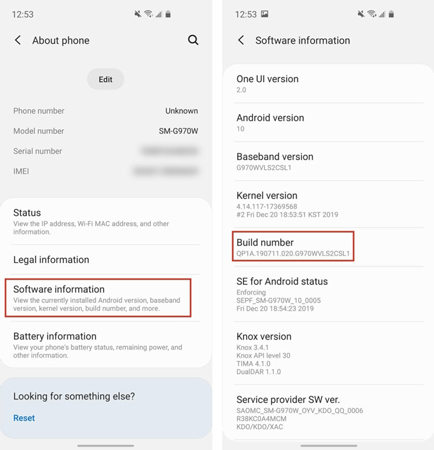 The next step here is to unlock fastboot OEM by following the steps given below:
Click on Settings and then go to System.
Scroll down to Developer Options.
Again, scroll down to find OEM unlocking and toggle the feature when found.
Click Enable.
These simple steps can help you unlock OEM in your Samsung mobile phone.
Now shut down your Samsung mobile. Now volume up and down keys and hold these simultaneously.
Connect your mobile to the system using a USB connector. It will put your mobile phone in recovery mode.
Press the volume key of your mobile and hold it until "bootloader unlock" appears on your screen. Perform the step quickly after entering the recovery or download menu.
Then hold the volume up button on the next page to Samsung bootloader unlock.
Now wait for the procedure to complete and let your device restart to enjoy its amazing functions.
Extra Tips: How to Unlock Forgot Samsung PIN/Pattern Lock?
Entering the pattern or pin of the device is important if you want to unlock the Samsung bootloader using OEM. Use the 4ukey for Android tool if you have forgotten your Samsung pattern or PIN lock. The tool can be extremely helpful for you.
It is a great tool which enables you to get rid of your screen lock or bypass FRP. The application is super easy to use and can let you remove the screen lock in just one click. It can remove anything without taking much time, whether using face recognition, fingerprints, PIN, or password lock.
The best thing about 4ukey for Android is that you can unlock your Samsung device without losing data. Above all, this tool is compatible with more than 6000 devices with various Android OS versions. Here are the simple steps that you need to follow.
Download 4ukey for Android and install it on your computer system.

Select Remove Screen Lock from the options appearing on the system's screen.

Use a USB wire and connect your Samsung mobile to your computer system. Once the mobile is connected to the system, click "Start."

Once you hit the Start button, the tool will start removing the screen lock.

Let the screen lock removal process complete. Now enter recovery mode by following the steps on the system's screen.

Once you complete all the steps above, the screen lock removal will be complete. Clicking Done means the process is completed, and you can start using your device.
FAQs about Samsung Bootloader Unlock
1. Will unlocking the bootloader in Samsung wipe data?
Yes, unlocking the bootloader in Samsung sometimes swipes data. Therefore, backing up your device data before starting the process is always smart.
2. Is it risky to unlock the bootloader in Samsung?
The process can bypass built-in device security, due to which it may turn out to be risky. However, in most cases, users or developers unlock the bootloader in Samsung to experiment with system applications.
3. How to lock the bootloader Samsung?
Here are the steps you need to follow to lock the Samsung bootloader:
Connect your Samsung mobile to your computer using USB.
Turn your device off and boot into fast boot mode.
Open the command prompt on your system and execute the lock command.
Confirm the action and reboot your device to lock the bootloader Samsung.
Conclusion
Samsung bootloader unlock is an efficient way to make modifications to your system. However, unlocking the bootloader on your Samsung device is not always a simple process. The above-mentioned different ways can, however, help you in the process.
However, if you want to unlock the Samsung bootloader using OEM but have forgotten your screen lock, use 4ukey for Android. It is a simple and efficient application to help you remove screen locks of any type with one click only.