How to Bypass Google Account on Samsung
how to bypass google account ( I do not remember gmail ID and password) to start rooting samsung galaxy A5?"
Factory Reset Protection (FRP) or in simpler terms, Google Account Verification is a new feature introduced by Google since Android Lollipop 5.1 update that adds a built-in security layer for your Android devices. When your Samsung phone get lost or stolen, a person can simply factory reset your phone to unlock it without password. But now, thanks to FRP or Factory Reset Protection, they will get "This device was reset, to continue to sign in with a google account that was previously synced on this device", which means, the phone is useless unless they bypass the Google account verification.
If you buy a second-hand phone and can't get in touch with the seller, or when you forgot your Google account password, you'll need to know how to remove Google account verification. In this article we will tell three ways to bypass FRP lock on Samsung phones.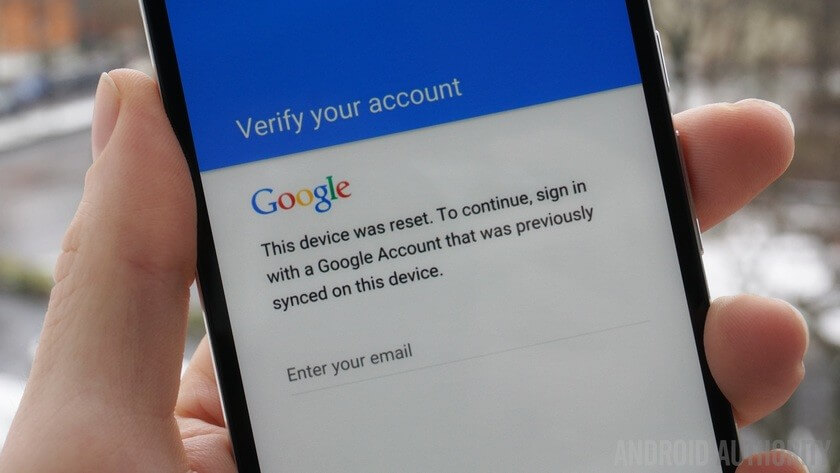 Way 1: How to Bypass Google Verification on Samsung
This must be the most basic way to bypass any Samsung Google Account lock. Basically, the procedure starts after you have successfully reset the Samsung mobile and then you will have to follow a few steps to get access to the mobile after bypassing Google Account.
Here's how Samsung bypass Google verify:
Simply, Factory Reset the Samsung mobile and restart device.
Then, select the language and connect it to the Wi-Fi network.
Now, you will be asked for the credentials of your Google Account.
The virtual keyboard will come up to the screen and you must tap and hold "@" to get the Settings menu.
Now, choose Google Keyboard Settings.
After that, you are going to tap on 3 dots at the top of the window; there may be more dots, depending on the version of Android you are using.

From the drop menu you must select "Help & Feedback".

In the "Help" section tap on "Using Google Keyboard" and then tap and hold to select any text on that page and then click "Websearch".
A search bar will come up and you need to type "Settings" in there.

Scroll down the menu again to select "About Phone".

Then, enter the menu and find the Build Number. After finding it, tap on it 7 times, which will activate the Developer Options.
Now, you need to go back to the previous menu and enter Developer Option that you just unlocked.
There, you must enable "OEM Unlocking" and tap on "back" twice.
Restart the device and connect to Wi-Fi again.
This time you will not be asked for the Google Account detail, but you will be asked to add a new Google Account.
Now, just simply add a new account and you will have complete access to your device.
This is how to bypass Google Verification on Samsung, and it won't work on other devices.
Way 2: How to Bypass Samsung Google Account Verification using App
You can bypass Samsung Google account verification app apk and this is a very complicated and elaborate procedure, so you should read it very carefully. This procedure will definitely bypass the Google Account from your Samsung device.
Here is a video guide showing you the little trick to bypass Google verify on Samsung.
And the following is detailed description:
Reset your Samsung mobile then wait for the "Welcome" screen, choose the language and tap on "Start".
Now, connect to the Wi-Fi network and you will be asked for the detail of your Google Account.

Type anything where you have to type the email ID, then tap and hold on it to select it and then go to "Keyboard Settings".

In there, select "About Samsung Keyboard" and open the "Open Source License".
Tap and hold on the agreement page and tap on the 3 dots when the pop-up appears.
Then, tap on "Web Search".
Unfortunately, your request will be declined.
Now, go back to the beginning and press the Home button 3 times.

Then, a Talkback tutorial menu will open, you need to spell "L" on the touchscreen.

Now, a new Global Context Menu will come up and from there, you need to select the "Talkback Settings".

When you are in the Talkback Settings, press both of the Volume button together, then a new dialog box will open, named "Suspend Talkback".

Click "OK" on the box and go back to the Talkback Settings and tap on "Help & Feedback".

Inside that menu, tap and hold on "Get Started with Voice Access".

A page will come up containing a video, regarding Voice Access.
On that video, you must tap on "YouTube" and you will be immediately redirected there.
From YouTube, go to the Account and tap on "Terms & Privacy policy".
Then, a dialog box with 3 options will appear, you need to tap on "Cancel", immediately you will be redirected to the "Terms of Service" page.
Now, in the search bar above, type "Lavileztechservice" on Google.
Go to the download page of "Lavileztechservice" and block the ads.

Then, scroll down and select "Andoes Launcher".

Now, download "anddoes.launcher.apk".
It won't download, go to the search bar and type "youthsgalaxy.com".
Now, try downloading this one.
Now, go to the "Bookmarks" and then go to "History".
Under "History", tap on "Download History".
Inside "Download History" you will find you will find the setup files, tap on "Andoes launcher".
When you tap on the launcher, a dialog box will open, tap on Settings.
Then, tap on "Unknown Sources", after that another dialog box will open, uncheck the selected option and tap "OK".
Now, install the launcher.
After it is installed, go to the Settings of your device and tap on "Lock Screen & Security".
In there, tap on "Other Security Settings".

Go to "Device Administrators" and uncheck "Find My device".

After that, go back to the Settings and tap on "Apps" and make sure that the System Apps are visible.
Now, tap on Google Account manager and disable it.
Then, disable Google Play Services.
Now, go back to download history and tap on "Technocare" to install it.
After the app is installed, tap on "Done" and go to Settings again.
Go to "Clouds and Accounts" and tap on "Accounts"
Now, you need to tap on "Add Account".

A list will be opened but you need to select Google from that list.

The screen will show that "Couldn't Sign it", tap "Next".
Go back and do it again, but this time you will succeed.
Type your new Gmail account and wait for the device to verify the details.
Now, go back to settings and tap on Other Security Settings.
There, tap on "Device Administrators" and activate "Android Device Manager".
Now, go to Apps and enable "Google Play Services".
Restart the device.
In the "Welcome" screen tap on "Start" and in the next screen check "Agree to All".

Now, the mobile will start checking the Network.

Tap on "Don't Restore" and then proceed without even selecting any security protocol.
Finish the wizard.
Again, go to the Settings and go into "About Phone".
Then, "Software Information" and inside that you will find the "Build Number", tap on it quite a few times.
Now, go back to "Developer Options" and tap "Agree" on the dialog box.
Activate "USB Debugging" and then activate "OEM Unlock".
Then, go back to 'About Phone" and tap "Reset" and inside that tap on "Factory Data Reset".

Finally, tap on "Delete All" and the procedure will begin.

After, it starts again, tap on "Start" then finish the Wizard.
And you will see that the device has verified the Google Account and you are able to use the Samsung device now.
This is a very cumbersome procedure, but it only works for Android devices manufactured by Samsung.
Way 3: Best Tool to Bypass Google Account on Samsung Quickly and Efficiently
From the above two methods, the steps are super many and tedious. However, Tenorshare has released a desktop application that can unlock Google accounts from Samsung device. It is Tenorshare 4uKey for Android, this app can tell you how to remove Google account from samsung with a few simple steps. Follow the steps as below:
Download Tenroshare 4uKey for Android on computer, then choose feature "Remove Google Account(FRP)".

Connect your Samsung to PC and hit "Start", then click buttons "Next" to next step after you choose your device name, and follow the instructions to enter into recovery mode.

Then by selecting the correct PDA information, device country, device carrier, tyhen follow the instructions to get into download mode.

Now you will come to the process of downloading firmware package, after the process ahs complete, you will be asked to enter into recovery mode again, just follow the steps.

After Tenorshare 4uKey for Android has deleted your Samsung device has choose the right buttons, it will start to remove Google account from Samsung device. ANd the whole process only last 10 minutes, please be patient.
Conclusion
In the new versions on Android OS, you will have to face Google Account Verification every time you make a factory reset on a Samsung device. It was added as an extra layer of protection by Google to protect your device from any unwanted third-party users, hacking your phone through factory reset. Now, the detail of Google Account associated with that particular device will be needed after the device is restarted followed by a Factory Reset. But this feature has also created a lot of problems, this is the reason many users are asking for ways to bypass the feature and the article provides exactly that. You can use any one of the methods to bypass Google Account from your Samsung device.
Also, if you have a locked Samsung galaxy phone, you can use the services of Tenorshare 4uKey for Android to bypass Samsung lock screen/pattern/pin. It is a professional Android screen unlocker tool and can bypass any type of passwords with ease. Highly recommended!