Easy Samsung FRP Tool Download [2023 Latest]
by Jenefey Aaron Updated on 2023-07-31 / Update for Unlock Android
You must know how frustrating it can be when your Samsung device is locked by Google Factory Reset Protection (FRP lock) due to forgotten account credentials. If you're stuck on the FRP lock asking for Google account information that was most recently used on the device, you don't need to worry! You now can use a few tricks to get past the FRP on your Samsung phone. For example, use an easy FRP Bypass tool to get the job done. This blog will guide you regarding the best easy Samsung FRP tool download and how it works.
Part 1: What Is FRP Bypass Tool?
In case you are confused about what the Samsung FRP Bypass tool is, this section gives a brief explanation.
Samsung FRP bypass tool, just as its name implies, is a tool focuses on bypassing Google's Factory Reset Protection (FRP lock) on your Samsung device. When you forget the linked Google account credentials after factory reset or purchase a used phone with FRP lock enabled, it comes in handy to help you get past the Google verification without entering any credentials and access your device again.
If you have never used such a tool before, you must be wondering where and how you can get such a Samsung easy FRP tool. Below we will introduce you to the best and easy Samsung FRP tool and offer you an easy guide on how to bypass Samsung FRP lock with it.
Part 2: Easy Samsung FRP Tool Free Download
The easiest and the most reliable Samsung FRP tool for non-tech savvy persons is Tenorshare 4uKey for Android as the steps are few and simple to overcome the FRP lock. Specifically designed to help Samsung users bypass Google account, 4uKey for Android offers several solutions to FRP lock problems on Samsung devices. It provides an intuitive interface, allowing you to bypass FRP lock (Google account verification) on your Samsung phone within just a few minutes.
To help you gain a more in-depth knowledge of this best easy Samsung FRP tool 2023, let's see what features that 4uKey for Android comes with.
Excellent Features of Easy Samsung FRP Tool - 4uKey for Android
Take only a few minutes to bypass FRP lock without password on Samsung devices
Help to remove 5 types of Android screen locks, namely PIN, pattern, and password screen locks, face ID and fingerprint lock.
Compatible with Android 6 to Android 13.
Available for Windows as well as Mac.
Easy-to-use UI, simple steps for non-tech savvy persons.
Samsung FRP Bypass Tool for PC Free Download
For the easy Samsung FRP bypass tool for PC download, you can simply click the Download button below and get the latest version of the tool to remove Google lock on your Samsung device conveniently.
Part 3: How to Use Easy Samsung FRP Tool?
If you have upgraded your Samsung device with One UI 3 or One UI 4 version, your Samsung device has Android 11 or Android 12 respectively. We have already stated that Tenorshare 4uKey for Android is the best Samsung FRP tool. We will illustrate how to bypass the Samsung FRP lock using the easy Samsung FRP tool latest version. Here are the steps to follow.
Without any further ado, let's show you how to bypass FRP using Mac within 5 steps and regain access to Samsung device with Android 11/12.
Restart your Samsung device and it will open with the Welcome screen. Launch 4uKey for Android and connect your Samsung phone to your computer. Click on Remove Google Lock(FRP) option.

Select the Android 11/12/13 option and click on the Start button. You will get to see a confirmation message where you need to click on the Start button.

If your Samsung device runs Android 6, 9 or 10, refer to this Guide to remove FRP lock. If your device comes with Android 7 or 8, click here for the step-by-step guide.

Tap on the Emergency Call located at the bottom of the welcome screen on your Samsung phone. This will bring up the dial pad where you need to enter *#0*#. Once your phone enters the diagnostic mode, click on the Next button.

You will be asked to allow USB debugging. Tap on the OK or Allow option as present on your Samsung phone. Then click on the Ok button on your computer screen.

Wait for a few minutes for the process of FRP bypass to get completed. After the Google lock is removed by 4ukey for Android, you can unlock your locked phone and get full access instantly.
Video Guide on Bypass FRP Lock on Android
Part 4: Other Easy Samsung FRP Tools Available
Apart from Tenorshare 4uKey for Android, here are some other easy Samsung FRP tools that you can use to unlock your FRP-locked Samsung phone. There is no need to visit the nearby service center and spend a lot just to unlock your phone. You can bypass the FRP lock with these tools in simple steps successfully without damaging your phone.
1. UnlockJunky
UnlockJunky is an online FRP unlock service that claims to get the FRP bypass job done in under five minutes.  You don't need to have any technical knowledge to unlock your phone as the FRP unlocking job will be done remotely by the Unlockjunky team. All you need to do is to download this easy FRP bypass tool in your PC and plug in your device; thereafter, simply start a live chat and let their technician do the work for you.
Key Features
Unlocks FRP lock in 5 minutes by experts.
Compatible with Samsung, LG, ZTE and Motorola devices
UnlockJunky team can perform carrier unlock and IMEI repair.
Also Read: UnlockJunky Review: Does It Really Work?
2. FRP Hijacker by Hagard
Made by Gsm Hagard, FRP Hijacker is a professional and easy Sasmung FRP bypass tool that even local service center use to unlock Samsung phones when it is locked due to factory reset protection. You can use the tool on both rooted as well as unrooted Samsung phones. The user interface is simple, and the operation does not require technical knowledge.
The procedure to bypass the FRP lock is almost the same as any professional FRP bypass tool. FRP Hijacker offers several FRP bypass methods. You can unlock your FRP-locked device through Download Mode and ADB mode, or remove FRP lock in ease using Phone Dialer. The FRP bypass tool is completely free to download and operate. But it works in Windows operating system only.
Key Features
Works on both rooted and unrooted Android devices.
Removes FRP as well as fixes soft bricked devices.
Puts devices in download mode for diagnosis.
Fixes regular bugs and errors of your device software
Provides option to create an ADB Enabled Combination file or use phone dialler to remove FRP lock.
3. D&G Unlocker Tool
D&G Unlocker Tool is a powerful diagnostic tool that supports all Android devices. You can remove the FRP lock as well as flash your device firmware. The tool is designed for professionals because there are some technical steps involved. Hence, the overall process is quite time-consuming. The tool is available for free, and you can even remove the screen lock of your phone. The user interface is clean though certain messages come in Spanish.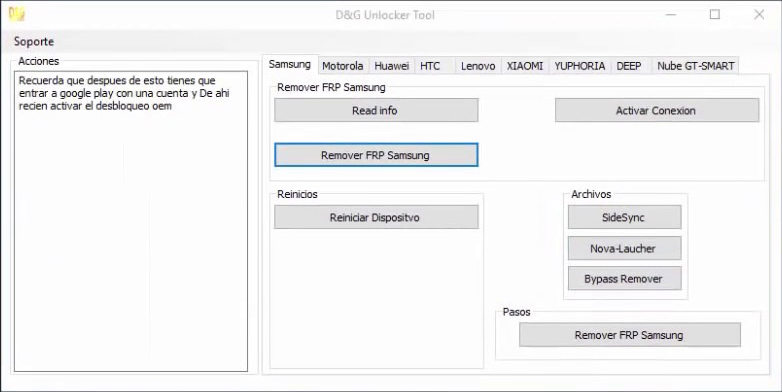 Key Features
Removes FRP lock over Samsung,Motorola, Huawei, HTC, Lenovo, Xiaomi, Yuphoria, Deep, and Nube GT-Smart Android devices.
Removes screen lock of all types.
Fixes different bugs and errors.
Can flash firmware of devices.
Free of cost
Also Read: D&G Unlocker Tool In-depth Review
The Bottom Line
We have illustrated how you can use an easy Samsung FRP tool to bypass the FRP lock when you are facing after factory resetting your Samsung phone. All you need to do is go for the best Samsung FRP tool 2023 download for PC and follow the on-screen instructions after connecting your phone. We recommend Tenorshare 4uKey for Android as the best and the easiest Samsung FRP unlock tool.
Remove Android Screen Lock & Bypass Samsung FRP Lock
Bypass Google account verification on Samsung devices (Android 6-13)
Remove Android password, pattern, PIN, and fingerprint lock just one click away
Support removing screen lock and FRP on both Win & Mac