How to Unlock Samsung A32 Phone in 2023
by Anna Sherry Updated on 2022-08-09 / Update for Unlock Android
People today are inclined to set up a screen lock on their device, whether it's a PIN, password, pattern or fingerprint lock. However, no matter what screen locks you apply, there is always a chance that you locked yourself out of your phone for various reasons, such as forgetting the password, pattern or PIN, or the fingerprint sensor not working. It's quite common to see Samsung A32 users asking "how do I unlock my Samsung galaxy A32 lock screen" in forums.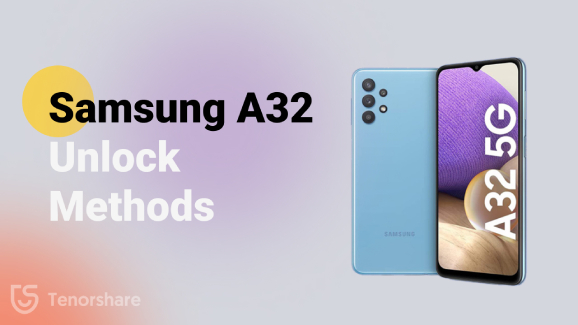 If you're one of them who is on the hunt for the best way to unlock Samsung A32 without password, then you're at the right place. This article will guide you on how to unlock Samsung A32 phone. Read on to find out more about the Samsung A32 unlock methods and choose which works best for you.
Method 1: Samsung Galaxy A32 Unlock with 4uKey for Android
hot
It's a human instinct to forget or mixed-up the screen lock PIN, password, or pattern for our mobile phones. If you've been locked out of your Samsung Galaxy A32 because you forgot your password, your fingerprint sensor is not working or Face recognition has gone wonky, don't panic. There is an Android screen lock removal tool named Tenorshare 4uKey for Android that stands as the best solution for Samsung A32 5G unlock.
4uKey for Android offers a safe and quick method for removing Samsung A32 forgot pin/pattern/password. Its clean and intuitive interface makes the overall unlock process easiest for you. With just a few simple clicks, you can quickly unlock Samsung A32 and get back into it. Let's see how to unlock Samsung A32 without password using 4uKey for Android.
The first step is to download and install this Android unlock tool on your computer. When it's ready, click on the "Remove Screen Lock" option, followed by "Remove Screen Lock."

Once you select this option, connect your phone to the computer and then click the Start option.

You will have to confirm that when your lock screen will be removed, it will erase your data. If you are sure that you are okay with your data loss, then go ahead, 4uKey for Android will start the removal.

After the process of removing your screen lock, you will be asked to put your device in recovery mode and reset your Samsung A32.

Once the process is done, the tool will remove your screen lock. It will take some time so sit with patience and let the application run its course.
Way 2: Samsung A32 5G Unlock with Google Find My Device
Apart from using 4uKey for Android, there are other methods to unlock Samsung A32 and one of which is to use the Google Find My Device service. Google Find My Device is a feature that will help you locate your device if you ever lose it. However, you can also use it to remove Samsung A32 forgot PIN, password or pattern lock. Here is how to remove password from Samsung A32.
Open Google Find My Device on your web browser and use your credentials to sign into your Google account. Please make sure to use the same google account that was logged in to your phone before.

Once you are logged in, select the locked Samsung A32 from the list of devices linked to your Google account.

From the three options presented, select "ERASE DEVICE" and then click "Erase" to confirm.

Now, the data on your phone will begin to delete. Once your phone runs through the process, you will be able to unlock your device without entering the password.

Note: This method requires you to know your Google account and password used to set up the phone.
Way 3: Unlock Samsung A32 via Samsung Find My Mobile
In addition to Google Find My Device, there is another security feature that Samsung users can make use of to unlock Samsung A32 5G— Samsung Find My Mobile. Find my mobile is an excellent feature that helps you locate your device from a remote location. Apart from that, this feature is quite helpful in unlocking your phone if you do not remember the password. The following will show you how to unlock Samsung A32.
Visit the Samsung Find My Mobile website from any other device that you have on your hand.

Once you hop onto the website, use your Samsung account credentials to log into your account.

Once you are logged in, you will be able to select your device from the menu that is located on the left side of your screen. Then choose the "Unlock" option on the right-side panel.

You'll be asked to confirm that you don't mind the data loss. Tap Unlock and then enter the password to your Samsung account.

Tap Next to continue. The Samsung A32 unlock process can take a few minutes, therefore sit with patience and wait for the forgotten screen lock information to be deleted.

Now you can access your device and set up a new password.
Method 4: Factory Reset to Unlock Samsung A32
Factory reset, as the last Samsung A32 5G unlock method, will restore your device to its original state by deleting all the information stored in it, thus effectively removing the forgotten pattern, PIN, or password from the locked device, Here are the steps to hard reset Samsung A32 and remove the forgotten pin/pattern/password from the device.
The first step is to turn your Samsung A32 off.
Once your phone is turned off, you will have to hold your Power button and Volume up button simultaneously for a few seconds. You can let go of the buttons when the Samsung logo is displayed.

Now you should see a menu with a couple of options. Use the Volume buttons to move through the menu. Look for the "Wipe Data/Factory Reset" option and select it using the power button.

After this, you will have to choose "Reboot system now." Give your phone a few minutes to boot up, when your phone will turn on again, you will be able to access it without entering a password. Make sure that you secure your phone with a new password.

Related Read: Samsung A32 FRP Bypass Android 11/12 [Easy Guide]
Conclusion
There are many instances where one forgets their phone password. It may be concerning, but thanks to technology - there are several Samsung A32 unlock methods that enable you to remove your Samsung A32 forgot pin/pattern/password. However, the easiest and hassle-free way is to use Tenorshare 4uKey for Android. It will take you a total of 5 minutes to get the device back. On top of this, whenever you use a pin on your device, try to not forget it to avoid the hassle of recovering your phone.