How to Factory Reset Samsung
by Jenefey Aaron Updated on 2020-04-30 / Update for Samsung
Are you a Samsung user? Well, this article will help you a lot if you are a Samsung user and want to factory reset Samsung Phone. Users basically factory reset their phone if they encounter any kind of software issue or if their phone is acting weird or even if the phone gets slow and starts lagging. Some of the users even perform factory reset if they want to sell the phone or give it to any other person. Factory reset is also known as hard reset or master reset. Generally, users factory reset their phone by going in Settings menu but there are also some other ways which will help you to do the same job with an ease. In this article we will be discussing how to factory reset Samsung phone.
Part 1: Back up Data Before A Factory Reset
Factory Resetting your phone will erase all the content of your Phone whether it be personal data, customized settings, messages, contacts, photos, downloaded apps. So, you better take a backup of your phone before performing factory reset. You can backup your phone using Samsung account/Google account or using any third party apps. If you want to backup your phone using Samsung account or Google account then you need to go to Settings and click on Backup and Restore option after that follow the onscreen process.
Note: You will need to enter your Google password after resetting your Phone if the phone is having Google account. This ensure unauthorized access to phone. But if you want to turn off the protection then simply remove the Google account associated with the phone.
Part 2: How to Factory Reset Samsung
You have 4 ways to factory reset Samsung phone which is totally different from one another. The process to reset the phone is quite easy, you just need to follow the steps correctly and you are good to go. I suggest you to go through all the methods then choose the easy and best method which will help you to perform the factory resetting process with an ease.
Way 1: Perform Factory Reset in Settings
The first process to restore factory settings Samsung is using Settings menu but the location of the factory reset in the settings menu might be slightly different depending upon the model of the phone and even the operation system of the phone. Some of which are shown below.
Process to factory reset Samsung using Settings menu:
1. Go to settings of your phone and tap on General Management.
2. Once you are in General Management, search and tap on Reset. Now tap on Factory data reset.
Or
1. Go to Settings >> Tap on Backup and reset >> Tap on Factory data reset.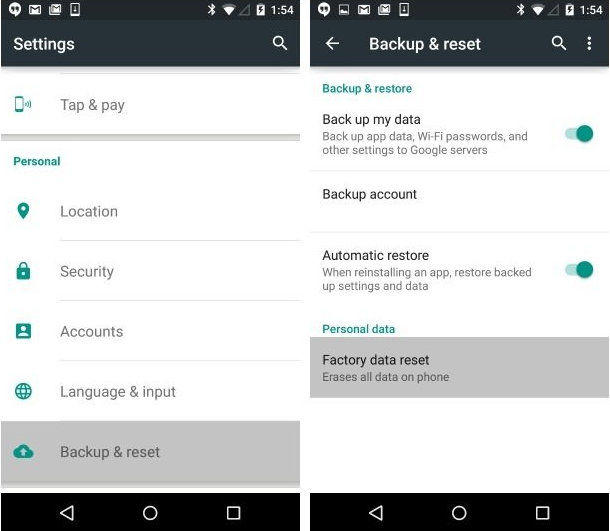 Or
1. Go to Settings >> Go to Privacy >> Tap on Factory data reset.
Way 2: Factory Reset Samsung using Buttons
If you are unable to unlock your phone then you can use the keys (buttons) combination to factory reset your Samsung phone. You will also be needed to know password of your Google account that is associated with the phone to enter into the phone once the device is reset (You will only get this feature in the latest operating system).
Process to factory reset Samsung using Buttons:
1. First turn off your phone completely then press and hold the Volume up button, Power button and Home button at the same time.
2. (For latest model which doesn't have Home button) Press and hold Volume up button, Bixby button and Power button together unless the phone turns on and Samsung Logo appears on the screen.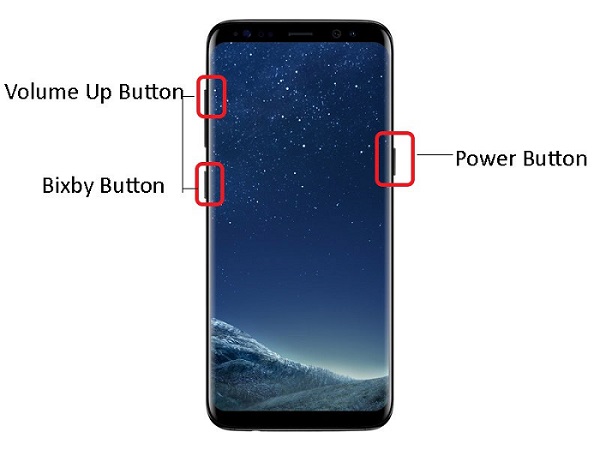 3. As the phone vibrates, release the Power button but continue holding other two buttons.
4. Menu will appear on the screen and then only release other two buttons.
5. Now use your volume down button to select "Wipe data/factory reset" and then press power button to apply the action.
6. Again press power button to select 'Yes' option of the screen.
7. Once the process is completed, you will see a message appears at the bottom of the screen stating "Data wipe complete".
8. Select reboot system now and press power button to start the process.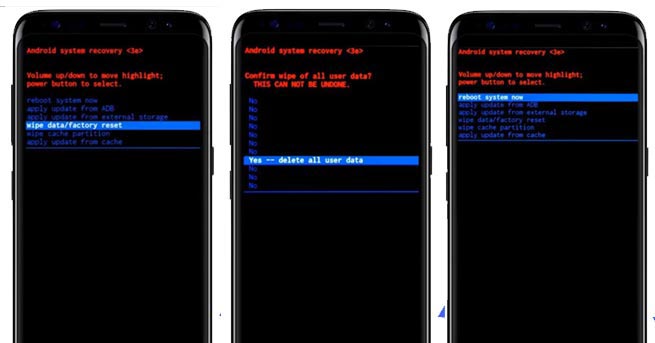 9. You have successfully factory reset your Samsung phone.
Way 3: Factory Reset Samsung When Locked
If you are locked out of Samsung and want to perform a factory reset to erase everything, a great tool called 4uKey for Android will help. It can help you bypass any Samsung lock screen like pattern lock, Google account lock, password lock or fingerprint, after that, you can continue wiping data on Samsung. For those who are troubled with how to reset a lock Samsung, keep reading.
1. Download and install this unlock tool on your computer and connect the disabled/locked Samsung device. After the connection, a message will pop up to install necessary drivers before unlocking.
2. Click "Remove Screen Lock" button to start bypassing Samsung lock screen.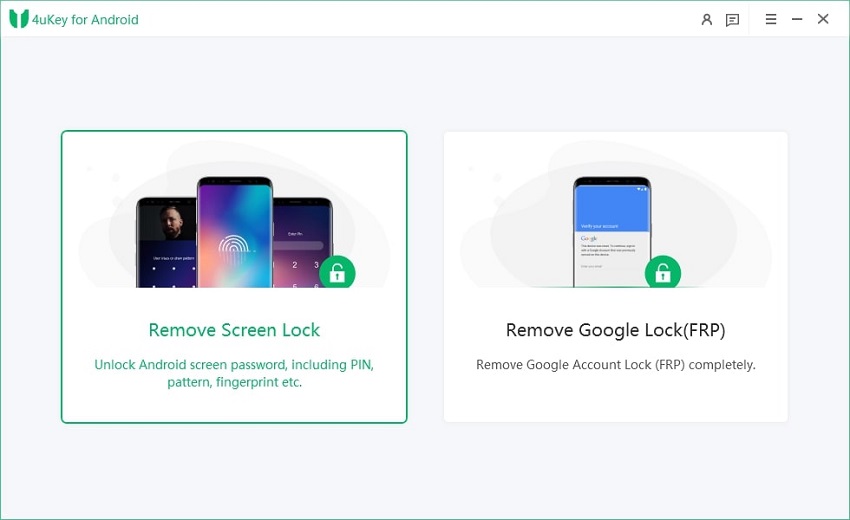 3. Click "Start", 4uKey for Android will inform you that it will erase all data on your Samsung phone. Click "Yes" to continue.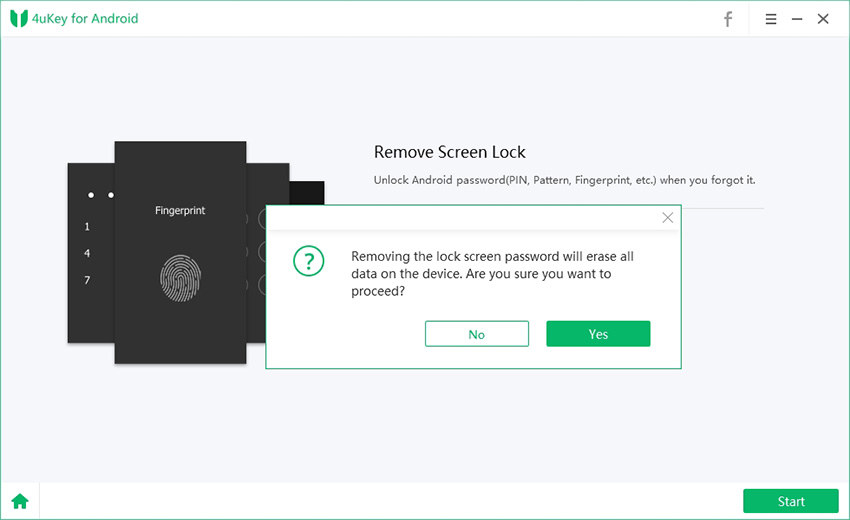 4. After that, you will get rid of the lock screen on Samsung.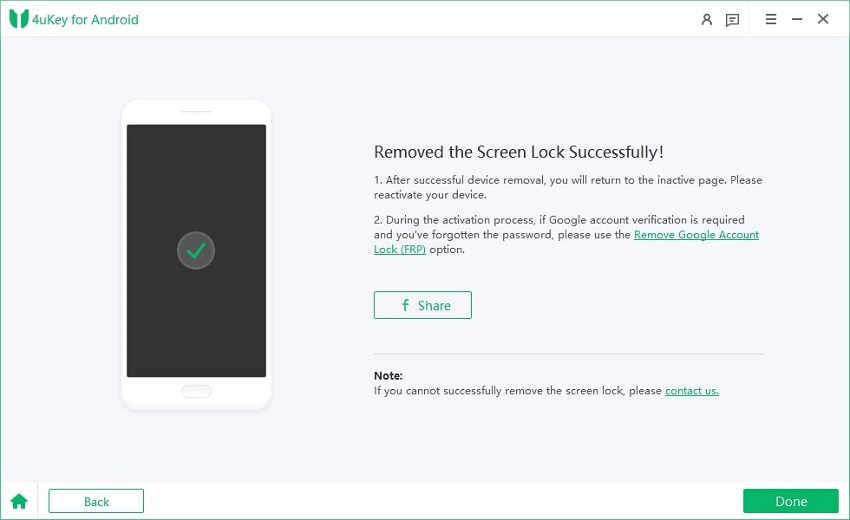 This is how to reset a password protected Samsung phone. Except for Samsung, this software support with most Android devices you are having. If you have any problems about Android lock, just download this software and try it.
Way 4: Remotely Factory Reset Samsung with Find My Mobile
You can even factory reset Samsung phone with the help of Find My Mobile service. This service can be useful even though you don't have the phone physically near you. You can remotely factory reset your phone.
Note: You should have setup Samsung account and allowed Google to access your location information as well as agreed to the terms and conditions.
Process on how to factory reset Samsung phone remotely:
1. First visit Find My Mobile website on your computer browser.
2. Sign-in using your Samsung account.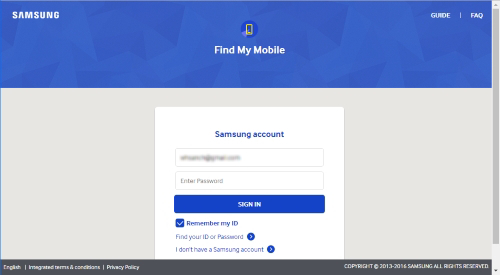 3. Now you will see different options on the right side of the screen. Click on "Wipe My Device" to factory reset your phone. (Your phone should be connected to a mobile network).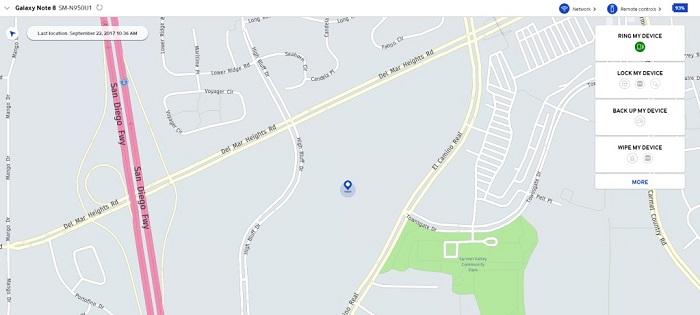 Way 5: Factory Reset Samsung Phone using Android Device Manager
Android Device Manger is another useful way to factory reset Samsung phone with an ease. If you have added a Google account on your Samsung phone then Find My Device will be automatically turned on which will help you to remotely wipe all the content of the phone.
Process to factory reset Samsung using Android Device Manger:
1. First go to browser and visit Android Device Manager Website.
2. Next enter your Google Account and password to proceed further.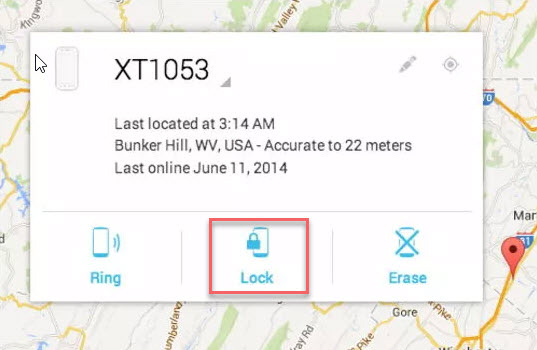 3. You will see your phone information as well as different option on the left side of the screen. Click on "Erase Device" option to wipe all the data of the phone remotely.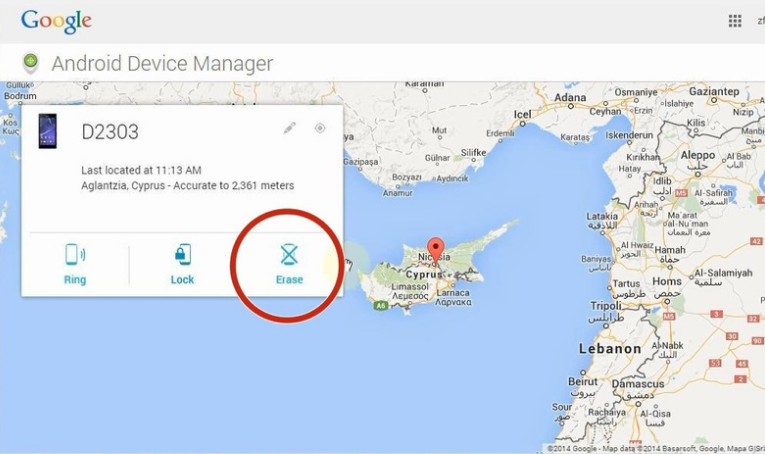 4. You have successfully factory reset your Samsung phone.
In this article you have learned Samsung Galaxy factory reset process in 4 ways. You can use any one of the methods as per your convenience because all the methods works perfectly fine. But if you have locked your phone and don't want to reset your phone then you can use 4uKey for Android. This tool can remove your android password, pattern, PIN & fingerprint lock with an ease. The process is secure to unlock your phone in few minutes and it just take 3 simple steps to finish the process of unlocking your phone. It supports all the Android phones. Give it a try.