Easy Guide: Samsung A02/A02s FRP Bypass [Android 11/12 Supported]
by Jenefey Aaron Updated on 2022-11-14 / Update for Unlock Android
Hello all, I am looking for some help with my Samsung A02s that's Google locked. After factory resetting the phone, it asked me to enter my Google sign-in information used for this Google FRP, but I have completely forgotten the details. I'm not a very tech savvy person, so can anybody tell me some simple way to bypass the FRP lock? Or is there anything that can be used to bypass this Google sign in page?"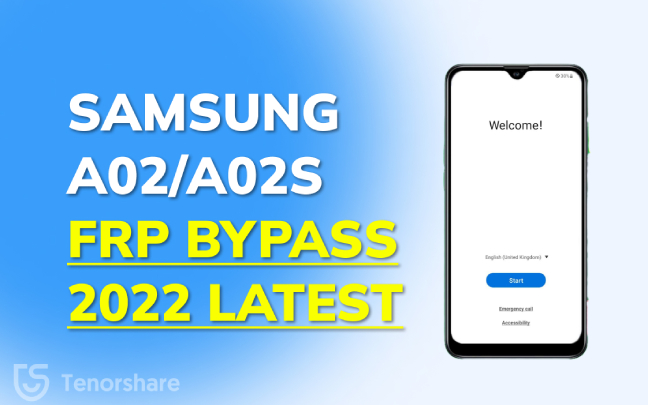 Looking for a simple Samsung A02 FRP bypass method? Luckily, you have come to the right place. In this post, we will share you a powerful Smsung FRP bypass tool to bypass FRP Samsung A02s Android 11/12 in just a few minutes. Other than that, you'll also learn about Samsung A02s FRP bypass without PC. Stay with us and explore different options in this regard.
Part 1: What Is Samsung A02 FRP Used for?
In an effort to stop unauthorized access to Android phones after a factory data rest, the Factory Reset Protection (FRP) has been put in place by Google and introduced to devices with Android OS 5.1 or higher. Once you've registered a Google account on your Samsung A02/A02s and set a Lock screen, the FRP lock is activated automatically. When you factory data reset the device, it will ask for the credentials of the Google account that has been previously logged before the reset. If someone attempts to access your Samsung A02/A02s after an unauthorized reset, he/she will be stuck on the Google verification page unless the correct Google account information is entered.
It must be admitted that Samsung A02/A02s FRP can be effective in protecting your device from data leaking. However, it may also be very annoying and intimidating when you forget your login information or you bought a second-hand Samsung A02 with FRP lock enabled. In this case, you will need some useful Samsung A02/A02s FRP bypass method to get the device unlock. Read on to learn more.
Part 2: One Click to Bypass FRP Samsung A02/A02s Android 11/12
hot
To quickly and effortlessly get the Samsung A02 FRP bypass process done, you can rely on Tenorshare 4uKey for Android, a Samsung A02 FRP bypass tool through which you can remove the Google lock from your device in just three easy steps.
Simply download this tool on your Windows PC or Mac and start to learn how to bypass Google account on Samsung A02/A02s.
Launch the 4uKey for Android application and connect your Samsung device to the computer. Next, click on the feature "Remove Google Lock (FRP)."

Select the OS version running on your device.

Now, follow the  pop-up instructions: on your Samsung device, tap "Emergency call" to have a dial pad. Enter *#0*#. Following this, your device will enter its diagnostic mode. Click "Next" to start the Samsung A02/A02s FRP bypass process.

The Samsung A02 FRP lock will be bypassed by 4uKey for Android in just a few seconds.

Wait for the process to complete and allow several seconds for your device to restart. And that's it! You've successfully got pass the Google verification page.

Here's a video guide on Samsung phone frp bypass.
Part 3: Samsung A02/A02s FRP Bypass without PC
If you don't have a computer around you and wonder if you can achieve Samsung A02 FRP bypass without pc, then the short answer is Yes and we will introduce the method in this section. But this method is rather complicated and time-consuming. What's more, it requires two Samsung phones. If you're not a tech-savvy person, this method may not be an ideal choice. 
That's said, the process on how to bypass google account on Samsung A02/A02s without pc is mentioned in the steps below:
Restart your Samsung A02/A02s, click Start and connect it to a WiFi network.

Go back to the Welcome screen, press the Volume UP & Power Key at the same while and when a pop-up shows, press them again to turn on TalkBack.

Draw a reverse L letter on the screen, select "Use voice Command" and then say "Open Google Assistance" loudly.

Subsequently, turn off Talkback by pressing the Volum Up + Power Key. Once it is disabled, type YouTube on the keyboard and open YouTube.

Tap on your Profile, select Select Settings > About > YouTube Terms of Service > Accept & continue > No, thanks. This will lead you to the Chrome Browser.

Tap on the Search bar and type this URL: https://bit.ly/2NKxXYs. Download and install Notification Bar & Package Disabler Pro.

Then scroll down to the "Tap to Open FRP Apps" section, from the options provided, select "Tap to open" next to "Open Samsung Galaxy Store". When you're in the Galaxy Store page, search for the app called OS14 Launcher, select the first result and tap on the "Install & open" button.

You'll need to sign in to your Samsung account. Once signed in, wait for the app to be installed on your Samsung A02/A02s.When it's installed, open it and tap on Enter, followed by Start.

As previously mentioned, you'll need another Samsung phone. So on this device, head to Settings>Accounts & backup>Backup & Restore> Backup data. Check only the Apps option and then tap Back up.

Now, back to your Google-locked Samsung A02/A02s, head to Settings>Accessibility> Interaction & dexterity and turn on the Assistant Menu.

When it's enabled, you will see the  Assistant Menu items, so tap on it. Then remove all the items except "Menu Settings".

Go back to the Settings page, tap on Accounts & Backup and Restore Data. Tap on Restor data and quickly tap the Quickly tap Assistant Menu at the bottom right corner, which can prevent the Samsung Cloud from updating.

Wait for 6 to 7 seconds, then back to the previous page, select Apps only and tap "Install" when a pop-up message shows.
Wait until the restore process finishes and tap on Done. Go back to the Menu of your Samsung A02/A02s and it's time to open and setup the Notification Bar.

Select Accessibility> Installed Services> Notification Bar. Turn it on and select Allow.

Navigate to Notifications> turn on Notification Bar> select Allow. After that, go to Settings> Privacy> Permission Manager> Files and Media. Tap on the three dots, select Show system. Search and tap Package Disabler Pro, followed by Allow management of all files.

Go back to the Menu and pull down the Notification Bar to turn off network connection. Once disabled, open Package Disabler Pro App. When you're in the KLMS agent page, have your Samsung A02 connected to a network and then Tap on Agree. The App will open when Knox license validation is successfully completed.
Tap on Search icon and search for Setup. Select Android Setup (com.google.android.setupwizard) and Disable it. Now, Select Samsung Setup Wizard (com.google.android.SecSetupWizard) and clear data. Check on the Top-left and the time will appear.

Finally, you can go back and follow the prompts to finish the initial setup initial process.

So that's all about how to bypass Samsung A02/A02s frp Android 11/12. You have successfully bypassed the Samsung A02s phone.
Conclusion
This article aimed to highlight different Samsung a02 frp bypass methods. This simplest way to frp bypass Samsung A02/A02s is to use a Samsung a02 frp bypass tool like Tenorshare 4uKey for Android, a compact tool that will help you to bypass the FRP lock on your phone without any hassle. Since there are almost 20 steps required in the second method to bypass Google account on Samsung A02s without PC, it highly recommended that you use 4uKey for Android program to save time and trouble.
Remove Android Screen Lock & Bypass Samsung FRP Lock
Bypass Google account verification on Samsung devices (Android 6-13)
Remove Android password, pattern, PIN, and fingerprint lock just one click away
Support removing screen lock and FRP on both Win & Mac