New Method: Samsung A32 FRP Bypass Android 11/12
by Anna Sherry Updated on 2022-08-18 / Update for Unlock Android
The Google FRP technology is extremely useful to encrypt your information on your mobile phone. However, human beings are prone to forget their email passwords, thus they often face the challenge of bypassing FRP lock after performing a factory rest. In case you are wondering how to bypass Google account on Samsung A32 and looking for ways to FRP bypass Samsung A32, this article will guide you through some ways to perform a Samsung A32 FRP bypass Android 11/12. Read on to find out more about it!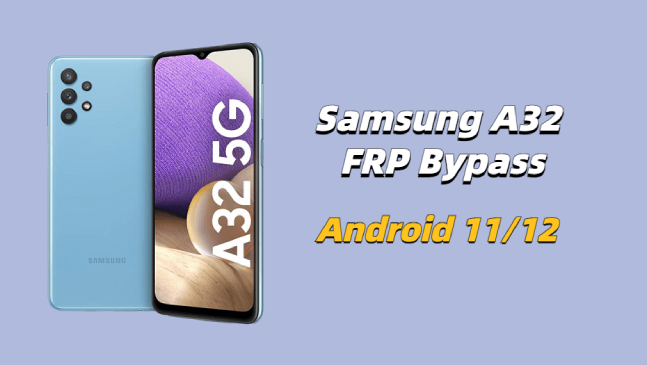 Part 1: What Is Samsung A32 FRP Bypass?
Samsung A32 FRP bypass is a method to remove the FRP lock on your Samsung A32 and let you reset your phone without the need to verify the previously synced Google Account by inputting the password.
Since the FRP lock or Factory Reset Protection is built in to the latest Samsung device, as long as you add a Google account to your device, the FRP lock will be activated automatically when you factory reset your phone through settings. To reset up your device after a factory data rest, you need to enter your Google account credentials (used on the phone).
However, it's a human thing to forget important details and things can get rough when you cannot remember your Google account credentials. But don't fret — thanks to technology, you are never alone when looking for a better solution to your problems and there is always a way for you to FRP bypass Samsung A32. Below we provide two methods to bypass FRP on Samsung A32, with and without PC.
Part 2: Samsung A32 FRP Bypass Android 11/12 [Easy Solution]
hot
When it comes to Samsung A32 FRP bypass Android 11/12, nothing is simpler than using a professional Samsung FRP bypass tool. There are many Samsung FRP unlock tools available these days but Tenorshare 4uKey for Android sticks out from the crowd. Offering customized solutions for Samsung devices running different Android versions, it enables you to remove Google account on Samsung in a quick and simple manner.
Here is how you can use 4uKey for Android to get your Samsung A32 FRP bypass job done.
Download the latest version of 4uKey for Android on your computer and use a cable to connect your phone to it. When your device is detected, click on Remove Google Lock (FRP).

A pop-up will appear which will require you to select the OS version of your phone. Select "Android 11/12" and click "Start."

Now check all the confirmations and click Start to continue. You then need to follow the onscreen instructions to set up your Samsung device.

During the Samsung A32 FRP bypass process, don't forget to tap "Allow" on your phone to allow USB debugging.

Wait for a few minutes and as your device turns on again, you won't be required for the Google account credentials.

That's it! You can further check out the video below to learn how to bypass Google account on Samsung A32 running Android 11/12.
Related Read: Samsung A32 Unlock Methods
Part 3: Samsung A32 FRP Bypass without PC [Complicated]
Tenorshare 4uKey for Android is an amazing option for Samsung A32 Google account removal. However, if you prefer to perform the same task without the computer - here are the steps you need to follow to perform the Samsung Galaxy A32 FRP bypass without computer. This method is quite complicated so you need to read through the steps slowly and carefully.
Note: You need another Samsung phone to finish the complete Samsung A32 FRP bypass process.
Go back to the Welcome screen and make sure that your phone is connected to a Wi-Fi network.

Press and hold the Volume up and Side buttons to launch TalkBack.

When TalkBack is turned on, swipe right and then up to open voice commands. Double-tap "Use voice commands" and say "open Google assistant". Once you are done, double-tap the keyboard icon and turn off TalkBack mode by pressing and holding the Volume up and side buttons.

Now, type Youtube and go head to open YouTube.

Once the YouTube application is open, tap on your profile and navigate to Settings > About > YouTube terms and conditions > Accept & continue > No, thanks. You will be redirected to a browser. In the search menu, type "efrp.me".

Once you are on the website, tap on "Open Galaxy Store". From the store, search for "S7/S8/S9 Launcher for Galaxy S/A/J/C, S9 theme"  and install it. You'll need to sign in to your Samsung account. If you don't have a Samsung account then create one. Once signed in and get the app installed on your phone, launch it and finish the setup.

Now, pick up another Samsung phone (with the same Samsung account logged in) and backup your phone to the Samsung cloud. Head to https://cutt.us/p8Y89 to download the file named "Frp 2022 Knox Or No Knox.html." Once downloaded, open the file and select "download apk 1". Following this link to download and install Bar Settings.apk and Package Disabler Pro.

Now, back up all your data including Apps on the phone (the alternative one), return to "Restore data" and select the FRP-locked phone to restore the installed apps to it.

Now, pick up your FRP-locked phone and head to Accounts and backup. Tap on Restore data and immediately trip-tap the vertical line to get access to all the applications installed on the alternative phone. Tap on "Restore."

Go back to Settings, head to Privacy > Permission manager > Storage > Show system. From the options, find out and tap Package Disabler Pro, and then select "Allow management of all files".
Launch the notifications bar and toggle on the Accessibility feature. Tap on Installed services and turn on Notification Bar.
Turn off the Wi-Fi on your phone and launch the Package Disabler Pro-option. Once the error shows, turn on the Wi-Fi and try again.
From the Package Disabler pro application, check the option of "android setup" and click on disable and clear data. Do the same with the Samsung setup wizard.
Press back, and select Samsung setup wizard as your home app from the pop-up. And wait for a few minutes.
Go to settings and then general management to rest your device.
Conclusion
Samsung A32 FRP bypass is a complicated process, but using a third-party application like Tenorshare 4uKey for Android can ease out the process for you when your Samsung A32 is FRP locked after a factory reset. If you do not have a PC at hand, you can still perform a Samsung A32 FRP bypass without pc by using the alternative method. Since this method is quite hectic and complicated for a newbie to perform, we highly recommend using the 4ukey for Android application to save you a ton of time and effort. As this will get the job done in a few minutes.
Remove Android Screen Lock & Bypass Samsung FRP Lock
Bypass Google account verification on Samsung devices (Android 6-13)
Remove Android password, pattern, PIN, and fingerprint lock just one click away
Support removing screen lock and FRP on both Win & Mac