How to Use Fake GPS in ML to Get a Higher Title
by Anna Sherry Updated on 2021-08-30 / Update for iPhone Tips
Mobile Legends Bang Bang is a free-to-play multiplayer online battle arena (MOBA) available for both Android and iOS devices. Fans of the MOBA genre will feel instantly familiar with the gameplay, where each team of 5 players fights to destroy the enemy base while defending their own. This post is all about discovering the methods and learning how to use fake GPS in mobile legends.
I. The Benefit of Faking GPS in Mobile Legends
Mobile Legends Bang Bang separates leaderboards according to global and local rankings. Most players are interested in the local street rankings, which are specified according to the area, unlike global rankings. Mobile Legends pairs you with your teammates based on where your location is detected when you queue for a match. The benefit of learning how to fake GPS in mobile legends is the following:
It allows you to play with your friends from all over the world, otherwise impossible because of how the game works.
You and your friends can see all spoof yourself to a single location even if you live on the other side of the world.
Furthermore, by learning how to use fake GPS in ml, you can accept new quests, face new challenges and earn a top badge in less competitive areas.
II. How to Change GPS in ML on iPhone or iPad
Apple has an unusually strict policy for its iOS systems when it comes to tampering with the device location. On an iOS device, Tenorshare iAnyGo is one of the very few software that can change GPS in ML without requiring a jailbreak. Tenorshare iAnyGo provides multiple features such as changing location to any single point in the world as well as simulating movement while you change GPS location in ML. To use Tenorshare iAnyGo, here are the steps you need to follow:
Launch the Tenorshare iAnyGo software on your Computer; the default mode will be 'Change Location'.

Connect your iPhone to the Computer via the Lightning Cable. Then, unlock your device and click the "Enter" to get started. Make sure to tap "Trust" on your iPhone in case the pop-up shows up.

Enter your desired location's address or GPS coordinates in the search box on the top left, then click "Start to Modify".
III. How to Fake GPS in Mobile Legends on Android Phone
Unlike Apple devices, it is extremely easy to fake your location on an Android device. All you need to do is follow the steps below, and you are good to go:
Step #1. Download a Fake GPS Location App
The first thing you need to do is launch Google Play Store and search for a mock GPS location app. There are many options available, and you can choose any app you desire, but this guide will use Fake GPS location by Lexa. All the apps that you get when you type "fake GPS" on Google Play Store are pretty straightforward and easy to use, so you will not face any problem. When you launch any of these apps, they will either present you with a Map similar to Google Maps where you can select your desired fake location or ask for coordinates of the location you wish to visit.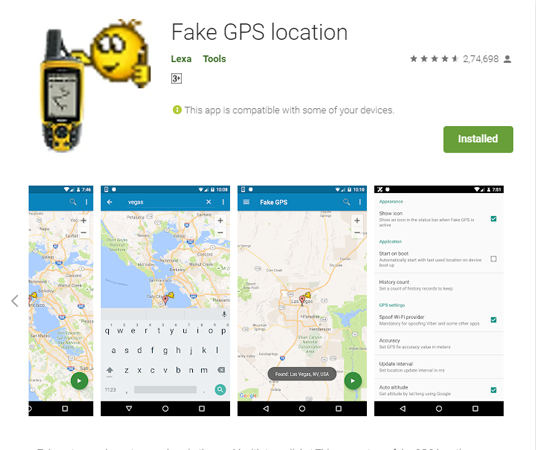 Step #2. Allow Mock Locations in Developer Options
After you are done selecting and downloading a fake GPS app, you will need to enable your Android phone's Developer options hidden menu. Follow these steps to unlock developer options on your device.
Go to Settings > About Phone.
Tap Software Info > Build Number.

Tap the Build Number seven times. After the first few taps, you should see the steps counting down until you unlock the developer options. You may also have to tap in your PIN for verification. Once developer options are activated, you will be notified.

Go back to the Settings pane, where you will now find Developer options as an entry.

Tap it and toggle the switch on if it is not already and you are done.
Step #3. Set the Fake GPS App
Go into Developer options and look for "Select mock location app". Tap on it, and you will be presented with a shortlist of apps that can spoof your location. In your case, you should be presented with the fake GPS app that you downloaded. Select it, and you are all set and almost ready to go.
Step #4. Spoof your location
Simply head back to the fake GPS app you downloaded and select your new fake location. Tap on the Start or Play button, and you are done. You can now launch Google Maps to confirm that your location has been changed.
Conclusion
After reading this post, you should know by now how to use fake GPS in ml regardless of whether you have an iOS or Android device. Nowadays, knowing how to use fake GPS in mobile legends is necessary since most dedicated players are already spoofing their locations one way or another.
Freely Change GPS Location without Jailbreak!
Plan a route by selecting two or multiple spots on the map
Easy to simulate GPS movement based on customized route
GPS joystick to take better control
Import GPX file to start a designed route
Change up to 15 iOS devices' location on 1 PC/Mac