Solved! Why Is My Phone Not Allowing Me to Make Calls
by Sophie Green Updated on 2020-11-09 / Update for Fix Android
Mobile phones are designed to receive and make calls without any hassle. All you need to do is dial the number of the person you wish to speak to, and you will be connected within a fraction of seconds. However, sometimes users do complain about unable to make calls. These moments can become extremely annoying, especially when you need to speak to someone directly. Well, today, through this blog, you will know the reasons why you have not been able to call anyone, and also what do I do if my phone won't make calls.
Part 1: Why Is My Phone Not Allowing Me to Make Calls
Rather than feeling frustrated thinking about why is my phone dropping calls, it is better to look for reasons and then figure out the right solutions for the problems. There is a possibility that because of a simple problem, your phone won't make calls. If the problem is simple, the solution will be simpler. If you can't make calls, then these could be some of the reasons why your phone won't call out.
Your phone won't make calls when there is a network coverage issue.
You might have changed certain settings on your phone, and forgot about it.
Corrupted data files and caches can also cause hurdles while trying to make calls.
There could be hardware/software issue.
Part 2: What Do I Do If My Phone Won't Make Calls
If you aren't able to figure out the reasons why is my phone not allowing me to make calls, then we might have the answer for that. Here in this section, we will introduce eight easy steps that will enable your phone to make and receive calls. Those who are worried about my phone won't make calls issue, follow these simple steps, and you should be able to connect with the people you wish to talk to again.
#1 Ensure that network is well-connected
Sometimes network issues can stop you from making calls. If you can't make calls, you need to check if your phone is well-connected to network or not. Try these steps.
Go to connection setting and select mobile networks.

Click on network operator and select automatically.
#2: Check if airplane mode is on
You might have accidentally enabled airplane mode. Enabling airplane mode will not let you make or receive any calls. If your phone is not making calls, then this could be another reason. Here are the steps to see if airplane mode is on and how to disable it.
Swipe your screen using your fingers, and open the Quick Settings panel. You will see some multiple shortcuts setting icons. Look for airplane mode; if it is highlighted, tap on it to disable the airplane mode. Otherwise, go to settings manually, and from there, tap on the airplane mode toggle to disable it.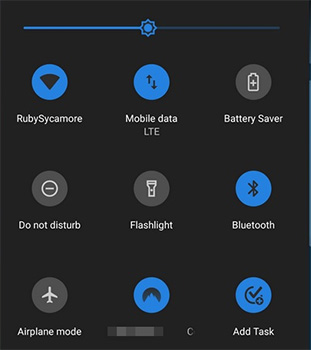 #3 Verify signal strength on the device
If your phone won't make calls even after the first two tips, the next best thing to do is to verify the signal strength on your device. Follow these simple steps to find out how you can verify the signal strength on your mobile phone.
Go to Settings

Use your fingers, and scroll down through the settings option. From the drop-down menu, tap on the About Phone option.

In some phones, you might see the SIM card status option in the status option. In the newer phone, you will see SIM card status. Tap on that.

Take a look at signal strength. You will see some numbers written in dBm, which is decibel milliwatts.
#4 Check the power indicator
When it comes to the phone won't make calls, but I can text; this can sometimes happen when you don't have enough battery left on your device. Before doing anything when you can send a text but aren't able to make or receive calls, take a look at your mobile phone and check the power indicator.
Go to settings. By enabling the battery percentage mode, you will get to know exactly how much battery is left. If you can't see the percentage, go to settings, and then click on the battery.

Enable battery percentage. Scroll down, and you will see battery percentage toggle. Touch it to enable it. This will show you the battery.
Do remember that by enabling battery percentage, you won't be able to start making calls. But phones do restrict themselves from calling when it's about to die. That's why keep checking the battery percentage and charge it whenever required.
#5 Make sure your phone has enough battery
Sometimes when the phone is left with hardly any battery, it will automatically restrict itself from making calls. Some phones come along with this feature. If you are worried about what to do if my phone won't make calls, then the simplest solution would be to check if the phone has enough battery to make calls. Carry a portable charger to charge your phone on the go. Else, if you can connect the charger to your phone, please do so. Charge your phone, and you will see that your phone is able to make calls now.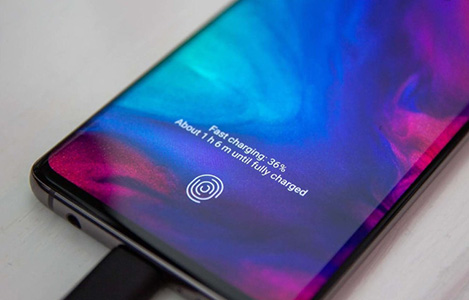 #6 Check you SIM card
Often times, when you can't make or receive calls, you will realize that the SIM card is not inserted properly. This is a very small issue, and all you need to do is reinsert your SIM card properly.
#7 Restart your phone
The easiest way to fix your phone won't call out the issue is by restarting your phone. To restart:
Click on the power button, which will be on the side panel.
Press it for a few seconds, and you will see the power off and restart option.

Click on the restart option, and your phone will be restarted.
#8 Fix system issue of your Samsung phone
If you are still struggling with the phone not making phone calls issue, you might need to fix your Android device's system issues. Don't worry, we have the right tool for you, which will give you all the answers to your why is my phone not allowing me to make calls question. You can try using Tenoshare ReiBoot for Android to resolve severe problems with your Android device. Tenorshare ReiBoot for Android can quickly fix more than 50 Android system problems. Whether your app is crashing, unable to make calls, or you are struggling with a black screen, this software will fix your issues so that you get to use your Android phone without any hassle.
Download ReiBoot for Android and install it. Now connect your phone to the PC and enable USB debugging. Now start Repair Android System.

After clicking on the repair Android system, you will see Repair Now option, click on that.

Ensure that you are selecting the correct device information. If you can't find the right information, go ahead and click on the "?" option.

Allow the software some time to finish downloading firmware package.

After the firmware package gets downloaded, hit the Repair Now option that you see on your screen. This process will take around 10 minutes. Once done, your device will start normally.
Conclusion
So, these are some of the things that you can try when you can't make calls. For the last option, you have Tenorshare ReiBoot for Android, which will fix your Android device problem and allow it to work seamlessly. Tenoshare ReiBoot for Android is an easy-to-use tool.