Top 4 IPSW Downgrade Tool (2023 Update)
by Jenefey Aaron Updated on 2022-01-04 / Update for iPhone Tips
The downgrade has always been an important part of using iOS devices. Well, which iPhone downgrade tool do users use to downgrade their OS? iOS users do that very frequently. This happens frequently due to an incomplete upgrade or the version of iOS users have installed, has issues.
A large number of users try to downgrade after the release of an iOS beta, due to the fact the iOS beta was a glitch. Sadly, it is not easy to downgrade iOS. But there are different IPSW tool downgrade available; you can check out our selection below.
Part 1: The Best IPSW Downgrade Software Tool
Well, the best IPSW/iOS downgrade software tool is Tenorshare ReiBoot. This is one of the best programs in the market with excellent capabilities and state of the art recovery process.
The installation and operating protocol are very simple; it also comes with a long list of features. Let's have a look;
Jailbreak is not required.
ReiBoot is capable of fixing 150 + iOS related issues, easily.
If the iOS freezes or you are facing any unknown issues, then ReiBoot will fix it easily.
The Standard Repair repairs iOS system issues without any data loss.
The Recovery Mode enter, and exit is also very simple, just with a single click.
Compatible with the latest iOS 14 and iPhone, iPad models.
Now, let's check out the operating procedure of TenorshareReiBoot;
Run ReiBoot and connect your device to ReiBoot.

To download IPSW, you should use the feature 'iOS System Repair', please click 'Start'.

In the following panel, both options can be used to download IPSW file. I suggest you use 'Standard Repair' and confirm the button.

After that, you will be directed to the IPSW download page. It will detect which IPSW file your iPhone needs. To find the IPSW file easily, please click 'Browse' to save it on desktop.

If you don't want to restore this IPSW file, you can close ReiBoot when the IPSW file is downloaded successfully.

If you want to restore this IPSW file, you can go to next step with ReiBoot, just click 'Start Standard Repair'. And soon, the IPSW file will be restored into your iPhone.
As you can see, Tenorshare ReiBoot is the best software to downgrade iOS firmware. Check out its operational capabilities.
Part 2: Other Useful iOS Firmware Downgrade Tools
Although, we recommend ReiBoot as it is the best IPSW downgrade software tool. But there are still feasible options that can be of use to you. So, we took the liberty to list the top 5 iOS firmware downgrade tool. The details are discussed below, check them out.
1. TinyUmbrella
The next one on the list called TinyUmbrella. This software is developed by the Firmware Umbrella Company. This is a Windows-based application designed to downgrade iOS for free.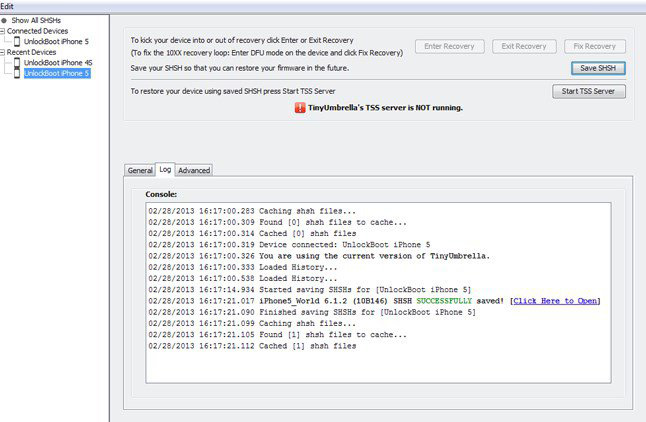 One of the most unique features of the software is to enter and exit Recovery Mode on iOS devices. The software is a bit complicated to use for regular users, and you also have to download the required firmware beforehand.
Pros:
Available for free.
It can boot the iOS device into Recovery Mode, also successfully make them exit the mode.
It can also fix an iOS device that is stuck in Recovery Mode
Cons:
Not easy to use.
Only designed for Windows OS.
The success rate is pretty compared to other programs on this list.
Existing data on your iOS device will be erased.
2. Futurerestor
Futurerestore is another good software to downgrade IPSW or firmware on and iOS device. The program is easy to use and quite effective as well. It boasts several methods to downgrade, and that is what makes it very versatile too!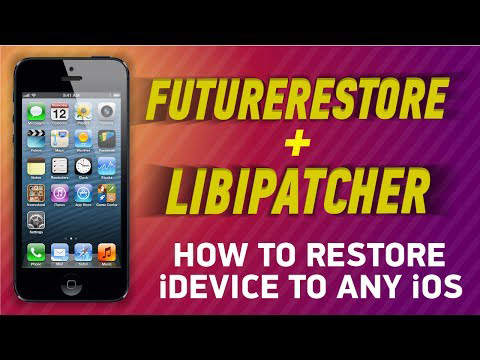 Pros:
It supports different downgrade methods.
It allows restoring non-matching firmware with custom SEP+baseband.
Cons:
Not easily available.
It doesn't support all iOS versions.
3. TaigOneDowngrader
The next one of the list is called TaigOneDowngrader. But this software can only be used in the iOS device is already jailbroken. As the name suggests, this program will effectively downgrade iOS, but as it is not an official solution, you may face some unwanted damages.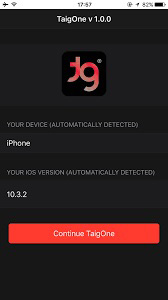 The program is available for free, and it is compatible with older iPhone models but not with iPhone X, XR, or even XS Max.
Pros:
This software is available for free.
Firmware gets downloaded automatically.
Cons:
Existing data on your iOS device will be erased.
Only effective with jailbroken iOS devices.
It will not work with the latest updated firmware.
Part 3: How to Downgrade iOS Firmware without Using Software
'Is there a tool to downgrade to an unsigned IPSW?'
Well, there are tools available, but you can also force install IPSW to downgrade iOS firmware using Finder. Considering the fact that you are not using a classified tool, steps are simple enough. Still, then are detailed below;
Disable 'Find My iPhone' on your iPhone.
Then, download the required IPSW from the following website;IPSW
After that, connect the iPhone to the computer and launch Finder.

On Finder, go to the 'Location' section, select your iPhone and click on 'General'.

Lastly, click on 'Restore iPhone' while you are pressing the Option key.
After that, select the IPSW file that you have downloaded and click 'Open'. Then, you will be prompted and click on 'Restore'.
Conclusion
So, the IPSW downgrade tool download is the best way to revert back to your existing iOS, safely. Although we recommend the use of Tenorshare ReiBoot as it is considered the best, we have still discussed 5 other top iOS downgrade tools in this article. You can check them out too.