Here's How to Fix Find My Friends Live Not Working
by Anna Sherry Updated on 2022-05-23 / Update for change location
Find My Friends is one of Apple's top-notch services that allow different users to share their locations with their friends and family. However, as you are utilizing this app on your device, it may not work properly. This could be that the app stops working completely, is unresponsive, doesn't open at all, or is showing inaccurate locations of other users.
Regardless of the problem you are facing, it is possible to solve it. Here, we will describe different solutions for fixing Find My Friends Live not working on your device.
I. What Does Live Mean on Find My Friends
Generally, the Find My Friends app shows you the best current location of other users who have given you permission to keep track of their location. However, you need to continue refreshing and fetching the new location of the other users because you can know where they are.
But Live on Find My Friends has changed that. With this new feature, you can check the real-time location of your friends and family without needing to refresh the app. This app will let you know every step that the person takes, the stops they make, and so on. Therefore, Find My Friends live tracking guarantees more security and gives real-time access to the location of your loved ones.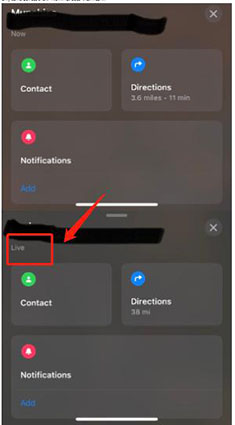 II. What to Do If Find My Friends Live Not Working
Despite the astonishing benefits of this app, you may have difficulty with Find My Friends live location. Nevertheless, don't lose your sleep over this easy-to-solve issue as we will show you how to fix it below.
Way 1. Check Your Friends' Location Settings
If the Precise Location feature on your iPhone is turned off, Find My Friends live tracking may not work properly on your device. Therefore, it is crucial to turn on this feature on your iPhone. Follow the steps below to check the settings:
Go to the Settings app on your iPhone. Then, navigate to Privacy and click it.
Under Privacy, go to Location Services and enable the services.
Afterward, choose Share My Location. Then, you should click Find My iPhone and tap the settings to enable it.
Now, navigate to the Find My Page and click 'Share My Location'.
Again, return to the Location Services page to click Find My App.

Now, you need to choose While Using the App and whether Precise Location is enabled or not. If not, you need to enable the feature.
Way 2. Make Sure the Find My Is Enabled
For Find My Friends Live to work perfectly, you need to make sure that the Find My feature is enabled on your iPhone. To enable the feature, do the following:
Go to the Settings app on your iPhone and click your name.
Look at the iCloud option to see whether it is turned on or off. If it is off, you have set it up.
Scroll down and hit the Find My option.

Please, ensure that Find My iPhone, Find My Network, and Send Last Location are all enabled on your device.
Way 3. Update to the Latest Version on All iPhone
You may also have an issue with Find My Friends Live vs Now if your device runs on the old version of the OS. Therefore, it is important to update to the latest version of iOS.
Go to the Settings app on your mobile device and navigate to General. Click it.
Then, hit Software Update. Some instructions will be provided on how to update your OS on the page.
Way 4. Report It to Apple
Unfortunately, the solutions above may not solve all the cases of Find My Friends Live not working on iPhone. So, a bug or some other factors may make the problem persist after trying different solutions. If the problem continues after trying various methods, you shouldn't hesitate to report it to Apple. The officials are Apple can offer timely solutions that can assist in fixing the issue.
Tip: How to Fake Find My Friends Live Location
Would you like to fake the Find My Friends Live location? If yes, you can do so by using Tenorshare iAnyGo. This program allows you to simulate GPS movement from one point to another. With this, your friends will think you are in a location where you are not in.
To use Tenorshare iAnyGo to fake Find My Friends Live location, you should use the step-by-step guide below:
The first step is to download Tenorshare iAnyGo on your computer. Then, you need to install and launch the program. Connect your iPhone to the Mac or PC with a USB cable.

On the main interface of the software, go to the Single-Spot Movement option. After this, you need to tap Enter.

Your real location will serve as your starting point. So, you have to select another location as your destination. Do this by entering the coordinate or address in the search bar. Otherwise, click a spot on the map.

Choose the number of moves you want as well as the movement speed by just adjusting the speed bar. Then, you have to tap Start to Move. Now, you will appear to be moving between the two spots selected.
Conclusion
With the detailed information provided above, you should be able to fix Find My Friends Live not working on your device with ease. We have tested Tenorshare iAnyGo several times; hence, you can rest assured that it is the best tool for the job. So, download it today for faking your location.
Freely Change GPS Location without Jailbreak!
Plan a route by selecting two or multiple spots on the map
Easy to simulate GPS movement based on customized route
GPS joystick to take better control
Import GPX file to start a designed route
Change up to 15 iOS devices' location on 1 PC/Mac