How to Bypass WhatsApp Video Transfer Limit
by Jenefey Aaron Updated on 2023-02-07 / Update for WhatsApp Tips
WhatsApp is one of the most popular IM apps that not only used to communicate via text but also deals in the exchange of music, videos, pictures, and even your current location. The number of active users is over 600 million and is available on multiple platforms such as iOS, Android, and Windows.
But the service comes with file size limitation. How big is it and how can you overcome it?
WhatsApp Video File Size Limit
To keep its servers intact, WhatsApp limit the attachment file size. Anything that you share using the app couldn't exceed the 16 MB. The limit won't likely affect your texts, nor your images unless you are sharing the highest quality photos from a high-end SLR.
But videos, even an amateur-shot videos can easily exceed 20 MB given that the duration is long enough. And since we all love to share videos so much, this limitation will hinder our path to complete freedom in sharing.
Fortunately, there are several ways that you can do to overcome the limitation.
Compressing the Videos
The first option to overcome the file size limit is to reduce your video size. You could do this by using:
Making the Root Modifications on Android
The second option is to modify the limitation from within the WhatsApp app itself. If you own a rooted Android device, you could try this method. You would need to do a minor editing to a particular XML file to ensure that the mod works correctly. By doing the mod, you could stretch the 16 MB limit up to 2 GB. Just make sure that your data plan can handle that big of files.
Another thing to consider is that the tweaking will be reset to its original 16 MB every time you reboot your device, and whenever WhatsApp is updated.
And the most important thing to remember is that tweaking the core of your system can cause serious damage to the OS and cause the app and device to malfunction. So, proceed at your own risk.
Before you begin:
There are two things that you should keep in mind; the device needs to be rooted so it can open the file and edit it and you also need a root explorer with a text editor such as Root Browser By Jrummy Apps. So let's start.
1. WhatsApp should be installed, and the user should be logged in.
2. Open the Root Browser app.
3. Grant Root permission when the message prompts.
4. Open 'data' and press 'data' again.
5. Open the 'com.WhatsApp' folder then the 'shared_prefs' folder. Here you will find the main file by the name of 'com.WhatsApp_prefrences.xml'.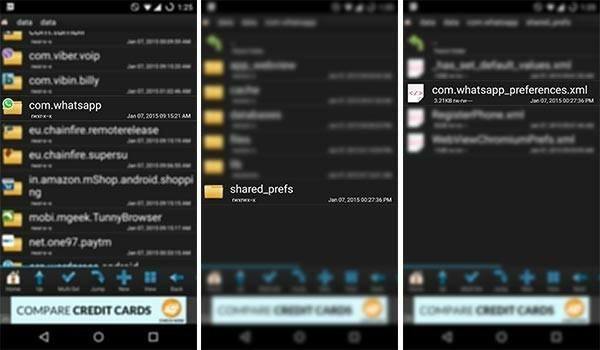 6. Long tap on 'com.WhatsApp_prefrences' and press Open with.
7. From the list of given apps, open RB Text Editor.
8. You will see the file opened with the text editor.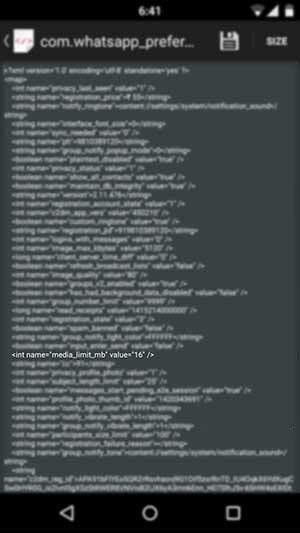 9. Now you must find the file size keywords from the text provided.
10. Now change the number 16 to your desired value.
11. The numbers replaced are in MBs and should be set to the maximum of 2048.
12. Now you should save and exit the file.
13. Reboot your device on time and enjoy increased file sharing.
Protecting Your WhatsApp Data
As mentioned before, tinkering with the core system comes with great risk. While errors can be fixed, losing your data is often irreversible. To protect your data, you need help from WhatsApp Recovery. With WhatsApp Data Recovery, you can get back lost or deleted WhatsApp chats including messages, videos, and photos easily from iOS and Android phones.
Your Trustworthy WhatsApp Data Recovery Software
Recover deleted WhatsApp messages from Android devices;
Recover deleted WhatsApp data directly from iOS devices;
Support the scanning and reading of encrypted iTunes backup files;
Support 7+ file types (contacts, photos,chats,voice messages, etc.);
Compatible with latest iOS 17 and Android 12/13.