Is Addrom ADB FRP Safe?
by Jenefey Aaron Updated on 2023-03-31 / Update for Unlock Android
While Google attempted to tighten the security on their Android Systems, they also ended up making some aspects of the system quite complicated for the users. The FRP, also known as Factory Reset Protection, was first introduced with Android 5.1 Lollipop, and it changed everything.
After that, Android users had to provide the password of their Google account associated with the smartphone to reset the device. While FRP worked great as anti-theft protection, it made things difficult for authorized users as well.
Still bypassing the Google account is difficult but it is not an impossible task with the help of programs like Addrom FRP. If you are wondering "Is Addrom ADB FRP Safe?", read on to learn about this program.
Part 1: What Is FRP Addrom APK?
Surely, FRP Addrom APK download will make it definitive for you bypass the Google account lock. FRP Addrom 2018 is a useful tool whose primary goal is to bypass FRP for Android devices.
You also need to be careful while making FRP Addrom download, as there is a different version available for Android 5/6/7 and 8.
Basically, if you are about using the Addrom FRP tool on Android 5.1, then you need to download FRP Addrom APKthat is designated for the said version of Android. Any other version of the program will not work.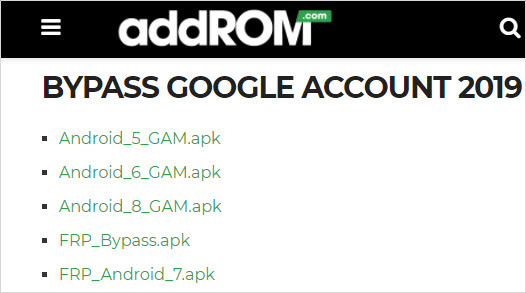 After the Addrom FRP bypass completes its work, you will be able to reset your Android device, without facing any issues successfully.
Here's a download link for Samsung Note 8 FRP bypass Addrom.
Part 2: How to Bypass Google Account with FRP Addrom APK
Here's the guide for Addrom bypass FRP Google. Check it out:
You have to download and copy the file on the phone.
Now, put the device into Recovery Mode, and install the program.
You have to turn on 'USB DEBUG' from the 'Developer Option'.
After that, the program will unlock the Google account.
Part 3: Is Addrom ADB FRP Safe?
Well, the steps to use ADB FRP Addrom are not very straightforward. But the real question is still there: is Addrom ADB FRP safe to use?
Well, let's see the drawbacks of this particular program:
Sadly, this is an outdated program and hasn't been updated in a long time. There aren't any versions available for Android 9.0.
The program will not provide anything other than the APK file. You will not get any guide for installation, which is quite complicated.
As there isn't any support available, the procedure can be very risky. If you take any incorrect step, you will get stuck.
So, there are several issues with Addrom download. The biggest problem is that there aren't any versions available for the latest version of Android. Still, if you want to use it on older Android versions, you will not get any support which could lead to permanent damage to the said Android mobile.
Part 4: Best Safe Samsung FRP Bypass Tool in World - Tenorshare 4uKey for Android
As you can see, there are more than a few reasons why you shouldn't choose sm-g9350 7.0 FRP by Addrom. But if you can overlook these issues, then go for it. Otherwise, you will want a better alternative.
A better alternative is hard to choose, but after checking out all the aspects, we have decided to recommend Tenorshare 4uKey for Android. This is a better program, far better than FRP Addrom Nokia. The program uses an advanced algorithm to bypass the Google account lock as fast as possible. Here, take a look at its working procedure;
Download 4ukey from Tenorshare website on your computer and complete the installation. After that, connect the Android mobile, and run the program, select 'Remove Google Lock (FRP)' on the program interface.

In the following panel, click 'Start'. Then, you have to select the name of the device and click 'Next' to proceed.

After that, you have to enter PDA information regarding the device, such as the country of manufacture, the name of the Carrier, etc. Then, click 'Next' and the program will verify the info. If all the information is correct, click 'Confirm' and proceed.

After that, you have to put the device into Download Mode.

Now, you will need the firmware required for this procedure. Download the firmware.

Complete the firmware installation and put the device into Recovery Mode. 4uKey will detect the firmware immediately, and it will start unlocking the Google account.
The Google account lock will be bypassed immediately, within 10 minutes of the initial launch of this procedure.
Conclusion
FRP Addrom is a good program for bypassing FRP. But it can only be helpful if you are a tech-savvy person and able to follow the procedure without any guide. As you can guess, it can be difficult for most people. Also, this article have answered your question "Is Addrom ADB FRP safe?" So, using Tenorshare 4uKey for Android is the best possible option you will get. Check it out!