Custom Skills on Disable FRP Lock
by Jenefey Aaron Updated on 2021-12-09 / Update for Unlock Android
Google has introduced FRP lock in android phones to protect your device and data. But the issue arises when you want to factory reset your device but have forgotten the credentials of Google account synced with your android phone. In that case, you have to bypass the FRP lock to continue using your android mobile. Well, you can easily fix this issue by reading the following paragraphs as this piece of writing will elaborate how to disable frp lock with just few clicks.
Part 1: What Is FRP Lock on Android Device?
FRP is the abbreviation of Factory Reset Protection. Android has added a special security feature on an android device with Android OS version 5.1 or higher than you need Google email address and password to factory reset it. Otherwise, you will not be able to access your android mobile and it will be locked. This feature is automatically enabled when you register your Google account on an Android device. So, if you cannot recall your Google account password, then you have to disable frp lock Samsung to regain access to your Samsung mobile.
Part 2: Can You Disable FRP Lock on Any Android Device?
Well, the answer is definitely YES. If you have forgotten the password and want to reset your mobile for any purpose, then you can disable frp lock Samsung. Whenever you have reset an android device having Android OS version 5.1 or higher, the following notification pops up on your screen.
The problem arises when you couldn't recall your Google account details to enter but you need not worry as in the following paragraphs, I will explain various methods to disable FRP lock.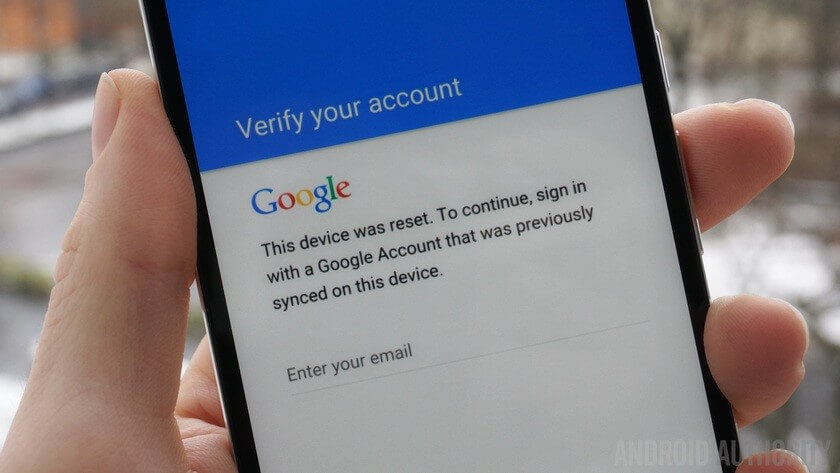 Part 3: Top 3 Guides on Disable Google FRP Lock[Take Samsung as an Example]
FRP lock has become an inherent component of the Android security program. It protects your private data against theft as there is no direct way to bypass Google FRP lock. But Google provides certain methods to disable google FRP lock.
I will explain to you the three simplest and widely recommended methods to disable Google FRP lock to continue using your Android mobile even if you forget your Google account password or ID.
Guide 1: How to Disable Google Account Verification on Android Device
You can directly disable Google FRP lock on your Android device. When you forget your account credentials, you are stuck at the following screen. Just follow the below guidelines to understand how to disable google frp lock.
Firstly, connect your device to the WIFI and make sure you have chosen the Google Keyboard option.
Now, tap on @ and then tap on the 'settings' icon. After that, open the 'Google Keyboard setting'.
Click on 3 dots at the top and select 'Help and Feedback' and then tap on 'Search Google and send results from your keyboard' option on the screen.

Now select the word from the screen and click on 'Web search' at the top and open it via Google App and you will see search results.

Solve disabled Google frp lock

After that, search S and you will see the System Setting Icon. Click on that icon and open the Backup and reset menu and tap on 'Factory Data Reset'. The process will complete in a couple of minutes.

Now, your welcome screen on the mobile will no longer ask for Google account credentials and you could simply 'Skip' or add 'New Google Account' to regain access.

After bypassing old FRP, set new Google FRP
Guide 2: How to Disable Google Lock Online via Google Account[Need Preconditions]
To disable Google Lock online, you need to remove the activation lock before applying the factory reset. Once you have applied the Factory data reset, you will not be able to remove the FRP lock using Google account. Follow the below guidelines to know how to disable frp lock;
Log into your Google account and then go to 'Device activity and Notifications' and click on review devices and then select the Android device you want to remove from Google Account.

Remove FRP lock - Google Account 1

Bypass FRP lock - Select review devices

Now remove the access of your device from Google account and proceed.

Bypass android lock - Remove Google Account

After that, a confirmation window will pop out. Select 'Remove' and Google FRP lock from your mobile will be removed. A confirmation window will approve this.

Confirmation to bypass samsung frp lock
After completing the above procedure, you need to perform reset to your device. For more information about this procedure, open this link;
Guide 3: How to Disable Google FRP Lock at Fastest Speed[No Need Password]
Tenorshare 4uKey for Android is the most robust and efficient software to bypass FRP lock. It supports almost all Samsung devices with Android 6/7/8/9/10/11 and helps you to unlock FRP screen lock, delete your Google accounts without passwords and it has the unique ability to decrypt all Android phones with just few clicks.
The 'Remove Google Lock' option allows you to bypass FRP lock on Samsung most quickly. You don't need any password so if you are stuck at the welcome screen, Tenorshare 4uKey will help you how to remove google lock. You must know that this process will remove all data from your Samsung device and will take some time, so make sure your mobile is connected to a plug if its battery is less than 50%.
Follow the below steps to carry out the process;
First of all, install and launch Tenorshare 4uKey for Android on your PC and connect your Samsung device to it. Now, click on 'Remove Google Option' on the screen.

Step 1: Click remove google frp option - 4uKey for Android

Now, choose the operation system of your Samsung device and click 'Send Notification' to start the process.

Step 2: Start removing google frp - 4uKey for Android

It can be seen that this software provides some notices before start. So, confirm them as shown in the figures.

Step 3: Do Confirmation - 4uKey for Android

Now wait for the program to finish sending the notification to your Samsung device.

Step 4: Send notification to Samsung - 4uKey for Android

Now, your Samsung device has received the notification. Follow the instructions corresponding to your device to continue the process.

Step 5: Set up Samsung and bypass FRP - 4uKey for Android

Finally, restart the device and then Google account will be removed from your Samsung device. Now, you must have regained access to your mobile.

Step 6: Succeed in removing Samsung FRP lock - 4uKey for Android
That is how to bypass FRP on Samsung Android 6-10,and for Android 11, the steps are a little different and we recommend you to watch the below videos:
Conclusion
This article has elucidated one of the most common issues of Android phones i.e., how to disable google lock. Ever since Google has developed an advanced security feature of FRP lock in Android mobiles, many users have been facing difficulty when they forget the credentials of their Google Account. Fortunately, Tenorshare 4uKey for Android provides answers to all their problems in the most user-friendly manner. It is the fastest and the most reliable way to help you bypass Samsung FRP lock in just a few minutes. Now you know what to do next with this full guide.
Remove Android Screen Lock & Bypass Samsung FRP Lock
Bypass Google account verification on Samsung devices (Android 6-13)
Remove Android password, pattern, PIN, and fingerprint lock just one click away
Support removing screen lock and FRP on both Win & Mac