How to Reset Privacy Password in Realme without Security Question?
by Sophie Green Updated on 2023-08-02 / Update for Unlock Android
If you have forgotten the privacy password of your Realme device, it means you are locked out of your own phone, and you want a method to get access to your phone. So, if you are wondering how to reset your privacy password in Realme, you are in the perfect place!
In this article, we will discuss the top 3 methods you can use to reset privacy passwords without security questions, along with a tool you can use for this purpose.
Part 1: What is the Privacy Password in Realme?
Realme provides different privacy password options to help you keep your device, files, and apps safe and secure. The purpose of the privacy password and security options is to ensure you can keep confidential or private information on your mobile phone without worrying about the fact that any unauthorized individual can access them.
Part 2: How to Set Privacy Password in Realme?
Realme devices provide a wide range of options to help you set the privacy password of your own choice. You can access the privacy password on your Realme smartphone by opening Settings, Password and Security, and opening Privacy Password.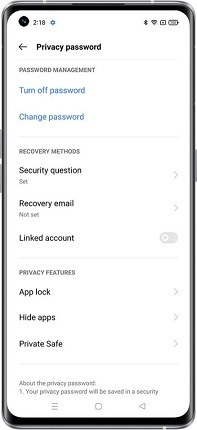 Here, you'll get the following options:
6-digits password
4-digits password
4-16 digits password
Pattern password
Alphanumeric password
Security question
Recovery email
Linked accounts
Keep in mind that you have to set up a security question to set the privacy password on a Realme smartphone. It is also recommended that you set a suitable recovery email on your device so that even if you forget the password later, you can recover it.
However, if you don't have such details, then keep reading to learn how to reset your privacy password in Realme without security questions.
Part 3: How to Reset Privacy Password in Realme without Security Question?
Forgetting the Realme privacy password can have an adverse impact on you as you won't be able to access your phone. In such a situation, you can use the following three methods to reset your Realme privacy password.
Method 1: Reset via Secure Email
The easiest way to reset the privacy password and unlock your Realme phone is through the secure email you entered at the time of setting the password. You can do it by selecting the Forget Password option and entering your email. You will receive a verification code in your email. Enter the code into your mobile device and select new passwords to regain access.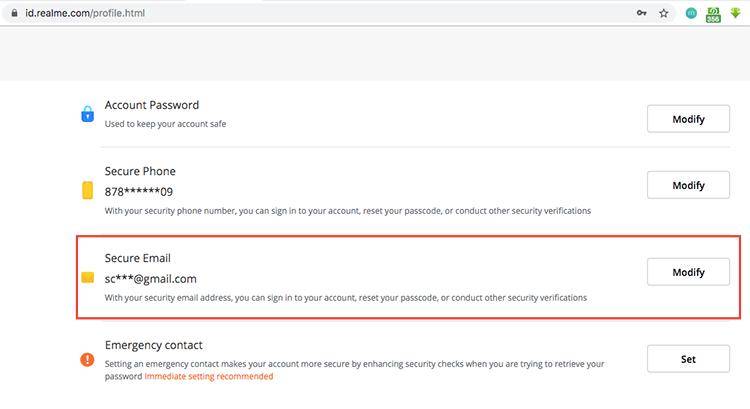 However, if you have not attached any secure email or you don't have access to the email, you will have to use another method to reset your privacy password.
Method 2: Reset via Linked Account
When you are in the process of learning how to reset forgotten privacy passwords in Realme,you must remember the importance of linking an account with your device. When you set a new privacy password, you get the option of linking an account with your device. The purpose of this account is to make sure you can easily forget passwords at a later stage. Hence, if you are trying to reset the privacy passwords, you can try to do it through the linked account.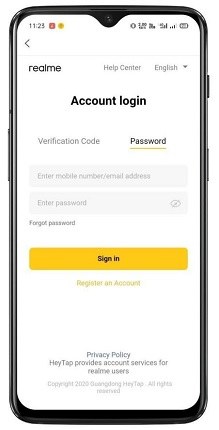 Method 3: Seek Assistance from Realme Service Center
If none of the above methods work, you can consider contacting the nearest Realme Service Center and getting help from the experts in unlocking your phone. They will guide you and tell you about the entire process that you have to follow to reset your Realme device.
Extra Tip: How to Unlock Forgot Realme Pattern Lock Effortlessly
The traditional methods of unlocking Realme passwords, PINs, and pattern locks are quite complicated and time-consuming. It is not necessary that you have a secure email or linked account in your Realme smartphone. Moreover, contacting or visiting a Realme service center is also not quite easy.
Therefore, the quickest way to unlock a Realme phone when you have forgotten the pattern lock is through a third-party tool like 4uKey for Android.
4uKey is a powerful tool you can use to remove different types of screen locks, passwords, and patterns from your devices, such as Realme smartphones. If you have forgotten the privacy password of your Android phone, you should definitely consider using 4uKey to unlock it.
Benefits of Using 4uKey for Removing Realme Pattern Lock
Quick and easy
Complete screen and pattern lock removal.
Remove all kinds of locks, including passwords, PINs, patterns, fingerprints, and face recognition.
Supports screen lock removal of 6000+ Android devices.
Step-by-Step Guide on How to Remove Realme Pattern Lock
Download, install, and launch the 4uKey for Android software

Use a USB cable to connect your Realme mobile phone to your laptop or PC. Select the 'Remove Screen Lock' option.

Now you have to choose whether you want to remove the screen lock with data loss or without data loss. Keep in mind that the option of 'remove screen lock without data loss' is limited to early Samsung devices. Therefore, if you have a Realme device, you will have to select the option to remove the screen lock with data loss.

Select the device name and model of your connected device. If you are not familiar with the particular model of your device, you can use the option 'Don't know the device model?'.

After selecting the required information, click on the Confirm button.

After confirmation, a data package will be downloaded. Click on Next and follow the instructions.

Once the instructions are followed, the process will be complete, and your Realme device will no longer have the screen lock.
Also read: Top 5 Oppo Screen Password Unlock Tools
Wrapping Up
Considering all of the above discussion, it is integral that you try to keep your Realme privacy password safe and secure. However, even if you have forgotten it, you don't have to worry, as the entire process of unlocking your Realme device is made quick and easy with 4uKey for Android. All you have to do is follow a few simple steps to get rid of the lock and access your phone again.