Network Locked SIM Card Inserted, How to Unlock It?
by Anna Sherry Updated on 2022-04-19 / Update for Unlock Android
When I inserted my Roam SIM card into my Samsung Galaxy device, I got an error saying "Invalid SIM Card. Network locked SIM card". What do I need to do? How do I find where to put the network unlock pin?"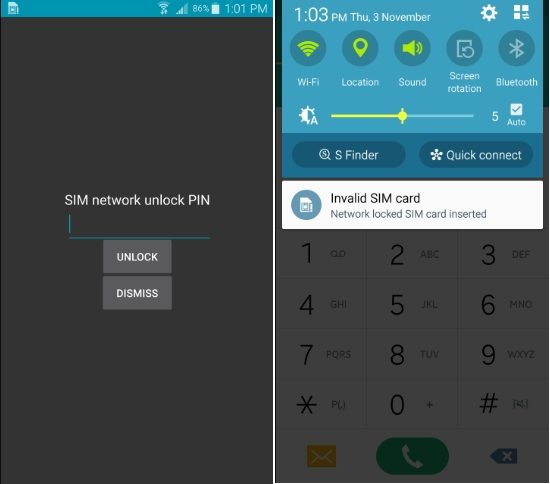 The problem with getting a high-end Samsung device is the associated network carrier. When you are not satisfied with the huge deal handed by your network provider, you might consider changing to another provide. However, after the change, the moment you enter the SIM card of your new service provider, it gets locked.
So, you are getting network locked SIM card inserted due to the fact that you had a contract with your previous service provider for a certain period of time which has ended abruptly. This is not an easy situation to get out of, but we have provided a few fixes in the article below to help you get rid of the Network Locked SIM card inserted. Let's take a look.
Part 1. What Does It Mean When Your Phone Asks for a SIM Network Unlock PIN?
You are getting network locked SIM card because your phone's network is still locked to the original network carrier. For the moment, your device can't be used alongside different SIM cards until it gets network unlocked by inserting 8 or 16 digits unlock code.
If such happens, you may get one of the following error messages on your mobile screen;
Network Unlock Code
SIM Network Unlock PIN
Network Control Key
SIM PUK Code
Master Unlock Code
SIM Network PIN Blocked
Network Pin
Part 2: Why My Phone Say Invalid SIM Card – Network Locked SIM Card Inserted?
There are actually 3 general reasons for your Samsung device to be locked upon inserting a new SIM card. The reasons are listed below:
Network Lock: If you got the device from your network provider, then they may have locked the device only to their network.
Region Lock: Some of the Samsung smartphones are designed to work only with the SIM card issued by the default network carrier in certain parts of the world.
Faults with the Phone's Firmware: If your smartphone is getting the network locked SIM card inserted error message after an update or a restore, then it may have caused by a glitch on the phone's firmware. This issue generally happens on Samsung Galaxy S6, S7, S9, Note 5 and JIO models.
Part 3. What Is the SIM Network Unlock PIN/Code?
The SIM Network Unlock PIN is a code provided by the network carriers in order to unlock your SIM Card. This said lock was also placed by them so that you are only able to use their network.
Before 2009, the code for unlocking Samsung mobiles was an 8 digit number. But after 2019 that changed. Now, Samsung uses 16 digit network codes. Some of the models require a defreeze code alongside the unlock code.
Part 4. How to Fix Network Locked SIM Card Inserted?
Now that you know what does network locked SIM card mean, it's time to fix this problem. Otherwise, you won't be able to use your so-called high-end Samsung smartphone.
There are a few ways to fix the error, we have provided a list of solutions below;
Method 1. Unlock Network Locked SIM by Contacting Network Carrier
If you are getting the Invalid SIM card network locked SIM card inserted error message after changing your network provider, then it can be fixed pretty easily via a call to your previous service provider. They will provide you with an 8-16 digit code that will unlock the SIM card. But there are a few contract requirements that need to be met. Otherwise, they won't be providing you with the specific code. Here is the list of requirements:
You have to have used the default carrier for at least 3 to 6 months. The number of months varies depending on the carrier.
The price of the smartphone needs to get paid in full.
Now, it is possible that you may have to pay a termination fee if the price of the smartphone is not paid in full. After receiving the said code, you need to go through the following steps:
Turn off your Samsung phone and insert the new SIM Card.
Restart the device, and upon the restart, you will be asked for the unlock code.
You have to type the code you received from the carrier. If you type the wrong code, you will be locked out of your device.
Method 2. Unlock Network Locked SIM Using Online Unlock Service
There are also online services available with the capability of unlocking your SIM card. These sorts of services mostly use the IMEI number for unlocking smartphones worldwide. The service we are recommending here is known as Canada Unlocking. Canada Unlocking will provide the unlocking code via email. This is a very legal procedure, and the steps are also pretty simple. Here's how to unlock network locked SIM card inserted.
Insert the new SIM card and turn on the mobile.
You need to type the Network Unlock Code when you are asked.
After providing the proper code, you will be able to unlock the smartphone. Then "Unlock Successful" will be prompted on the screen.
Method 3. Repair Your Phone Firmware If Your Unlocked Phone Suddenly Network Locked
If your phone suddenly gets the network locked sim card inserted error message after an update or a restore, it is a fault with the phone's firmware. In this case you need a powerful firmware repair tool to repair your Android system.
Among numerous system repair programs, we recommend Tenorshare ReiBoot for Android due to its multiple states of the art features and excellent system recover procedure. ReiBoot for Android is also helpful when you are facing "Not Registered on Network" error on Android or SIM Not Provisioned error.
You will be surprised to know how simple the steps to use ReiBoot for Android are. Here's how to fix network locked SIM card inserted issue:
Download and install ReiBoot for Android on your computer, then launch it. Connect the Samsung mobile to the computer and click on the "Repair Android System". Don't forget to enable USB Debugging from your device's Developer Settings.

In the following interface, click on "Repair Now" and proceed.

Now, you have to choose the device info. If you are unable to fill out all the boxes, then click on the "?" icon below. After providing the device information, you need to download the associated firmware.

ReiBoot for Android will start downloading the latest firmware package for your device.

After the firmware is downloaded, click "Repair Now" and begin the repair procedure.

It will take around 10 minutes for the repair process to complete. When complete, your Android device will boot up as normal.
Check if the Network Locked SIM Card Inserted issue is fixed. This is one of the simplest ways to fix the locked network issue you are facing right now.
Summary
So, if you have changed the network carrier for your Samsung mobile, then you may have to face the network lock, and you won't be able to reaccess the network without proper code. We have listed a few ways you can get the code and fix the issue, but you can use Tenorshare ReiBoot for Android for system repair, it is also very useful.