How to Reset a Motorola Phone that Is Locked? 3 Proven Methods
by Anna Sherry Updated on 2022-12-14 / Update for Unlock Android
How do I factory reset a Motorola that is locked? I have forgotten the lock screen password and now are locked out of my Motorola phone. I'm trying to reset it to factory setting but don't know how. Any idea what to do here so that I can get into it?"
Locking your Motorola phone with a password, PIN or pattern is a good way to protect your content from unauthorized access. However, sometimes you can locked yourself out of the phone because of forgetting the password/PIN. If by any chance you can't get past the lock screen, try performing a factory reset to erase the phone and set it up again. In this guide, we will show you how to reset Motorola phone when locked by offering three proven methods. Read on and chose what suits you the best.
Part 1: Things to Be Aware of Before Resetting a Motorola Phone that Is Locked
Before resetting your Motorola Phone, you must know the following things.
Data Loss: Once you have performed a factory reset, everything that isn't originally on your Motorola phone, including downloaded app data, settings, preferences, music, photos, and more will get deleted. If you've previously created backup, it's still possible to restore your data.
Google FRP: From Android 5.1 onwards, Google has introduced a security feature called Factory Reset Protection (FRP). So long as you have a Google account registered with your Motorola phone, Google FRP will be enabled and you'll have to provide the user name and password for the Google account. So make sure you know the account credentials before you reset your phone. Otherwise, you'll need a Motorola FRP bypass tool.
Part 2: How to Reset a Motorola Phone that Is Locked
There are mainly three simple reset techniques you can try when you have accidentally locked your phone. Without wasting any time, let's start by discussing how to reset a Motorola phone that is locked in the easiest way.
Method 1: Reset Motorola Phone without Password with Third-Party Tool
Tenorshare 4uKey for Android an outstanding Android phone unlocking software, is definitely a great choice to reset Motorola phone without password. Working with almost all Android devices, 4uKey for Android can easily remove screen locks within minutes. There are many benefits of using this app, such as:
You can remove almost all the Android lock passwords, including PIN, password lock, fingerprints, and face recognition.
It also supports Android 12, Windows 11 and macOS13
Now, let's see how this application works and helps reset Motorola phone without the password.
After 4uKey for Android is installed on your computer, launch the program, select "Remove Screen Lock" and connect your device using a USB cable. The program will soon start installing the driver.

Next, from the screen, choose the "Remove Screen Lock" option, and click Start.

You will see a pop-up message saying, "Removing the lock screen password will erase all data on the device." If you have created the backup file, click the "Yes" button. Then the tool will start removing the lock.

Once the process is done, it's time to enter recovery mode and perform a factory reset. To do that, you can follow the instructions on the screen.

At last, the tool will automatically remove the lock screen. Once the process is done, you will see the "Removed the Screen lock Successfully" message on the screen.
That's it! You have finally learned how to unlock a Motorola phone without the password. If you want to try traditional methods to reset Motorola phone when locked, check out the ways below.
Method 2: Remotely Factory Reset the Locked Motorola Phone via Google Service
You can use a Google Service called Find My Device to factory reset a locked Motorola phone. But make sure you have added your Google account before locking it. Also, the Find My Device feature should be enabled along with your location. Once you have fulfilled the requirements, start applying the steps below.
Step 1. Open Find My Device Website
First, you must open the Google Find My Device website on another mobile device or your PC. Next, log in with your Google account linked to your locked Motorola device.
Step 2. Erase the Lock Screen
Select the icon of the locked Motorola device, then click "ERASE DEVICE" twice, and type your account and password. Next, hit the "Erase" icon to start the process. But remember that it will erase all data off your phone.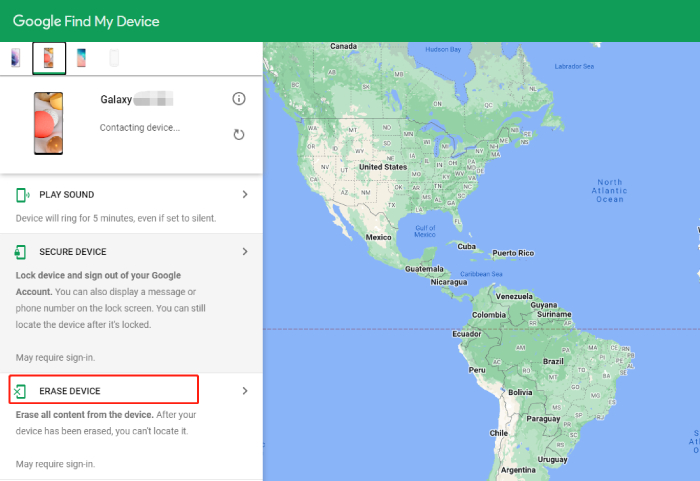 Note: You must have a stable internet connection.
Once done, you can use your phone again. Hopefully, this will unlock your phone, but in case you have not set up such a remote unlock method, you can still perform a hard reset. For that, you can check the method below.
Method 3: Hard Reset Motorola Phone When Locked
Hard resetting Motorola phone is another practical way to get into a locked Motorola phone. In this section, we have you covered if you don't know how to hard reset a Motorola phone that is locked. It is simple but before proceeding, make sure you remember your Gmail account and password. Also, ensure your mobile battery is charged at least 30%. Once you have checked the requirements, follow the steps below to perform a hard reset.
Completely turn off your device.
Press and hold the Power and Volume Down buttons simultaneously to put the device into recovery mode. Don't release them until you see the System recovery screen.
Next, Press the Volume Down button to get the Recovery Mode option. Now, press the Power to confirm the process.
Press and hold the power button, then press the volume up button and release both buttons. Doing this will let you get the Android recovery screen.
In the next step, use the Volume Down key to get the Wipe data/factory reset option and use the Power button to choose the option. You'll need to select YES to go ahead.

Once the data is erased, press the Power button again to choose the Reboot System Now option. Wait for your Motorola to reboot and you're good to go.
So these are the top 3 proven ways to reset a locked Motorola Phone. You can try these methods and unlock your phone without password with ease.
The Bottom Line
How to factory reset Motorola phone without password? You have finally learned all the possible ways to reset your locked phone. Remember that, as these methods will erase all your content. Also, ensure you have enough mobile battery to continue the process smoothly. If you want to save further trouble, then put Tenorshare 4uKey for Android as your 1st choice whenever you look for ways to reset a Motorola that is locked.
Remove Android Screen Lock & Bypass Samsung FRP Lock
Bypass Google account verification on Samsung devices (Android 6-13)
Remove Android password, pattern, PIN, and fingerprint lock just one click away
Support removing screen lock and FRP on both Win & Mac