[100% Effective] How to Unlock Fingerprint Lock Android
by Jenefey Aaron Updated on 2020-05-09 / Update for Unlock Android
Being one of the most secure Operating systems in the world, Android is equipped with several modes of device security. These are highly encrypted and implemented so that no one other than yourself is able to access your smartphone.
Unfortunately, these encryptions are so secure that it will even stop if you are unable to properly access credentials. The biometrics is the toughest security to crack. So, if you are having trouble to bypass your fingerprint access, don't panic. There are ways to bypass it but most of the users don't really know how to remove fingerprint. So, for more details read the article below.
Part 1: How to Unlock Fingerprint Lock Android Easily and Effectively
So, if you have put a fingerprint lock for Android and now you are unable to get into it due to some reason, you must use those advanced 3rd party programs to bypass the lock and get into the device.
The most effective and effortless way to bypass fingerprint unlock screen is to use Tenorshare 4uKey for Android. It is true that there are numerous similar programs available for you to use; some are paid and some are available for free. But regardless of all that, we tried and tested most of the programs out there are and found 4uKey to be the best among all for bypassing fingerprint lock app for Android.
Tenorshare 4uKey is a very efficient program which can be operated with ease. Here's how to remove your fingerprints using 4uKey:
Step 1Download and install 4uKey on your computer and launch it. Select the "Remove Screen Lock" option from the main interface and then connect your locked Android mobile via USB cable.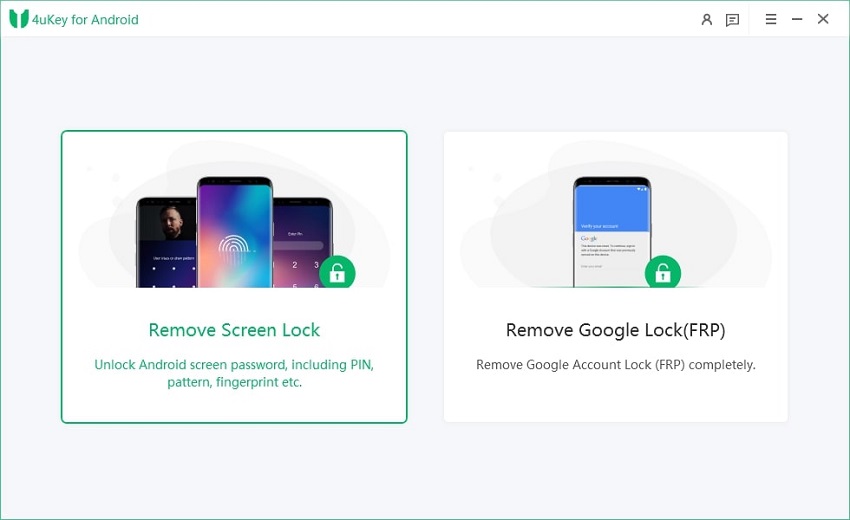 Step 2The program will prompt if the Android mobile has been connected successfully, then click "Start" to proceed.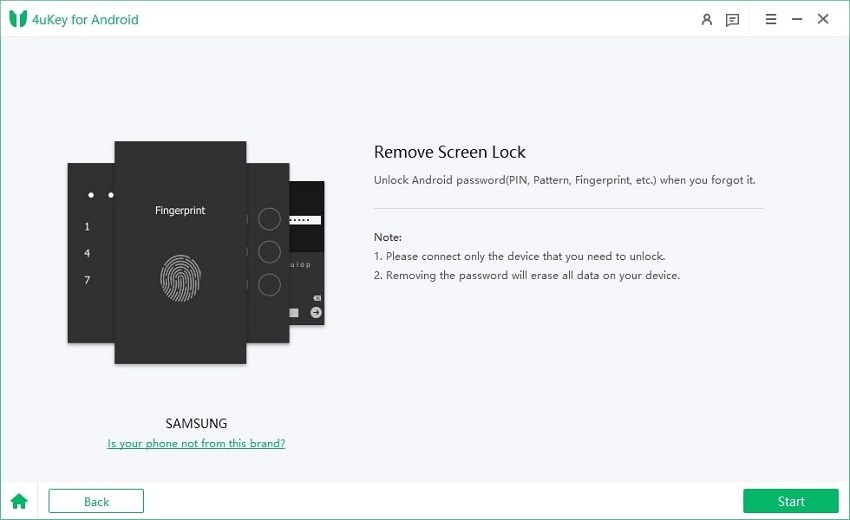 Step 3After that, a pop-up will appear on the screen, stating that "Removing the lock screen password will erase all data on the device". You will be asked to click "Yes" if you are sure.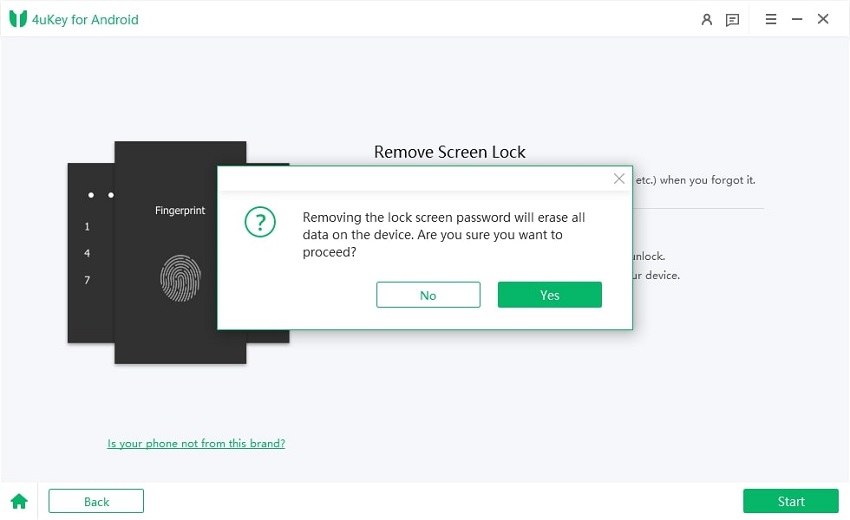 Step 4Now, you just have to wait for a few minutes as the program remove the lock screen. You will be notified after the completion.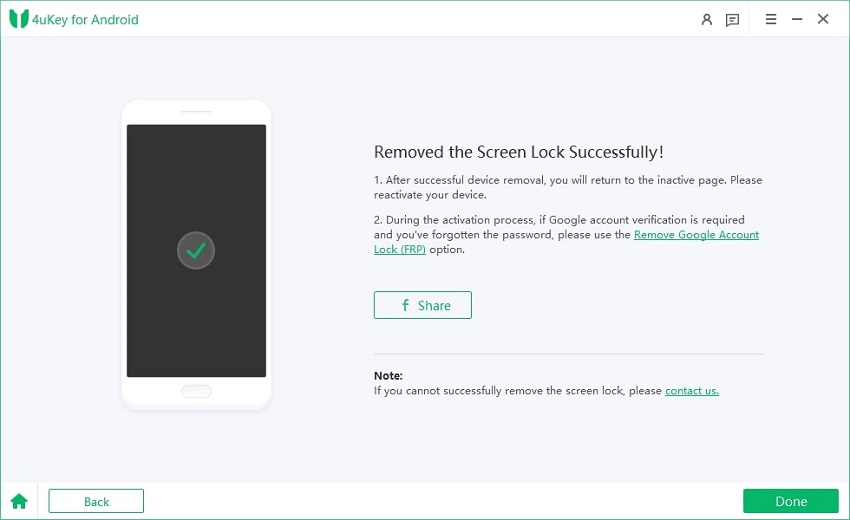 This is the best way to bypass the fingerprint lock screen with easy but there are other ways to the same, you can look at them below but they will not be as effective.
Other Ways to Unlock Phone with Fingerprint Android (Not 100% Work)
As mentioned earlier, there are multiple other methods you can apply to get around the fingerprint lock Android. But beware these methods are not exactly 100% secure and effective.
Way 1: How to Remove Fingerprint Android By Remote
You will be able to unlock the phone with fingerprint Android, remotely by using Android Device Manager. This is quite a different approach to the issue but as it is a web-based program it can perform remotely. It is especially effective if you have lost track of your smartphone.
So, here's how to bypass fingerprint scanner on Galaxy S6using Android Device Manager.
Step 1: So, download and install Find My Device from Google Play on your computer.
Step 2: Now, sign in and use your Google account credentials.
Step 3: Now, select your mobile that needs to get unlocked. Then, a confirmation message will appear on the screen with the options to Play Sound, Secure Device and Erase Device. You need to click on "Secure Device".
Step 4: Now, you will be asked to enter a temporary password under the "Set Password" tab. Confirm it and then click on "Secure Device".
Step 5: Now, you will be able to access your smartphone using that temporary password and from the settings remove the fingerprint.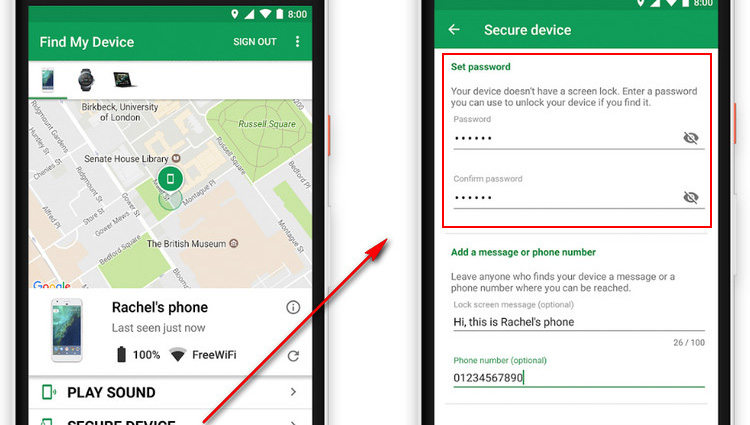 Unfortunately, you have to make it fast as access is temporary.
Way 2: Unlock Fingerprint Lock for Android by Hard Reset
You can try another way to bypass fingerprint lock screen Android and you can do it via Hard Reset of the said smartphone. This method many names but this procedure actually requires the users to access the original system state of the device and deleting all the stored information including the lock screen.
So, without further ado; let's have a look, how to unlock fingerprint lock Android using Hard reset:
Step 1: First, turn off your Android mobile. Then press and hold the Power and the Volume buttons until the screen becomes black.
Step 2: After that, Android bootloader menu will appear on the screen. You need to choose "Recovery Mode".
Step 3: When you are in the Recovery Mode, use the Volume keys and choose the option "Wipe Data/Factory Reset".
Step 4: Now, you just have to wait for the procedure to get finished. After it is done, reboot your mobile and you will be able to unlock the device.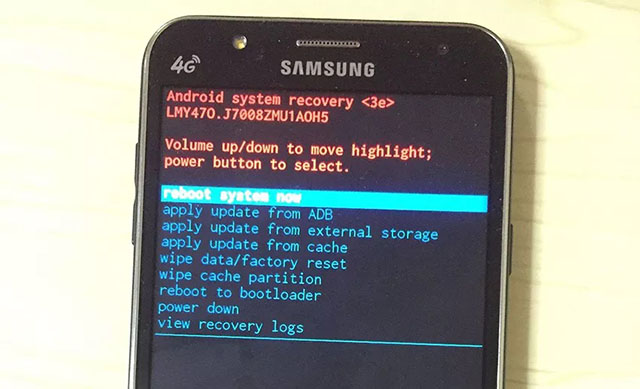 Hard reset is an effective way to bypass fingerprint to unlock your phone but it is a bit too complicated for most users.
Conclusion
Therefore, there are several alternative methods available for fingerprint phone lock for Android but most of them are not really secure for your smartphone and the rate of success is really low. Due to that fact, we looked for other possible ways to unlock an Android mobile and found the best fingerprint lock screen bypassing software. Tenorshare 4uKey for Android, give it a try.