Top 4 Motorola FRP Bypass Tools You Can't Miss
by Sophie Green Updated on 2020-09-05 / Update for Unlock Android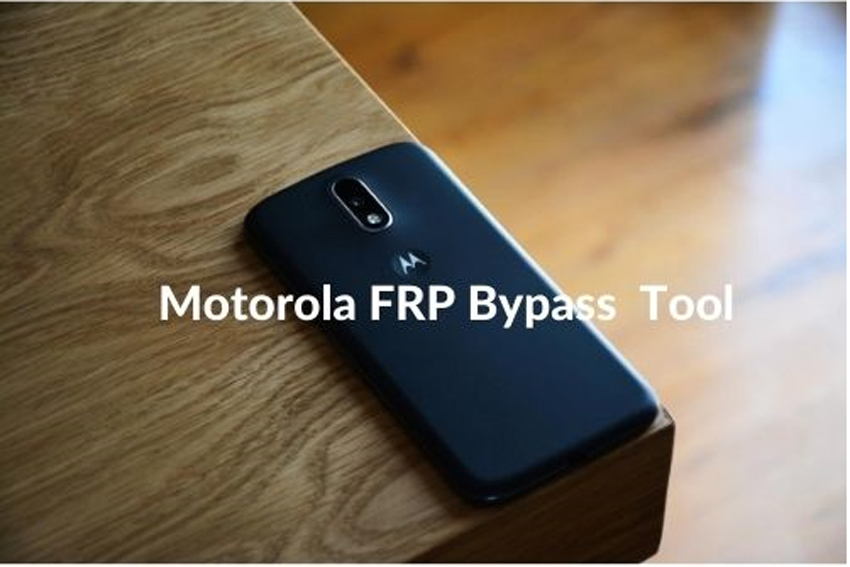 Getting stuck at the FRP verification window can be extremely frustrating for users who have performed a hard reset on any Android device, including Motorola. When FRP is enabled on your device, you won't be able to access it after a hard reset. You'll first have to enter the credentials of the Google account you were using on the device before resetting it.
In case you're facing the same FRP bypass issue on your Motorola device, you'll need an FRP bypass software to unlock the screen. So, here's a list of best Motorola FRP bypass tools that'll help you instantly unlock the device.
Part 1: Useful 4 Motorola FRP Bypass Tools You Can't Miss
If you don't know, FRP (Factory Reset Protection) is a security feature that Google introduced with the Android 5.1 update. While you can find several Motorola FRP bypass tools online, we've cherry-picked the best ones that work with all Motorola devices.
1. Moto FRP Tool
Moto FRP Tool is the universal software to bypass FRP verification on all Motorola devices. It doesn't matter if you're using the traditional Nexus 6 or the Motorola X series, Moto FRP tool will help you instantly skip the Google account verification and access your device without any hassle.
Disadvantages:
The only downside of using Moto FRP Tool is that it's only compatible with three Android versions, i.e, Android 5 (Lollipop), Android 6 (Marshmallow), and Android 7 (Nougat). So, if you're using any of the latest Motorola devices (such as the "G Series" models), you won't be able to use it as the Motorola FRP unlock tool for your device.
2. D&G Password Unlocker
D&G Password unlocker is yet another feature-rich FRP unlocker that supports an extensive range of Android devices such as Motorola, LG, Xiaomi, HTC, Lenovo, Huawei, etc. However, apart from bypassing FRP verification, this Motorola FRP unlock tool can also be used to flash a new ROM. It means if you frequently experiment with different customized ROMs, D&G will make it easier to quickly flash the software.
Disadvantages:
D&G Password Unlocker does not have a straightforward interface and has a complicated overall functionality. So, if you want to bypass the FRP window using D&G Password Unlocker, you must have the required technical expertise to work with such advanced tools.
Moreover, bypassing FRP with D&G Password Unlocker is an extremely long process and can take up to half an hour. So, if you're a beginner and looking for a quick solution, D&G would not be the right choice.
3. FRP Bypass APK
FRP Bypass APK is a beginner-friendly Motorola FRP bypass tool with an extremely simple interface and minimal complexities. With FRP Bypass APK, you won't need an additional device like a laptop or PC to unlock your device. Since it's an APK file, you can directly install it on your smartphone and bypass the FRP lock within a few minutes.
Disadvantages:
You can only use FRP Bypass APK if it's already been installed on your device before performing the factory reset. If you've already crossed the resetting phase, FRP Bypass APK won't be helpful at all.
4. MotoReaper Universal FRP Removal Tool
MotoReaper Universal FRP Removal Tool is a dedicated FRP unlock software that's specifically designed for all the Motorola devices. Unlike Moto FRP Tool, MotoReaper is tested by several users on different Android versions including Android 8.0 and 8.1. So, if none of the previous tools worked on your device, MotoReaper will help get the job done.
Disadvantages:
MotoReaper hasn't been tested for Android 10. So, if you've reset any of the latest Motorola devices that are running on Android 10, you may not be able to bypass FRP lock using MotoReaper.
Part 2: Is There A Motorola FRP Bypass Tool Working on Mac?
All the previous tools (except FRP Bypass APK) will work on Windows laptops. But, what if you only have a Mac system. In that case, you can install FRP Unlocker All-In-One Tool for Mac and use it to unlock the FRP screen on your Android device. And, since it's an all-in-one bypass tool, you can use it for almost every Motorola device.
Also Know: Is there Any Difference Between Samsung FRP Unlock?
As we mentioned earlier, FRP lock is a standard feature in every Android device, given that it's running on Android 5.1 or above. It means that even if you own a Samsung device, you'll have to bypass the FRP verification window when you've forgotten the username and password of the Google account you were using earlier.
However, it's worth noting that Samsung follows a different approach to enter recovery mode, which means the above-mentioned tools may not help you unlock the FRP window on a Samsung device.
For Samsung users, Tenorshare 4uKey for Android is the best FRP bypass tool. It works with all the Samsung devices, irrespective of the Android version they're running on.
Follow these instructions to unlock the FRP screen using 4uKey on a Samsung device.
Install & launch 4Key on your PC and select "Remove Google Lock (FRP)".

Now, enter the device name and select the right model. Click "Next" and put your device in "Recovery Mode" by following the on-screen instructions.

In the next window, enter the right PDA information for your device. Click "Next" and tap "Confirm" to confirm your actions.

Now, again follow the on-screen instructions to put your device in the "Download Mode".

4uKey for Android will start downloading the right firmware package. Once the package is downloaded, you'll have to again enter the recovery mode.

Now, 4uKey will automatically detect the firmware package and start removing the FRP lock.
Conclusion
So, these are some of the best Motorola FRP Bypass Tools you can use to bypass the FRP window on a Motorola device. And, if you're a Samsung user, you can use Tenorshare 4uKey for Android to remove the lock.