Rootjunky FRP Bypass Tool Review: Is There Any Software Better Than it?
by Anna Sherry Updated on 2021-08-24 / Update for Unlock Android
Rootjunky apk should be understood as an application designed for Android devices. The aim to design this app is to get the FRP task done easily. It does it task smoothly and it stretches its compatibility to nearly all the Android devices. Moreover, it shows a great success rate by giving great performance.
When you use Rootjunky FRP, it allows you to switch the Google account. Or it creates a new account for the reason to let you regain control of your device.
Is It Really Good at Unlock Google Account FRP
Reportedly, RootJunky app does help the Android users to bypass the Google Account FRP on Samsung devices. You can easily get this done by plugging an OTG device into your Android phone and install the rootjunky app. Below is the detailed step by step tutorial on how to make use of RootJunky app to bypass Google account FRP. Please make sure to follow the steps carefully.
How to Use Rootjunky FRP
Step 1: Visit the http://rootjunkysdl.com/files/?dir=Apps/FRP and install the program from there.
Step 2: Proceed to download the com.roojunky.frbypass-1.0.apk and then get it copied to your device's memory. Or you can download directly on the phone or your tablet.
Step 3: Now, launch the file explorer app over your Android device and then install the rootjunky app.
Note: You need to enable "Unknown Sources" function in order to install the app over your device.
Step 4: Launch the app afterwards. You are then required to launch the "Settings" of your Android device.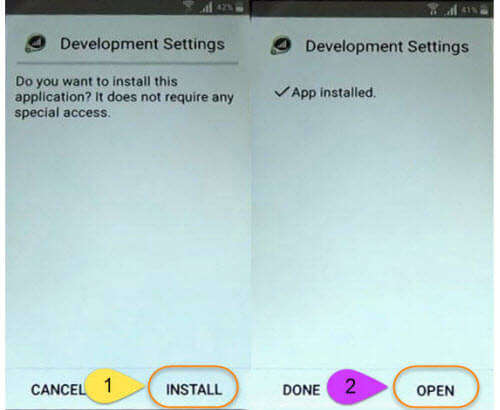 Step 5: Now, try and factory reset your Android device. Scroll down to "Backup and reset", hit on it and then opt for "Factory data reset".
Step 6: Lastly, hit on the "Erase Everything" button and wait for the process to complete.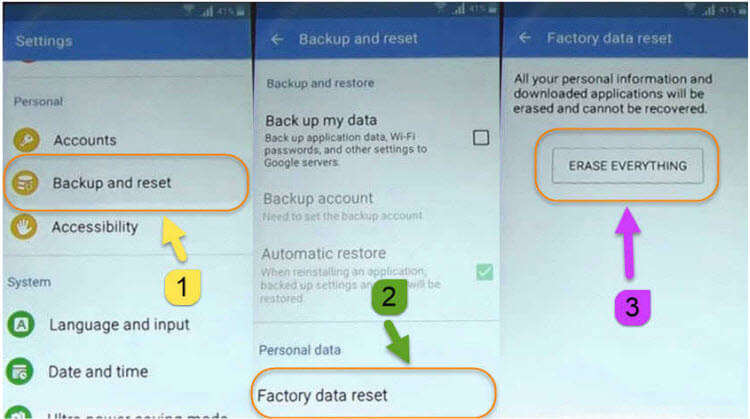 Step 7: The old FRP account will now be removed from your device. Now, when the device reboots after factory reset, you can set it up again as a new device.
The Pros and Cons of Rootjunky FRP
No matter what, there are always a positive and a negative side to everything and so does in the case of Rootjunky FRP. We will here provide you the pros of the Rootjunky app and then the cons for it. Please have a look.
Pros:
It is able to completely bypass Google FRP.
It is completely legit and secure.
Rootjunky apk is free to use.
You device will not be able to track with old Google account once the operation is done.
Cons:
The process might be difficult
You may find the process confusing sans SD card.
The Best Alternative of Rootjunky - 4uKey for Android Unlocker
If you still don't wish to believe on Rootjunky apk, we have something that can act perfectly as your companion. One of the best alternatives to this is Tenorshare 4uKey for Android. The tool eliminates the need of Rootjunky FRP and works as easy as you could never imagine. Within just a few steps, you can achieve the results and no matter if you are a novice to technical field, the tool performs in a commendable way.
Key Features of Tenorshare 4uKey:
Works with full protection and security
Unlocks Samsung FRP with simple operations and in minutes
Able to remove Android password, pattern, PIN and fingerprint lock
Manages to be reliable in all terms thereby gaining millions of trusted users
Offers free trial
How to Use the Rootjunky Alternative to Bypass Samsung FRP
Launch the Tool and Connect Device

Start with downloading the tool on your computer using the official website. Complete the installation formalities and open the tool. Take your device and connect it with the PC. On the main interface, choose "Remove Google Lock (FRP)" tab.

Select Device OS Version

Pick out the correct device operation system. Hit on "Send Notification" button right after that. Now, you need to confirm that.

Send Notification to Samsung Device

For that, just wait and make sure not to disconnect Samsung device while in process.

Set Up Process

Once you send the notification, you will get a pop-up that will ask you to view. For this too, you have to go along the instructions that are given on the screen.

Finish Removing FRP Lock

At last, restart your device. Keep patience as this may take up to 10 minutes. You will be notifies when it gets done.
Conclusion
We made you well familiar with the Rootjunky – the app that can be used to unlock the FRP easily. However, there is always some flaws associated with a software or program and one should know a better alternative to it. Hence, we introduced Tenorshare 4uKey for Android that might be really helpful when you don't wish Rootjunky FRP process. We hope you have liked the post and it could help you. Do comment us below if we could succeed in providing help to you. Thank you readers!