LG Google Account Bypass Tool Developed By Tungkick
by Anna Sherry Updated on 2020-11-10 / Update for Unlock Android
It's possible to bypass Google account/verification on LG phones, but it's not easy to do. You need to use the right tool to get your job done without much hassle. Whenever it comes to bypassing the Google account on the LG phone, Tungkick is a tool designed for this specific purpose. If the factory reset protection (FRP) lock doesn't enable access to the features and functions of your LG phone, then continue reading. This guide helps you to bypass or remove Google account with Tungkick bypass tool.
Part 1: What is Tungkick Bypass Tool?
There are different ways to reset the pin or pattern lock of your smartphone - with the assistance of Android Device Manager or by resetting your Android phone to its factory setting. However, the thing is that after resetting the phone, you have to bypass Google account verification to access your device's data. What if you don't remember your Google account credentials too? That's when LG Google account bypass tool developed by Tungkick, a developer on the XDA forum role comes in.
This tool comes with a batch script that will enable you to bypass the FRP of your LG phone. It provides support for some of the commonly used LG devices like G3, G4, Stylo, etc. The good news is that the developer of the tool is making efforts to provide support for leading LG models.
Part 2: The Feature of Tungkick Bypass Tool
Tungkick bypass tool is a quite popular option to bypass Google account on LG phones. This tool has decent features that make it one of the first LG bypass solution to try. Let's explore the pros and cons of Tungkick LG bypass tool to know whether it is the right one to use.
Pros:
It helps to bypass Google account verification screen without username and passcode.
Provides a free way to bypass FRP lock on LG phones.
Compatible with a wide range of LG tablets and phones.
Cons:
The tool works only for LG phones.
The process to bypass Google account verification screen is a little bit complicated.
Part 3: How to Use Google Account Bypass Tool Developed By Tungkick?
Now, it's time to learn how to use the Google account bypass tool developed by Tungkick. Follow the below instructions to bypass the authentication screen on your LG phone.
Step 1: To commence the process, you need to download the tool. You can download it for free from its Google Drive link - Tungkick bypass tool free download.
Step 2: Once the files are downloaded successfully, simply extract the LG bypass tool content on your computer.
Step 3: Next, you need to put your LG phone on the download mode.
Switch your phone off
After a few minutes, press the "Power" button and "Volume-up" key simultaneously.
Connect your phone to the computer while holding the keys. You can release the keys when you see the Download Mode screen.
Step 4: Now, navigate to the location where the content of the tool is extracted. And find the "Tool.exe" file to run it (either by simply tapping it twice or from the command prompt).
Step 5: In a while, the tool will open and displayed out all the major devices that it currently supports.
Step 6: Now, choose your device out of the listed options and allows the tool to perform all the required steps to bypass Google account verification screen on your LG phone.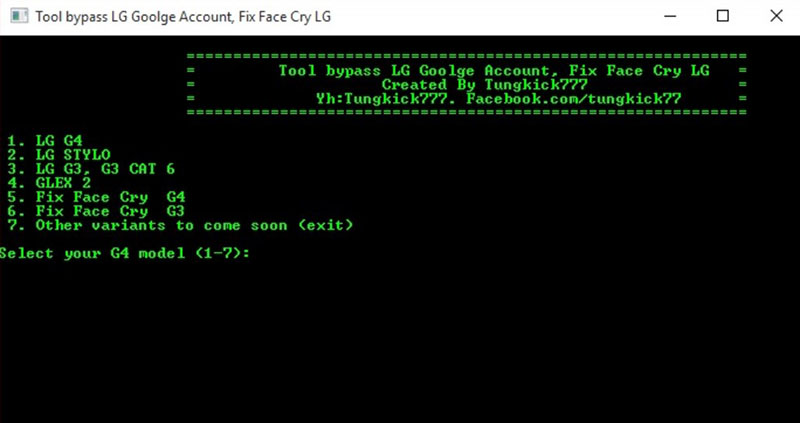 Part 4: Why Not Use Tungkick to Bypass LG Google Account?
As you can now see that Tungkick bypass tool is an ideal choice if you're seeking the easiest way to bypass the Google account verification screen on your Android phone. In fact, there are several reasons why you need an alternative for this bypass tool.
The Tungkick bypass tool doesn't work for other popular Android brands like Samsung, Lenovo, Motorola, etc.
Even though the tool is free to download, it's not easy to use and involves several steps to do for bypassing the authentication screen.
It doesn't work for all LG devices.
Considering the above things, you surely need a Google account bypass tool Tungkick alternative.
Part 5: Best Alternative of Tungkick - Tenorshare 4uKey for Android
If you want best Tungkick alternative, we recommend you to give Tenorshare 4uKey for Android a try. This tool is specially designed to bypass lockscreen on Android devices including LG phones. With the help of it, you can easily bypass the Google account verification screen without passcode and remove different Android lockscreen in a few minutes. Thus, if you're locked out of your Android phone, then you can simply use 4uKey instead of performing factory reset that requires you to enter Google account credentials.
Here are its key features -
Remove any Android lockscreen including password, pin, pattern and fingerprint lock.
Completely bypass Google account verification screen or FRP lock screen from Android device without a password.
Provides support to unlock different Android devices including LG, Samsung, Lenovo, Google, Sony, HTC, etc.
Bypass Android lockscreen with easy and click-through operation.
Before unlocking Android, it detects whether your phone can perform the next operation so to reduce the chances of getting your device bricked.
Let's now learn how to use 4uKey for Android, the best alternative to Tungkick LG bypass tool. So, download the tool from its official site and follow the below instructions.
Step 1Install and run 4uKey for Android. Next, connect your Android phone to the computer and click "Remove Screen Lock" option from the main interface.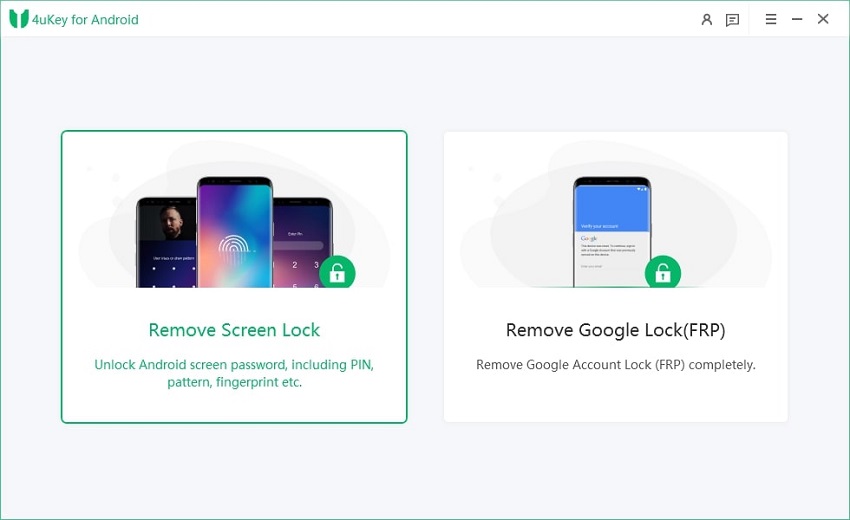 Step 2After you click the "Start" button, you need to confirm "Yes" to remove the lockscreen password will erase all data on the device.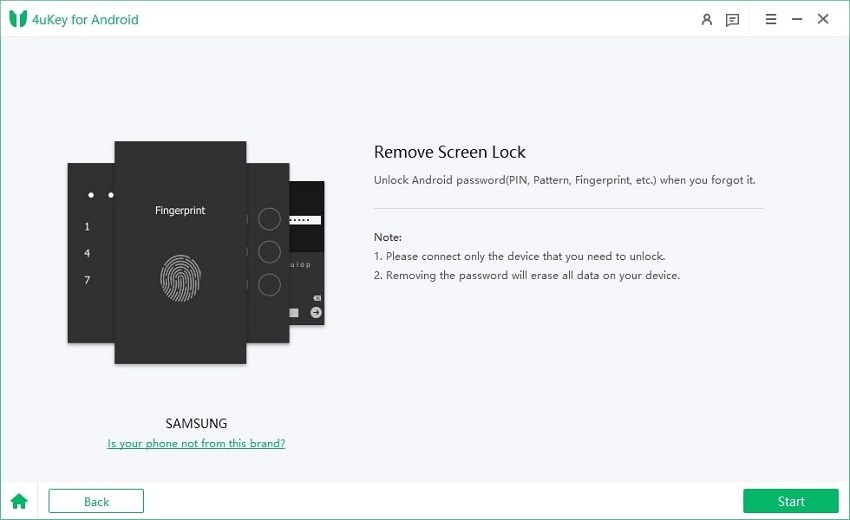 Step 3After a few minutes, the tool will bypass the lockscreen of your LG phone and you will be able to use your phone's features again.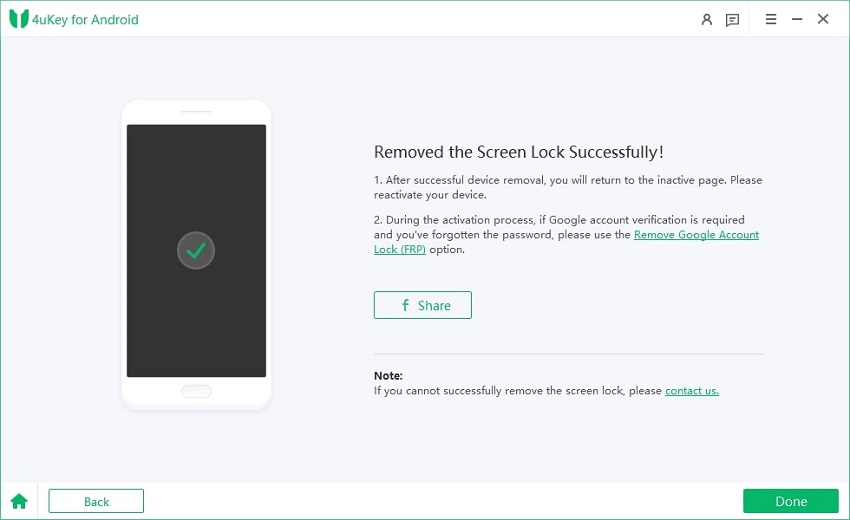 Conclusion:
That's how to bypass Google verification on LG Stylo 3 or other LG devices too. We hope that this guide has helped you to explore the best Google account removal tool for Android device. You can choose your preferred option to bypass your phone's account authentication check. However, Tenorshare 4uKey for Android is recommended as it offers a smart and one-click solution to get into your locked LG phone.