4uKey for Android Not Working? Fix Here
by Anna Sherry Updated on 2022-02-21 / Update for Unlock Android
There are numerous tools for fixing Android issues, and Tenorshare 4uKey for Android is one of the best programs available in the market. However, like other programs, 4uKey for Android may refuse to work properly; hence, you will be left stranded to look for a solution to this problem. Well, you don't have to lose your sleep or stop using your Android device because of this. This is because there are simple solutions to the problem. Here, we will explain how you can deal with 4uKey for Android not working.
I. What Is 4uKey for Android
Perhaps you have heard about Tenorshare 4uKey for Android before but are uncertain of what it does. Simply put, 4uKey for Android is a tool developed by Tenorshare for removing all sorts of locks on Android devices. This powerful software has been used by several individuals globally, so you can rest assured that it works perfectly.
Like other tools developed by Tenorshare, you don't need any technical know-how to use 4uKey for Android. You just have to follow some simple instructions to fix your device in the comfort of your home.
The following are the main functions of Tenorshare 4uKey for Android:
Removal of FRP lock
Removal of all types of Android screen locks
Auto system detection before unlocking a device
In addition, the features of Tenorshare 4uKey for Android include:
Compatible with Mac and Windows computer
Quick and easy operations to unlock a phone
No data loss after unlocking for Windows only
II. What to Do If 4uKey for Android Not Working after Installation
Considering the numerous features and functions of this program, you will likely be disappointed if you discover that 4uKey for Android not working after the installation. If you are in this condition, you should take a look at the three solutions below.
1. Check for Updates at Startup
On the startup page of Tenorshare 4uKey for Android, there is a feature that allows you to update to the latest version of the program. Therefore, when 4uKey for Android doesn't work on your Android device, the first thing you should do is to check for updates at startup.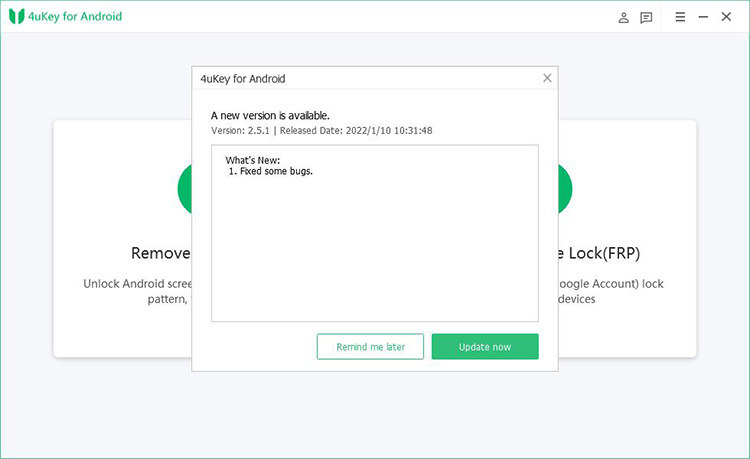 If there is any update, you have to quickly download it to upgrade the version of your Tenorshare 4uKey for Android. Afterward, you should relaunch the program to see if it works perfectly.
2. Uninstall and Reinstall the Software
If the first method could not solve the problem, then you need to consider this second option. Sometimes, the downloaded software may have a bug; hence, you may see 4uKey for Android not working. In such an instance, checking for updates at startup may not fix the problem. You should think about uninstalling and reinstalling the software.
Go to the list of installed programs on your computer.
Find Tenorshare 4uKey for Android. Delete the program from the list. This will uninstall the software.
Afterward, you need to download 4uKey for Android and install it again. Once done, you need to try to use the software again.
3. Contact the Support for Help
Unfortunately, the two solutions above may not be able to fix the issue. Hence, you may still have challenges with 4uKey for Android not working on your computer. The only thing you need to do now is to contact the support of Tenorshare for help. The team will provide timely assistance to ensure that the problem is solved as quickly as possible.
If you have any attachment you want to attach to your inquiry/complaint, you can also do so on the page. With these sets of information, it should be easy for Support to fix 4uKey for Android not working.
III. Save 30% Off to Buy 4uKey for Android
When you want to get 4uKey for Android, you should think about getting a discount on your purchase. This will allow you to pay a lesser amount than you should have paid for the program. Here, we will offer you a coupon code to get a 30% discount on your purchase of 4uKey for Android.
To claim the discount, you have to:
Visit the website of Tenorshare and go to the page of 4uKey for Android.
On the page, you need to enter the coupon code:

TS30EN

. Afterward, you should select your preferred subscription plans for buying the program. Once selected, you will get 30% off the cost of the software.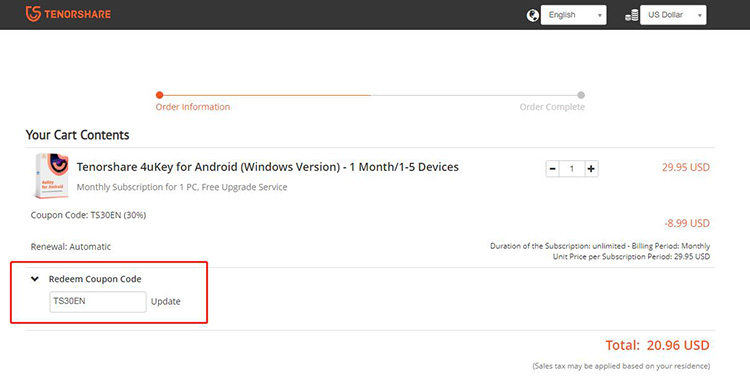 The Bottom Line
Sometimes, you may be faced with 4uKey Android not working. So, you should explore the three methods in this article to solve the problem.