Try the 3 Useful Methods If you Cant Reset iPhone
by Anna Sherry Updated on 2022-08-19 / Update for iPhone Problems
Hello, Tenorshare Help Center! My iPhone was working fine a few days ago. Then I felt that my iPhone processing speed is getting slower. So, I decided to reset my phone. Now, i can't reset my iPhone. I need your help regarding this issue. I hope I will hear from you soon."
This is the most frequent question our support team are getting these days from many iPhone users. Despite all the good things about iPhone, iPhones are still electronic devices that are prone to different software glitches and hardware issues. In this article, we will be going to share 3 useful methods that a user can try if he can't able to reset his iPhone.
Part 1: Figure out Why you Cant Reset iPhone
There is no doubt that iPhone is the most desired cellular device in the world thanks to its advanced technology. In terms of specs, features, data security and elegant style, iPhone is a complete package that is very hard to break into.
But all these plus points also work the other way around when some software or hardware issue occurs or the user forgets the password. There are multiple reasons why a user can't factory reset iPhone. The most common ones are listed below:
One of the necessary steps during iPhone reset is to enter the password. Many users forget their iPhone passwords. Similarly, users bought the iPhone from another user and don't know the password set by the first user. If the user doesn't know the password, he can't able to reset his iPhone.

If you enabled "Find my iPhone" option on your iPhone, it gets linked with iCloud. Any failure to put an incorrect iCloud password will lead to failure.
Error during connection of iPhone with iTunes also leads to failure in iPhone reset.
Any error in connecting network and connection media like USB cable wire also fails to iPhone reset.
Part 2: How to do When I Cant Reset iPhone - 3 Useful Methods
Most iPhone users try to reset their iPhone when the phone is hanged or dead due to software and hardware issues. But most of the time users can't able to reset their iPhone (reasons discussed above) and look for help online. If you are one of those users who don't know why i can't reset my iPhone to factory settings, you are in right place. In the following, some methods are discussed that you can try to reset your iPhone.
Mehtod 1: Restart the iPhone
Restart is a simple but effective method to fix many instant phone issues. You should firstly try to restart the phone. If you can't restart the phone, then force restart it. A user who doesn't know why I can't reset my iPhone can try this method by following these steps.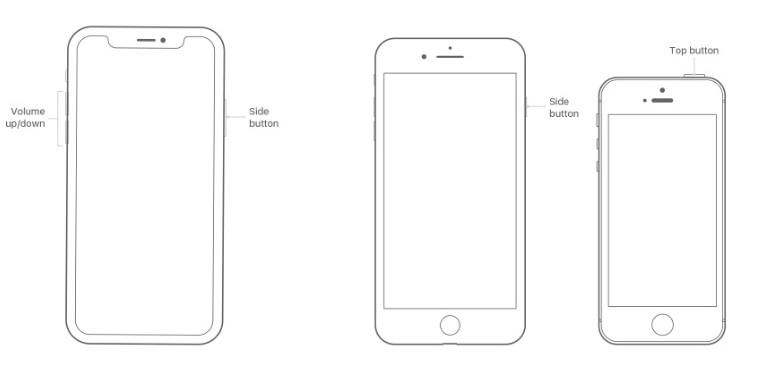 The method of hard reset varies for different iPhone models. If you have iPhone 8 or the latest model, you can hard reset your iPhone with volume button and side button.
Quickly press and release the "Volume Up" button that is followed by quick press and release of "Volume Down" button. After that press and hold the Sleep/Wake button for a few seconds until "Slide to Power Off" slider appears on the screen.
Slide the screen from left to right over the slider. You can turn it back on after 30 seconds.
For model iPhone 7 and older generations, both Home and Sleep/Wake buttons are used at once.
To perform a restart, press both buttons simultaneously for a few seconds until "Slide to Power Off" slider appears on the screen.
Slide the screen from left to right over slider. The phone will take a few minutes to reset.You can turn it back on after 30 seconds.
This method works most of the time when you can't able to reset your phone due to a software issue. If iPhone is not functional after a restart or hard restart, then try to follow the methods below.
Method 2: Enter Recovery Mode and Exit
If you cannot restart iPhone by restarting or are hesitant to do so, you can put your iPhone into recovery mode with help of a computer. The easiest way to do so is by using Tenorshare ReiBoot.
Tenorshare ReiBoot is a third-party recovery software that allows you to put your Apple phone into recovery mode. This method is easy and convenient and it doesn't involve manual holding and pressing of buttons.
Tenorshare ReiBoot is specially built to address the issues linked to the iOS operating system. If you cannot reset iPhone, use ReiBoot for this purpose. Tenorshare ReiBoot is compatible with both Windows and MacOS and can be downloaded from the ReiBoot site. If you want to use ReiBoot to restart your iPhone, follow the steps given below:
Download the Tenorshare ReiBoot by clicking the button above. Once installed, connect your iPhone with PC via suitable wire and launch the ReiBoot.

From the main interface of ReiBoot software, go to the "Enter Recovery Mode" option and click on it.

After successfully entering the Recovery mode, press "Ok". Then click on the "Exit Recovery Mode" option appearing on the screen. Then you can try to reset your iPhone again and then check if it's normal.
Method 3: Update to the Latest iOS Version
If your iPhone continuously denying reset or doesn't show functionality after reset, then try to update the iOS version of your iPhone. Sometimes software shows glitches as they are not compatible with the old version of iOS on your phone. So, if you can't hard reset iPhone, follow the steps given below to update iOS software.
From the home screen, go to "Settings" click on it. From the list, locate "General" and click on it.
Another list of content will appear on the screen. Click on "Software Update" option.

Now the phone will actomatically check for update. If available, allow Download and Install.
Method 4: Restore iPhone with iTunes
iTunes is another method that can be used for resetting an iPhone that froze or stuck due to software issues. iTunes is an iOS-compatible software run on PC and used for backup and syncing of content between PC and iPhone. A user who thinks that i cant hard reset my iPhone can try this method as it is less complicated and doesn't involve manual operation. The steps of this method are enlisted below:
Go to your PC and install the latest version of iTunes. If it is already installed, launch it on your PC. Connect your iPhone with a PC via suitable media.
Once iPhone is detected by iTunes on PC, click on the iPhone button. The button is located at the top left corner of the iTunes window on your PC.
Go to "Summary" tab and click on it. Under this tab go to "Restore iPhone" option and click on it.

A prompt screen will appear that ask you to backup your device before restoring it. Upon restoring, all data on that iPhone will be erased.Once done with the backup, click on "Restore" option again.

The restoring process will take a few minutes. Once completed, iPhone will be restored to its original factory settings.
Now switch on your iPhone and follow the on-screen instructions to use your phone.
Remember that this method is involved the removal of data present on your iPhone that's why backup is necessary. After resetting your iPhone, always disconnect your device from iTunes so no one can access your data.
Conclusion
Some users encounter complications during the resetting process and cant reset their iPhone. In this short article, we guide our readers about simple and common methods that can be used to reset iPhone. Some of these methods involve the use of a PC such as resetting iPhones with iTunes or ReiBoot. Hope this article will help you.