Quickly Fix "MMS Messaging Needs to Be Enabled" Error
by Anna Sherry Updated on 2023-02-28 / Update for iPhone Problems
Hi, I'm trying to send an image from my iPhone to my friend who uses an Android phone, and I'm getting the error 'MMS Messaging needs to be enabled'. How do I fix this? Thanks in advance!"
Even though MMS is quite an old technology, not a lot of people know much about it, simply because it has never been very popular, unlike SMS.
Even today, it's not very widely used in many parts of the world. That also explains why a lot of people don't know how to troubleshoot or fix the errors related to MMS.
As you're reading this post, we know you've been facing the MMS Messaging needs to be enabled iPhone problem.
Part 1: What is MMS and When is It Used?
MMS stands for "Multimedia Messaging Service".
Unlike a normal SMS, MMS can also send images or small video files. However, be noted that you can't send high-quality images or videos with MMS as the speed is quite slow. But it still gets the job done.
As you're using an iPhone, you don't really have to use MMS if you only message people who're also iPhone users. That's because iPhones use iMessage to connect by default. Whenever you send a message, image, video, or anything else, it goes through iMessage.
However, the tables are turned when you try sending multimedia to an Android user. In that case, you can't use iMessage because their phone doesn't support it. That's where MMS comes into play. You can use it to send pics or videos, at a reduced quality and slow speed.
Related read Common Samsung MMS Problems and How to Fix.
Part 2: Why Am I Getting the MMS Needs to Be Enabled Error?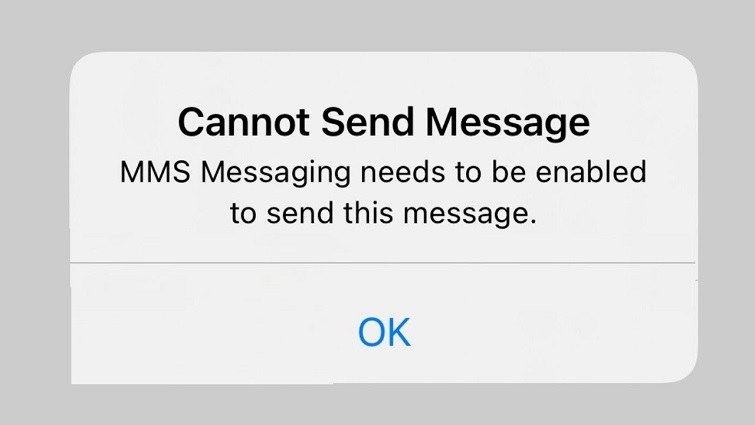 When you try to send multimedia to an Android user, it goes through via MMS.
If MMS is turned OFF on your device for some reason, you will get the "MMS Messaging needs to be enabled to send this message" error.
Be noted that you won't get this error if you're sending multimedia to an iPhone user, that's because you won't use MMS for this task. Instead, you will be using iMessage.
Part 3: How to Fix iPhone MMS Messaging Needs to Be Enabled Error?
The solution to this problem is quite simple: you have to set up MMS on your device. Here are several things you need to do.
#1. Turn ON MMS Messaging in Settings
If you cannot send message MMS messaging needs to be enabled, the first thing you need to do is make sure MMS Messaging is turned ON in Settings.
To do this, all you have to do is follow the simple steps below.
Open the Settings app.
Go to Messages.

Under the SMS/MMS tag, make sure the "MMS Messaging" toggle is turned ON.

If it's ON but doesn't seem to work, turn it OFF, wait a few seconds, then turn it back ON.
#2. Turn ON Mobile Data
Unlike iMessage, WhatsApp, or any other online messaging service, MMS can't be sent with WiFi. You need to have mobile data turned ON to send an MMS.
If you don't have a cellular data plan on your SIM card, you will need to get o ne. After you do have a plan, follow the simple steps below.
Pull down the Control Center.
Tap the Mobile Data icon to turn it ON. Make sure it's green.
You should see a 5G/4G/LTE/3G icon in the status bar when your mobile data turns ON.
#3. Add MMS APN to Your Network
If you don't see the "MMS Messaging" toggle in Settings > Messages, this could be because you don't have the right APN settings on your phone for your network provider.
In this case, you will need your carrier for the MMS APN. When you've received it, follow the steps below.
Open the Settings app.
Go to Cellular > Cellular Data Network.
Copy the APN you got from your carrier and paste it into the APN field under the MMS tag.
When you're done, make sure to head into Settings > Messaging, and turn ON the toggle for MMS Messaging again.
Note: You can only view your APN settings if your carrier allows you to do so. If you cannot see your APN settings by following the steps above, please contact your carrier.
And that's how you successfully get rid of the MMS needs to be enabled to send this message error!
Bonus: How to Export Whole Text Conversations from iPhone
Want to move all your SMS/MMS/iMessage conversations to your computer? No worries!
With Tenorshare iCareFone, you can export all your conversations from your iPhone to your computer in just a few minutes. It's an all in one iOS data management tool. Let's see what you can do with this tool:
Back up iOS data to your computer and restore at any time.
One-click to transfer photos from iPhone to your computer.
Import and export iOS data (videos, music, contacts, messages, etc.) between device and computer.
Download apps that are removed from the iOS app store.
More and more...
Here's what you need to do:
Download and install iCareFone on your computer, then open it. Connect your iPhone to the computer.

Select the Backup & Restore tab from the left bar, then select Backup. Pick all the files you'd like to back up. In this specific case, you select Messages.

Hit Backup and wait for the process to complete.

Now, select the Restore tab. Select the messages.

Hit the Export to Computer button and wait for it to complete. Your messages have now been exported to your computer!
The Bottom Line
That's it! After following this guide, you should now be able to get rid of the "MMS Messaging Needs to Be Enabled" problem.
Furthermore, if you ever wish to export your conversations to your PC, Tenorshare iCareFone is how you approach the task.