7 Ways to Fix People Album Not Populating on iPhone 15/14
by Anna Sherry Updated on 2023-09-14 / Update for iPhone Problems
Hi there! I am currently facing a problem with People Folder not populating on iPhone 14. Can anyone tell me how long it takes? My iPhone is five days old and I am running iOS 16 on it. I have restarted the device many times, and tried some other ways too. If anyone knows the solution please let me know. Thanks."
There can be many reasons for People album not populating. But the good news is that you can effortlessly resolve this issue by following a few simple techniques. Yes, that is correct. In this article, we have mentioned 7 different ways that you can use to fix this problem. Without wasting any time, let's discuss them.
Part 1: What Causes People Album Not Populating?
The Photos app is one of the coolest thing that you can find on your iPhone. This application helps to recognize people in your images and group them. However, due to the latest iOS 15 update and some unknown bugs, many people are facing issues with this feature. Either the people album is not populating, or it doesn't finish scanning.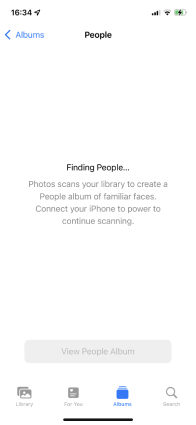 If the People album does not finish scanning, don't panic because this issue can be fixed by trying a few simple techniques. We have mentioned all the details in the section below.
Part 2: How to Fix Photo People Folder Not Populating on iPhone 15/14/13?
Is the People folder not populating? Are you wondering how to get the Photo People album to populate? Here are different ways that you can try if your People photo folder won't finish scanning. The good news is that all these techniques are simple, and anyone can follow them without seeking any technical help. Let's discuss the methods so you can understand them better.
Way 1: Reset People Suggestions
If the People album is not finished scanning, we recommend resetting People suggestions. This is the simplest trick that you can try and also doesn't require much effort. Here is how you can reset People suggestions.
Open your iPhone's Settings to find the Photos option and tap it.

Scroll down and tap the "Reset People Suggestions" option. Then tap Reset to confirm the process.

Wait for a few seconds, and check if the scanning process is working fine or not. In case the issue is still there, try method number two.
Way 2: Make Sure You Are Not on Low Power Mode
To fix the People folder not populating issues, it is recommended to check the Power Mode. Make sure that you are not on low Power Mode because it will pause iCloud photos that can be the main reason why the application is not scanning the images. Just go to Settings, click on Battery and check if it is disabled.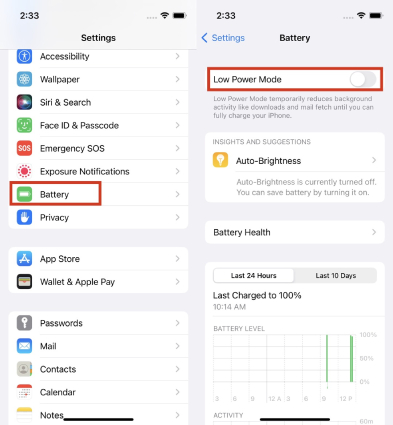 Way 3: Ensure a Stable Network Connection
The reason why the People folder is not populating could be due to a bad network connection. The poor internet connection can sometimes cause the photos app to stop scanning. Therefore, you should switch to a different stable network.
Go to Settings > WLAN. Have your iPhone connnected to a 5G WiFi if there is. Once your device is connected to the right stable network, go to the Apps Using WLAN & Cellular. Now, make sure that you have allowed Photos to use WLAN & Cellular Data.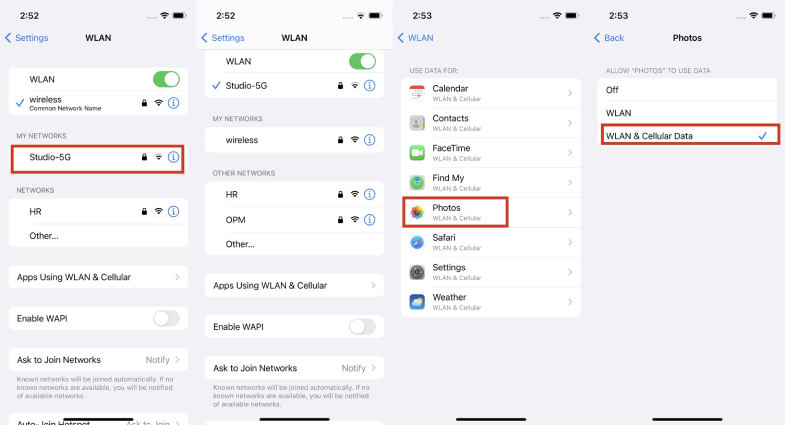 If you still need help, we have another method ready for you that is turning iCloud photos Off and On. Continue reading to see how it works.
Way 4: Turn iCloud Photos Off & On
If no people have populated the People folder in Photo App, we suggest turning iCloud photos off and on. This will fix the issue, and the scanning process will start within a few seconds. Here is how it works.
Tap on your account name and click the "iCloud" option.

Now, tap the "Photos" option and turn off the "iCloud Photos" toggle.

After that, you should restart your device. Press and hold either volume button and the side button until the power off slider appears, then Drag the slider and wait for your device to turn off. To turn your device back on, press and hold the side button until you see the Apple logo. Now, you can go to iCloud again to turn on the iCloud Photos toggle. Check if the app started scanning images or not.
Way 5: Lock Your Device & Connect It to Power
In order to speed the scanning process, you can also lock your device and connect it to power. This method is simple and helps to improve the photos scanning process. However, it sometimes doesn't work, so we recommend repeating it two or three times to track the photos.
Way 6: Check for Update
If the above methods don't work for you, check your updates. It is advised to update your iPhone so that you can enjoy all the latest features. Go to "Settings," click "General," and tap "Software Update," and check if there is any update available for your device or not. If so, go ahead to downloand and install the update and then try scanning again.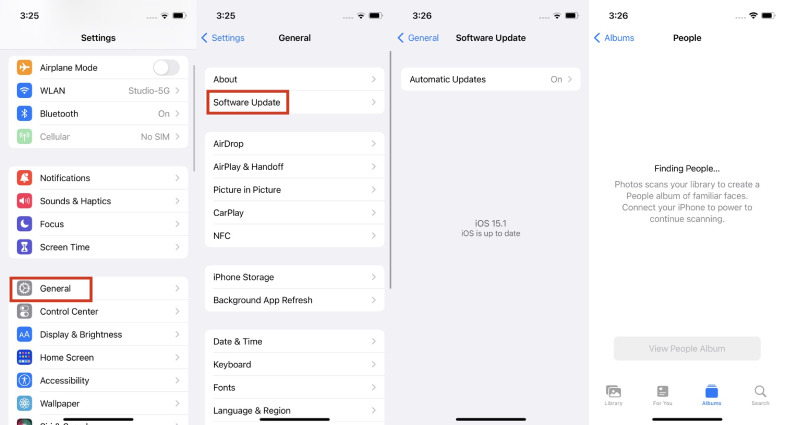 Way 7: Repair iOS System with ReiBoot
Sometimes general techniques won't help to resolve iPhone issues. For example, if the People folder is not populating even after several attempts, in that case, it is recommended to download a professional tool that is capable of fixing all the iOS issues including iPhone stuck on apple logo, iPhone photos not showing up in Photos, and iPhone photos app keeps crashing.
Tenorshare ReiBoot is the best choice for you to easily fix People album not finish scanning errors. Below are the steps that you can follow to fix this problem using ReiBoot.
Download and run the ReiBoot application on your PC. Make sure that your iPhone is connected to the system. Once you see the homescreen, click the "Start" option.

On the next screen, you will get the options of standard repair and deep repair. Select Standard Repair and start to repair.

Tap the "Download" button to get the repair firmware package downloaded to your computer.

Once the firmware is downloaded, hit "Start Standard Repair" to start repairing your people folder not populating issue.

After a short wait, you should see a page displaying Standard Repaired Completed, click Done. Your iOS device will restart automatically and you'll find your problem has been resolved.
FAQs About iPhone People Album/Folder
Q1: How to make a photo folder on iPhone?
First, you have to open the Photos app, click the "Album" option, and hit the "Plus icon." After that, create a new folder by clicking the New Folder option, name the folder and click the "Save" option. Finally, your folder is ready.
Q2: How to add photos to People album on iPhone?
To add the photos, you have to open the photo of the person you want to add. Now, click the info icon and click the person's face. You will see some tags, so select them and click the "Next" option. After that, click "Done."
Q3: How to delete a photo folder on iPhone?
Open the Photos application and click the "Album" that you want to delete. Now, click the "Edit" button and tap the red circle. Now, click the "Delete" option. Your folder will be deleted within a few seconds.
Conclusion
In conclusion, these were some simple methods that you can use to fix the People folder issue. However, we recommend using Tenorshare ReiBoot because it is the best way to fix the People folder not populating on iPhone 15/14/13. Also, this tool doesn't delete your data, so you don't have to worry about data loss anymore.