Top 8 iPhone Reboot Solutions
To facilitate our iPhone problem fixing, we have listed all possible methods we need to know on how to reboot our iPhone X/8/7/7 Plus/6s/6s Plus/6/5s/SE/4/3. Let's read on to explore.
Part 1: How to Reboot/Restart iPhone?
Restart iPhone with Buttons
To restart an iPhone 7 or earlier with buttons, you just need to turn your iPhone off and on. Simple as this technique may seem, it can help us solve some basic iOS problems such as poor signals or Wi-Fi connection, stuck or unresponsive apps, and other common issues. Below is how to reboot your iPhone 7 or older:
Press and hold down the sleep/wake button and wait for the power-off slider to appear on the screen. Swipe the slider to the right and the iPhone will be shut down.
Press and hold down the sleep/wake button again until the Apple logo appear on the screen. That means your iPhone has been rebooted successfully.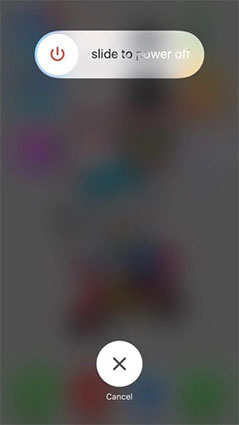 Restarting an iPhone 8/8 Plus or iPhone X is quite different from restarting other iPhone models. Pressing and holding down the sleep/wake button will not help soft reset your iPhone. Instead, it can only activate the Emergency SOS feature. To reboot your iPhone 8 or iPhone X, try the following:
Press and hold down either of the volume buttons and the sleep/wake button of iPhone X/8 at the same time, and you will see the phone restarts and the Apple logo shows up.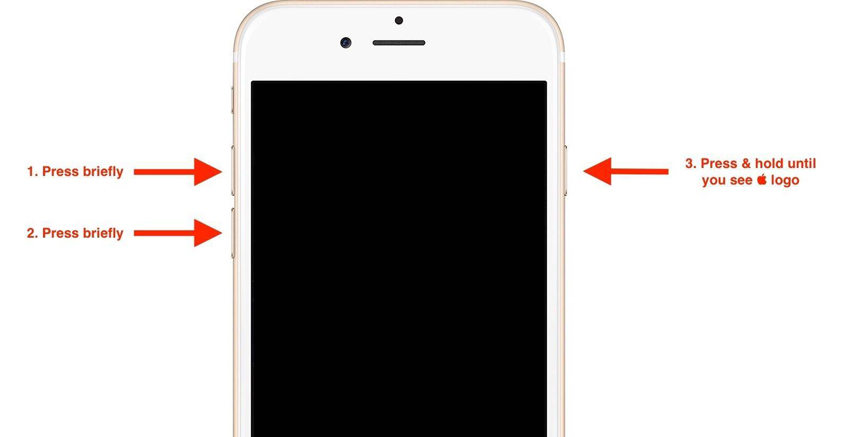 Restart/Reboot iOS 11 Device without Buttons
For any iPhone with the newest iOS 11/11.1 version, you are provided with another quick way to restart your iPhone without pressing any buttons.
Go to Settings >> General >> Accessibility >> AssistiveTouch to make sure the function is turned on.
Tap on the AssistiveTouch button >> Device, press and hold on Lock Screen until the "Slider to power off" appears, and slide to shut down and then turn it on again to reboot your iPhone. Or if your iPhone is the latest iOS 11 or later version, you may go to AssistiveTouch >> Device >> More >> Restart to restart your iPhone.
Related Read: How to Force Restart iOS 11 iPhone/iPad without Using Buttons
Part 2: How to Force Reboot/Hard Reboot iPhone?
Sometimes when soft restart does not solve the issues, we need force restart to help us out. For most of the time, force restart can fix problems that a simple restart can't solve, such as when your iPhone won't respond to any of your pressing or tapping, or you come across a hung iPhone or a frozen app, or your iPhone gets stuck or frozen. To hard reboot your iPhone, follow the steps below:
Force Restart iPhone 6s/6s Plus or Older
Press and hold down the sleep/wake button and the home button at the same time.
Let go all the buttons when you see the Apple logo appears.
Force Reboot iPhone 7/7 Plus
Press and hold down the sleep/wake button and the volume down button at the same time.
Let go the buttons when you see the Apple logo appears.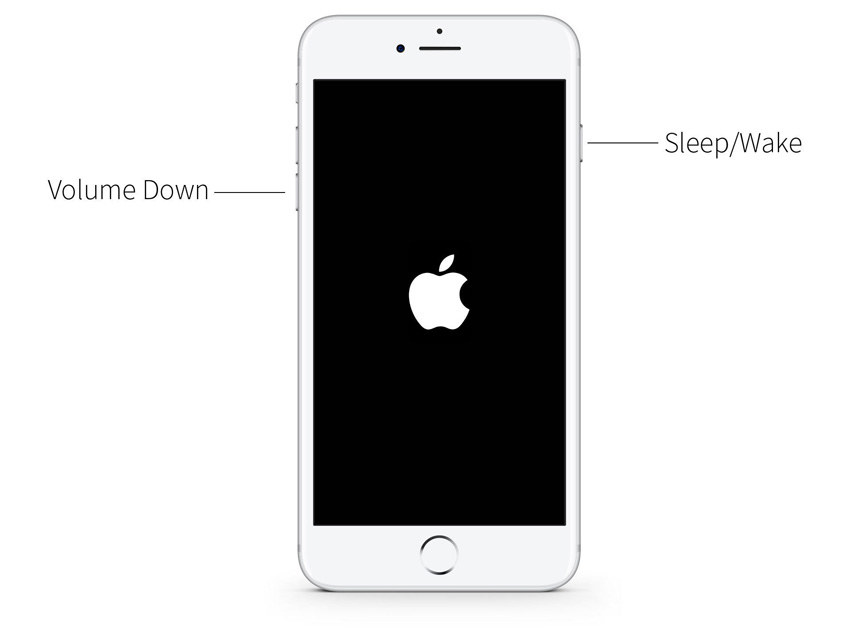 Force Restart iPhone 8/8 Plus/X
Press and then quickly let go the volume up button.
Press and then quickly let go the volume down button.
Then press and hold down the side button (or the sleep/wake button) on the right side of iPhone, and you will see the phone restarts and the Apple logo shows up.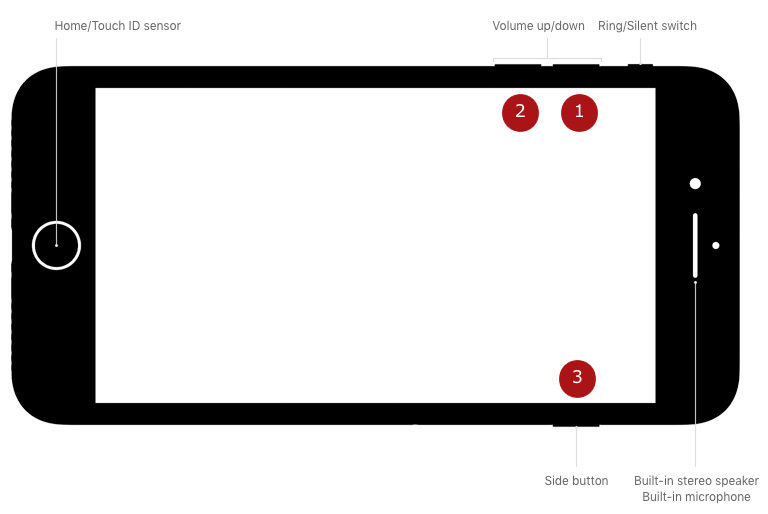 Part 3: Force Reboot Any iPhone without Using Power (Sleep/Wake or Side) Buttons
If any of the buttons fail to work properly, that means iPhone rebooting will be not that easy to accomplish. In this case, we need help from certain third-party iPhone reboot software. Free Tenorshare ReiBoot is such a tool that can help you restart and recover iPhone to normal without any data loss by forcing your iPhone into and out of the recovery mode within one click. Besides, it can help you fix all kinds of iOS stuck problems, including iPhone stuck in recovery mode, DFU mode, white apple logo, black screen, and others.
Step 1: Download Tenorshare ReiBoot and connect your iPhone to it.
Step 2: Click "Enter Recovery Mode" button to put your iPhone into recovery mode. And you will see the device with the USB to iTunes logo.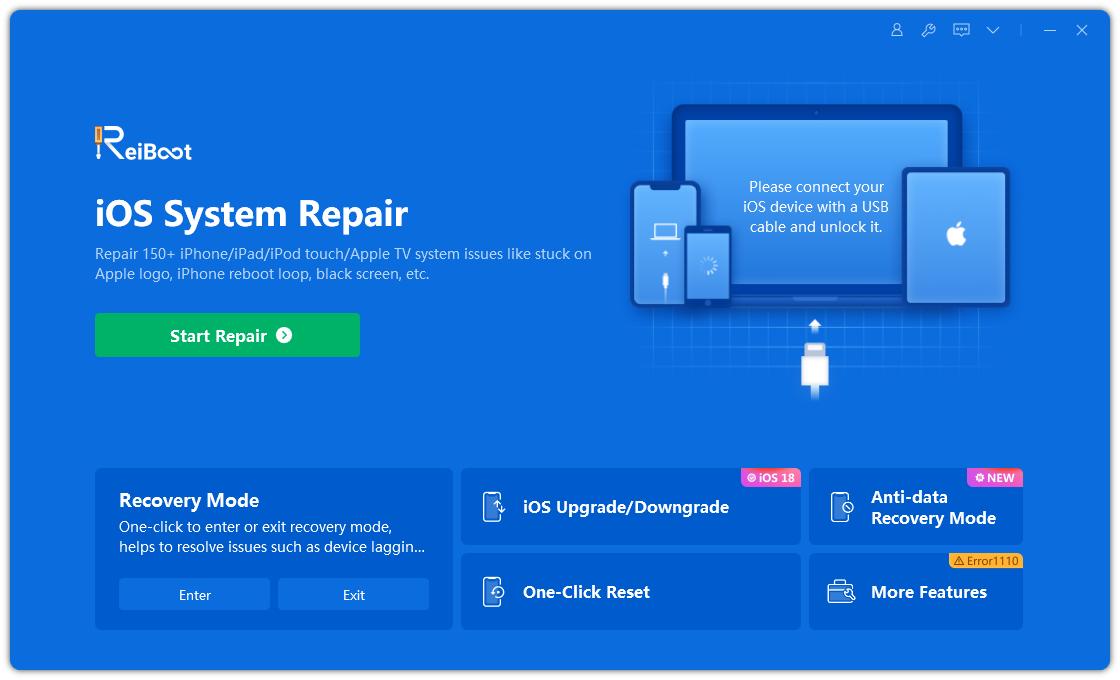 Step 3: Click "Exit Recovery Mode" to force reboot your iPhone. And wait a few seconds for your iPhone to reboot.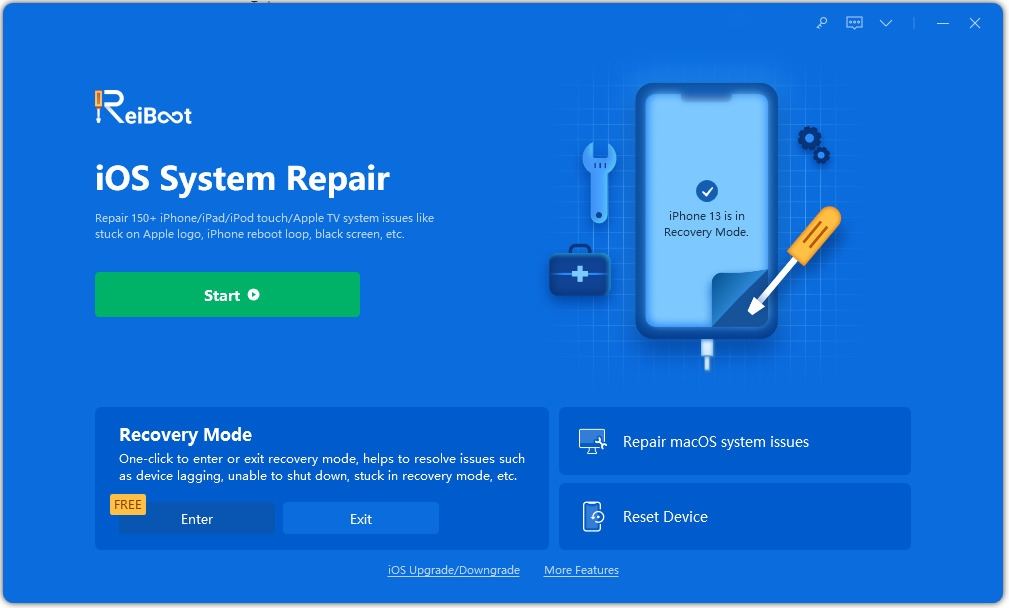 Part 4: Reboot a Locked/Disabled iPhone
What can you do if you forget the iPhone passcode and are locked out of your iPhone? There is still one way to get access to it. When an iPhone is disabled, you can factory reset your iPhone to reboot it without passcode.
Step 1: Launch Tenorshare ReiBoot on your computer, and connect iPhone to the program.
Step 2: Find "Factory Reset iPhone" in the settings menu of the top right corner, and click on it.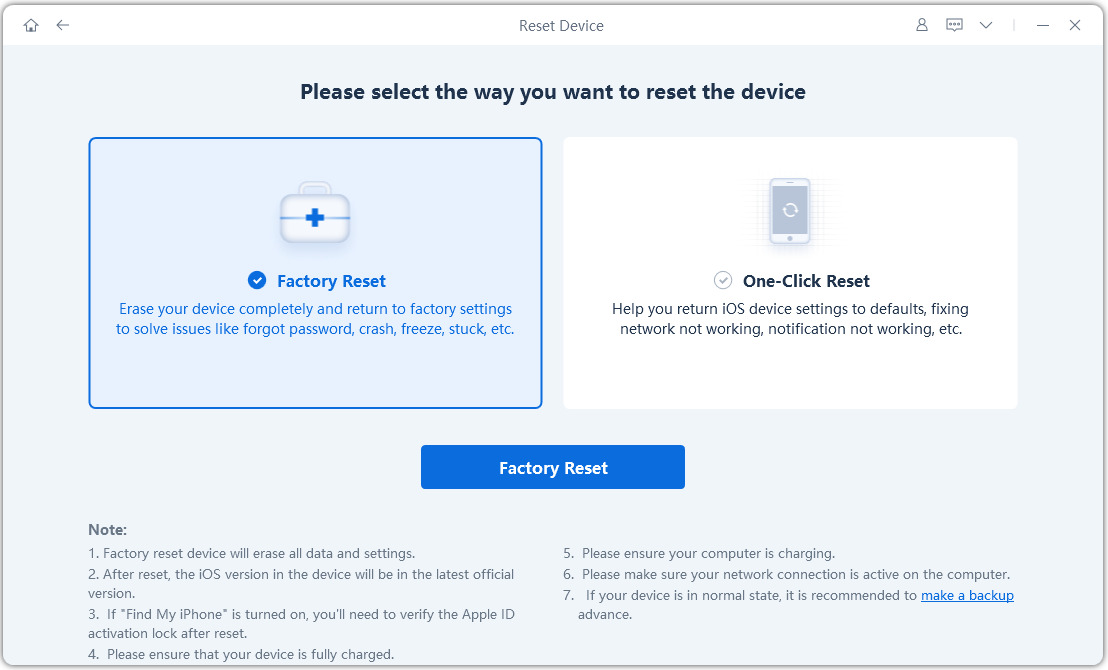 Step 3: Click "Fix Now" to download the iOS firmware package when you come to the Advanced Mode.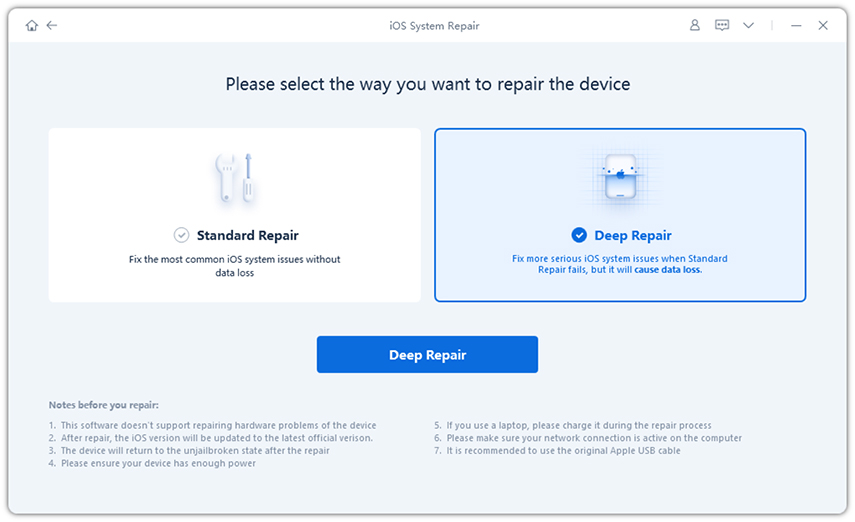 Step 4: After downloading, click "Start Repair" to recover your iOS system. And after about 10 minutes, your iPhone will be factory reset to normal.
Part 5: Reboot iPhone Battery
Some iPhone users may find their batteries draining/dying so fast. We provide you with some tricks to calibrate your iPhone battery and better your iPhone battery life.
Step 1: Drain your iPhone battery until it powers off automatically.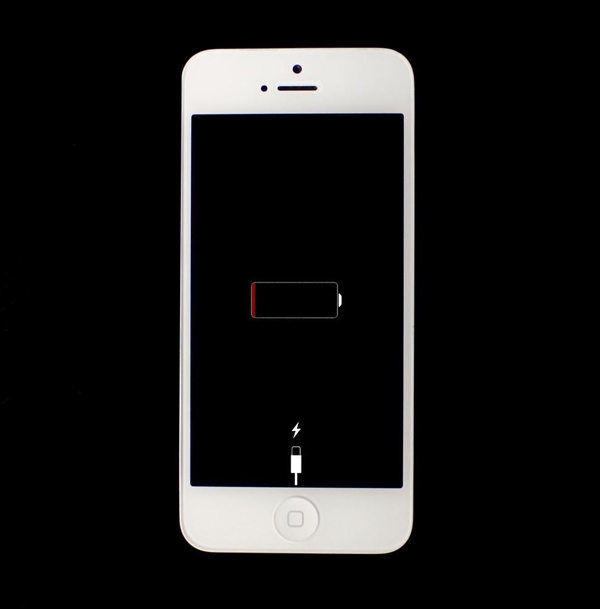 Step 2: Leave it for about 5 hours to further drain it.
Step 3: Charge your iPhone to 100%, and then keep charging it for another two hours without unplugging iPhone.
Step 4: Use your iPhone regularly to let it drain completely without charging it.
Step 5: Repeat Step 3. Then you will have better battery life for your iPhone.
Part 6: Reboot iPhone Camera
Normally, iPhone Camera works find for most of the time. But it could fail to work normally once in a whie, getting frozen or laggy, showing a black screen, options missing, etc. This article will teach you how to troubleshoot the iPhone Camera Issues.
Way 1: Kill the Camera app. Tap on the Home button twice quickly, and find the Camera app to swipe it up to kill it.
Way 2: Restart your iPhone.
Way 3: Reset iPhone to factory settings. Go to Settings >> General >> Reset >> Reset All Settings.
Related read: Top 5 Ways to Fix iPhone Camera Won't Work after Update to iOS 11
Part 7: Reboot iPhone from iCloud
When you have lost or deleted your iPhone data, you may wish to restore your iPhone data from iCloud to recover files or transfer data. This could be done either using iPhone or Tenorshare iPhone Data Recovery. The multifunctional software Tenorshare iPhone Data Recovery helps you recover lost iPhone/iPad/iPod touch files, including music, photos, videos, notes, messages and other data with or without iTunes/iCloud backup files.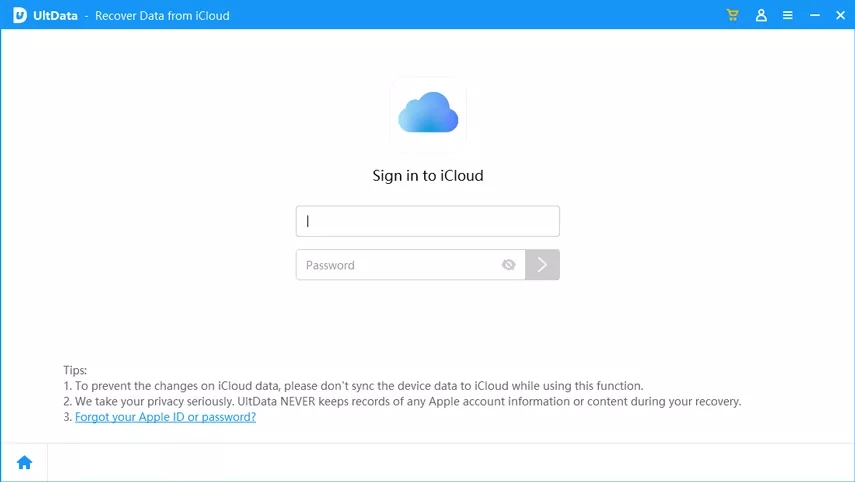 Related read: How to Restore Data from iCloud without Restoring iPhone/iPad/iPod
Part 8: Reboot iPhone to Factory Settings
Way 1: Restore iPhone with iTunes
Step 1: Connect iPhone to your computer or Mac. Open iTunes on your computer.
Step 2: Select iPhone on the iTunes. If you iPhone is unresponsive or has other problems, iTunes will notify you to restore your iPhone to factory setting to continue. Click on Restore to factory reset your iPhone.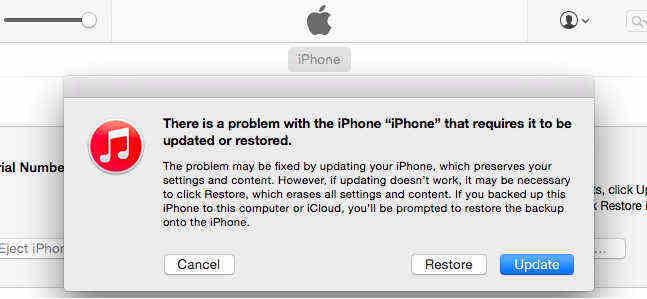 Step 3: If your iPhone works fine, click Restore on the Summary panel of iTunes. Then your iPhone will be restored as well.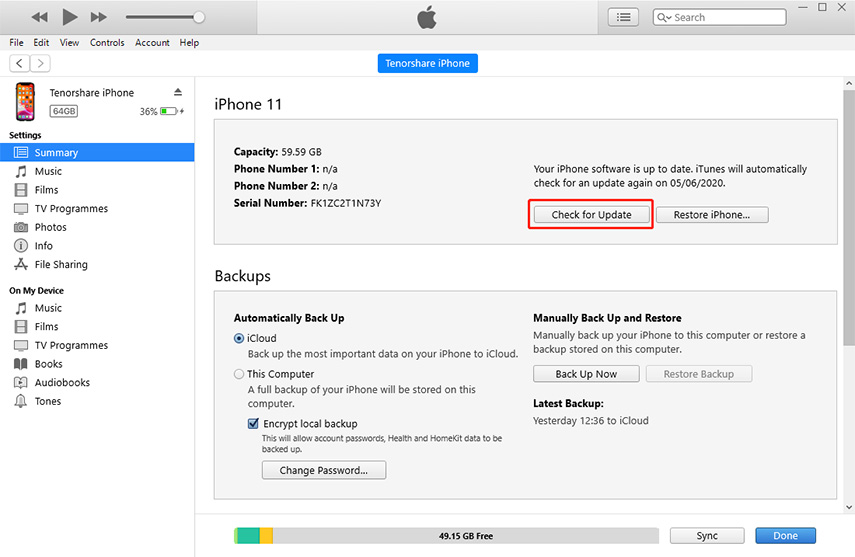 Way 2: Factory Reset iPhone with Tenorshare ReiBoot
Tenorshare ReiBoot can also help factory reset you iPhone easily without using iTunes. Although it may remove all your iPhone data, it can help solve many iOS problems, such as that iPhone got stuck in recovery mode, DFU mode, Apple logo, frozen, hung, laggy, etc.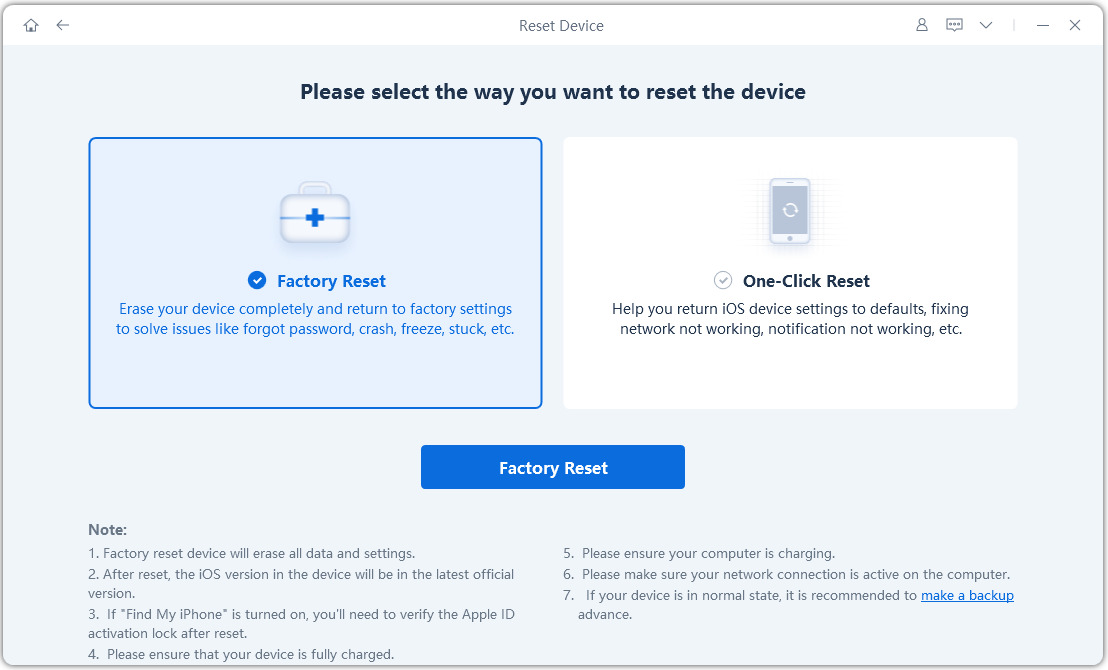 Related read: Top 2 Ways to Force Restore iPhone to Factory Settings with/without iTunes