How to Fix iPhone Camera Not Focusing? 11 Easy Fixes Here
by Jenefey Aaron Updated on 2022-01-11 / Update for iPhone Fix
My iPhone 13 camera is not focusing properly. It doesn't focus when it's around 8-10 cm away from the object for a close-up shot. Is everybody with an iPhone 13 experiencing this problem? Can anybody confirm this problem? How do I fix my phone camera not focusing?"
-- From Apple Support
Even though the iPhone camera is one of the best of the many mobile phone cameras, sometimes certain glitches can interfere with the camera, causing all sorts of problems among which the iPhone camera not focusing is the most common one. In this article, we've explored some possible reasons why your iPhone camera won't focus when you're trying to take photos. Plus, we proposed some effective and easy ways to help you fix the iPhone camera focus problem.
Part 1: Why Won't My iPhone Camera Focus?
There could be many kinds of possible reasons why your iPhone camera won't focus. One reason may be that your device is not enough far away from the in-focus object. With a closest focusing distance of 10 cm, the iPhone camera cannot focus as closely as 5-6 cm from an object, you should move your iPhone 10 cm away from it to get the camera to focus the object properly.
When fingerprint smudges or something small like dirt is on your device's camera lens, or dust is trapped inside the camera, the iPhone camera focus not working problem can be trigged. Besides, if your phone case is not set properly or the camera lens is physically damaged, you might find your iPhone camera won't focus correctly. Furthermore, you can consider the focus problem is due to a software-related issue. If your camera works perfectly before the new iOS 15 update, then iOS 15 glitches or bugs are to blame.
Whatever the reason, here're quick ways you can try to fix this annoying camera problem.
Part 2: How to Fix iPhone Camera Not Focusing? (10 Posiible Ways)
Now that you are clear about all the possible causes, let's see how to fix iPhone 13/12 Pro/12/11/X/8/7/6 camera not working.
1. Remove the iPhone Case and Camera Lens Protector
To prevent their iPhone and the lenses from damaging or scratching, many iPhone users choose to put cases and camera lens protectors over their iPhones. However, some cases and lens protectors are not perfectly suited to the devices and some of which even cause pressure to the camera, leading to malfunctions in the iPhone's camera. Therefore, if your iPhone 13 camera is not focusing, the first thing you should do is to remove the case and camera lens protector from the device.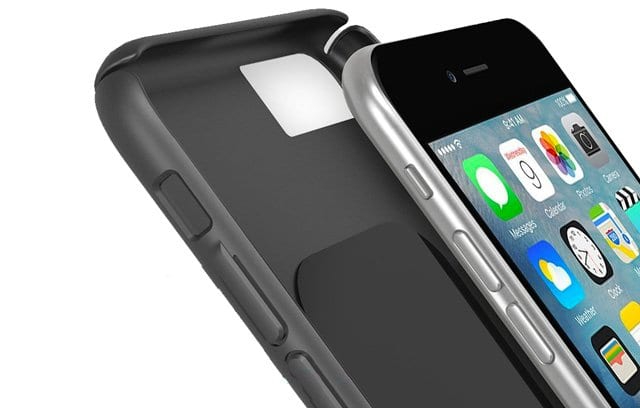 2. Clean the Camera Lens
It is also likely that dust and dirt could have accumulated on the camera lens, thus causing he iPhone camera to be blurry or iPhone focus not working. In this case, use a micro-fiber cloth or a soft cloth to wipe away any dust and debris that may have accumulated on the camera lens. Do it thoroughly but be very gentle.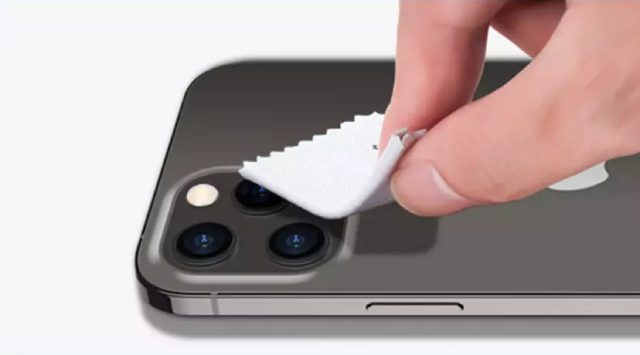 3. Set a Focus Point
Sometimes, your iPhone won't focus since the focus is not set correctly, so your iPhone photos end up blurry. When you open your camera app and try to capture a picture, iPhone will try to make sure that as many as part of the picture as possible are in a focus, but it turns out nothing is really in focus. Then how to get iPhone camera to focus, you may ask. Actually, it's quite simple. Firstly, use your finger and give a tap on the screen where you want the focus to be. The focus point could be anything from someone's face to a flower or a street building. Once the focus point is set, the camera can quickly adjust the focusing and the object you want to focus on is now in focus.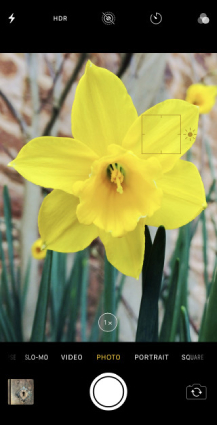 4. Lock Auto Focus
Auto Focus and Auto Exposure are two features that are designed to help the iPhone camera focus. Every time you take a shot, your iPhone will automatically reset back to auto focus and if your subject is outside of where Auto Exposure/Anto Focus is set, it would look blurred. With this feature enabled, whatever changes you have made to focus and exposure will simply disappear. To get your iPhone camera to focus properly, you need to lock the auto focus on your iPhone. Here's how.
Open the Camera app, then tap and hold your finger where you want to focus.
Keep holding the screen for a couple of seconds until the AE/AF Lock prompt appears at the top of the screen.

That's it! Now both focus and exposure are locked. No matter where the iPhone is moving around and what changes happen in the scene, the iPhone camera focus remains unchanged.
5. Tap the Top of iPhone Several Times
You can also try tapping the top of the iPhone near the rear-end camera lens several times with your palm. This action may serve to remove some of the dirt and dust that could be interfering with the lens, thus resolving the iPhone camera not focusing issue.
6. Remove the Magnetic Lens
You could also try removing the attachable lens or a metallic case temporarily if you have one. They have been known to interfere with the iPhone camera's focus. You can replace it once you determine it is not the magnetic lens causing the issue.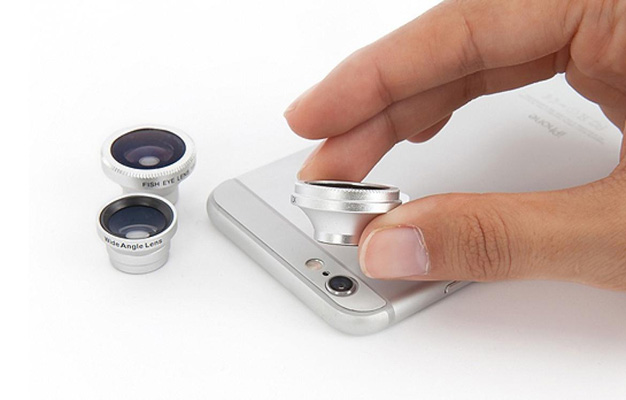 7. Force Close the Camera App and Reopen It
Force closing the camera app can also be very helpful when faced with an iPhone camera that won't focus. To do that, follow these simple steps;
Tap on the home button twice to bring up a preview of the apps you've been using.
Swipe to the left to locate the camera app
Swipe up on it to close it
Reopen the Camera app to see if the iPhone camera focus problem gets fixed.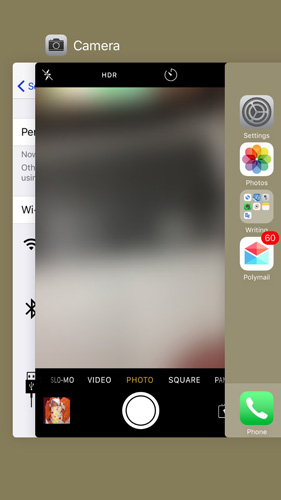 8. Restart iPhone
Restarting the iPhone is one of the easiest ways to fix any software issues that could be causing your iPhone camera to lose focus. To restart your iPhone, follow these simple steps;
For iPhone 13/12/11/X/8: Press and hold the Side (power) button and either one of the volume buttons until the iPhone restarts and you see the Apple Logo on the screen.
For iPhone 7 and earlier: Press and hold the Sleep/Wake button until you see the slider appear on the screen. Drag the slide to turn off the device and then press the sleep/wake button again until the Apple Logo appears on the screen.
When the iPhone restarts, open the Camera app and take a photo to see if the camera focus is already working as it should.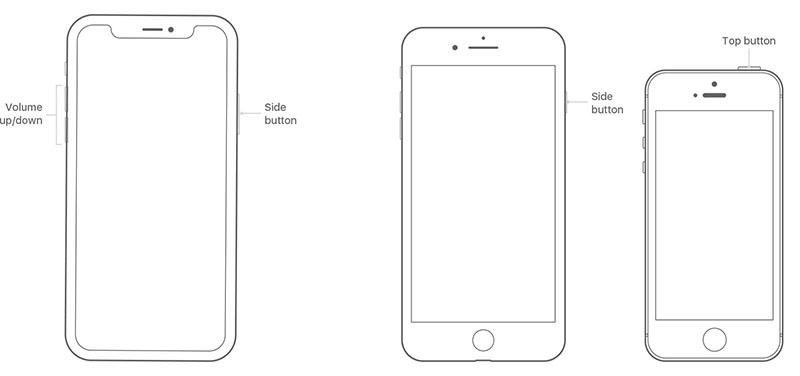 9. Update iPhone Software
An update can also be the perfect solution for rectifying the focusing issue on your iPhone camera. This is especially true when the iPhone camera began losing focus or your iPhone camera keeps refocusing after it is inflicted by some software bugs. You may want to check if Apple has released a new update and then install it. Follow these simple steps to do that;
Open the Settings app on your device and then tap on "General."
Tap on "Software Update"

If an update is available, tap "Download and Install" and wait for the process to complete.
10. Reset All Settings (Data Loss)
If a software update doesn't work or if it is not available, you can try resetting all settings on the device to fix iPhone camera not focusing. This is the easiest way to delete and eliminate a setting that could be interfering with your iPhone's focus and everything in your phone will be wiped out, so you'd better back up iPhone first. Here's how to do it;
Go to Settings > General
Select "Transfer or Reset iPhone" and then tap on "Erase All Content and Settings".

Tap "Continue" to confirm your actions.

Now your iPhone is set up as a new device. You can open the Camera app and the iPhone camera focus not working issue should be fixed.
Part 3: The Ultimate Way to Fix iPhone Camera Not Focusing iOS 15/14
We've seen people complaining that their iPhone camera won't focus after iOS 15/14 update or the iPhone XR camera and flashlight not working. With the professional iOS system caring tool Tenorshare ReiBoot, you can easily fix the latest iOS 15 bugs and problems, iPhone system glitches, and stuck issues without using iTunes restore; no data loss will be caused.
Here's how you can fix iPhone camera not focusing iOS 15/14 with ReiBoot.
Download, install and run Tenorshare Reiboot on your computer. Connect your iPhone to the computer, then click "Start" on the main interface.

Select the standard repair mode and then click on the "Standard Repair" button.

Download the latest firmware package to repair the system. The iOS version in your device will be up to date after system recovery.

With the firmware package downloaded to the computer, please click "Start Standard Repair" and wait for the process to complete.
After system repair, open the Camera app and take a photo. The iPhone camera not focusing or blurry problem should be fixed now.
Summary
It can be difficult to enjoy photography when the iPhone camera won't focus after an update. We hope the above solutions have helped you eliminate the problem. Tenorshare ReiBoot is recommended if none of the other methods help. Download it and get your iPhone camera focus problem quickly fixed!