How to Fix 'You Can Install This Update When Your iPhone is Finished Restoring from iCloud Backup' Error
by Sophie Green Updated on 2020-09-07 / Update for iPhone Fix
I can't update my iOS because my phone says I need to wait until it's finished restoring from iCloud but it doesn't seem like anything is being downloaded. Can anyone help? Thanks in advance!"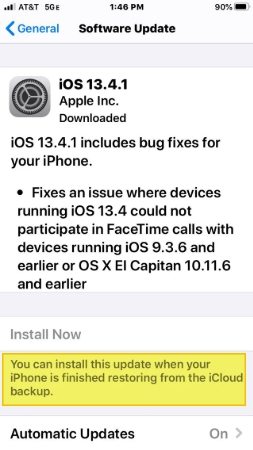 If your iPhone is being restored from an iCloud backup and you try to update your iPhone, you will see an error that says you can install this update when your iPhone is finished restoring from the iCloud backup. This basically tells you to wait until the iCloud backup is fully restored and you can then update iOS on your iPhone.
However, this can sometimes happen even when you are not restoring an iCloud backup. The following are some of the methods to fix this issue if it occurs again and again.
Method 1. Wait for iOS to Recognize That the iCloud Restore Is Complete
The first thing you can do to get around the "you can install this update when your iPhone is finished restoring" issue is to wait for your iPhone to recognize that the iCloud backup is indeed restored. This can sometimes take a few minutes after the restoration has gone well.
Therefore, you need to wait a few minutes after the backup is restored. Your iPhone will automatically recognize the event.
You do not manually need to do anything.
Method 2. Force Restart Your iPhone
Another way to fix it when you cannot install an iOS update because your iPhone is restoring an iCloud backup is to force reboot your iPhone. Your iPhone may be stuck on the iCloud restore screen and it may not actually be installing anything.
On iPhone 7, 6S, SE, and earlier: Press and hold down the Home (Volume Down on iPhone 7) and Power buttons at the same time. Your iPhone will force reboot.

On iPhone 8, X, XR, XS and 11: Press the Volume Down button and release it and then hold the button on the side till the iPhone restarts.
Method 3. Stop Restoring iPhone from iCloud
You can actually stop an iCloud backup that is being restored on your iPhone. Doing so will then let you successfully update the iOS version on your device. You can do this as follows.
On your iPhone, head to Settings > iCloud > Backup.

Tap the Stop Restoring iPhone button.
Your iPhone will stop the iCloud backup restoration and you are able to update the iOS normally. After updating your iPhone, you can go to Settings > General > Reset > Erase All Content and Settings on your iPhone and follow the onscreen prompts to restore data from iCloud again.
Method 4. Update/Restore iOS with ReiBoot (No Data Loss)
If you still can't update until your iPhone is finished restoring from the iCloud backup, you can update or restore iOS on your device with Tenorshare ReiBoot. It will help you to update or restore iOS on your iPhone and get rid all iOS update errors and stuck issues like iPhone stuck on checking for update, iPhone stuck on verifying, iPhone update stuck on installing. It is an easy to use tool and you can use it to update your device when the official method is not working.
Get the latest version of the tool and install it on your computer.

Connect your iPhone to your computer and click on Repair Operating System in the tool.

Click on Fix Now on the following screen.

Click on the Download button to download the latest firmware for your iPhone.

The tool will start applying the latest iOS firmware when it is downloaded. Click on Done and your iPhone will be updated.
Your iPhone should now be running the latest version of iOS.
Conclusion
If you do not know how do I get my iPhone to finish restoring from iCloud backup, the above guide has some good information about it. The guide also offers methods for how to update iOS using an alternate method – Tenorshare ReiBoot. This way you can safely update your iPhone without running into any kind of issues.
FAQS on iCloud Backup Restore
iCloud backup and restore is still a bit complex procedure for many users. Users often have questions about this topic and we thought we would answer those for you. The following answers some of the most frequently asked questions about this topic.
1. How do I know when my iPhone is finished restoring from iCloud backup?
Your iPhone will let you know when it has finished restoring from an iCloud backup. A message will be displayed on your screen letting you know about the restore status.
2. How long does it take for an iPhone to finish restoring from iCloud backup?
It totally depends on how large your iCloud backup is. If your backup only contains a few small files, then it will be installed relatively quickly. If it has many large files, then it can even take an hour to finish installing on your iPhone.
3. What happens if I stop restoring iPhone from iCloud?
If you stop restoring your iPhone from iCloud, it can lead to some data loss on your phone. Therefore, it is not recommended that you interrupt the iCloud restoration process on your iOS device.
4. Can you setup as new iPhone then restore from backup?
Yes. Make sure you have backed up all data to iCloud. When setting up your iPhone after factory reset, you can restore your iPhone from this backup once you've logged into your Apple ID.