Instagram Feed not Updating? Here is What You Can Do!
by Sophie Green Updated on 2020-10-10 / Update for iPhone Fix
My Instagram feed won't update! Sliding up to the far top, trying to refresh the feed, only refreshes the stories row and the promotional posts."
When your Instagram feed not updating, you cannot see the new posts made by the accounts that you follow. If your feed will not update no matter what you do, you will want to find a method and fix the root cause of the problem. That is what you are going to learn in the rest of this guide.
There are several reasons why is my Instagram feed not updating. This guide lists those reasons as well, so that you know what is causing the problem and you can then avoid that in the future.
Part 1. Why Instagram Feed not Updating? The Possible Causes
The following are some of the common reasons for when Instagram can't refresh feed.Poor Internet Connection: In order to update the feed, your device needs to connect to the Internet.
Old Instagram App:

Older versions of the Instagram app have many issues that may be why Instagram wont refresh on your device.

Inappropriate Content:

If your Instagram posts have any content that goes against Instagram's content policy, that can cause your feed not to update.

Issues with the Device:

Your phone can suffer from various technical issues, and one of them may be causing the Instagram feed not to update.

Instagram Outage:

Sometimes, the Instagram servers go down for some reason and your Instagram feed won't refresh because it cannot fetch new content from the servers.
Part 2. How to Fix Instagram Couldn't Refresh Feed
Now that you know what is causing the problem, the following are some of the fixes to your issue.
Fix 1. Force Close Instagram and Reopen It
One easy way to fix most minor issues with Instagram is to close the Instagram app and then reopen it.
On your iPhone, press the Home button twice to bring up the apps screen.

Swipe up the Instagram app and it will be closed.

Relaunch Instagram from your main screen.
Fix 2. Force Restart Your iPhone
If there is a minor issue with your iPhone, force rebooting your iPhone should fix it. Here we show how to force reboot various iPhone models.
Force restart an iPhone with Face ID, iPhone SE (2nd generation), iPhone 8, or iPhone 8 Plus: Press Volume Up and let it go. Press Volume Down and let it go. Press and hold the Side button. Let go of the button when the Apple logo appears.
Force restart iPhone 7 or iPhone 7 Plus: Press Volume Down and Sleep buttons at the same time. Let go of the buttons when the Apple logo displays.

Force restart iPhone 6s, iPhone 6s Plus, or iPhone SE (1st generation) Press Home and Sleep buttons at the same time. Let go of the buttons on the Apple logo screen.
Fix 3. Check Your Network Connection
A possible reason why your Instagram feed not loading is that your Internet connection is not working. You need to check the connection, and if it does not work, call your ISP and seek their assistance.
Launch a browser on your phone and see if the Google website opens.
If it does not, you need to talk to your ISP to resolve the Internet problem.
Fix 4. Try to Sign in Your Instagram Account Via Website
There might be an issue with your Instagram account, and you can verify that by logging-in to your account from the Instagram website.
Head over to the Instagram site and log-in to your account.
If you can log-in successfully, there is an issue with your device.
If you cannot log-in, you need to reach Instagram support as there is an issue with your account.
Fix 5. Delete Inappropriate Post or Comment
Inappropriate content is often the reason why your feed may not load properly. In this case, the best fix is to log into a browser and go into your account and delete all of the inappropriate content.
This basically requires deleting your photos, comments, or anything that you find to be inappropriate.
Post:

If Instagram thinks one of your posts is inappropriate, you will get a message when you sign into Instagram via browser. Delete the post as it asks.

Photos:

If you uploaded an inappropriate image for your account, you can't refresh the feed. You can upload a new and appropriate picture to replace the old one.

Comments:

Find out the inappropriate comments under you post and delete them. The comments with double hashtag (##) or comments wouldn't load with "√" symbol are considered as inappropriate comments.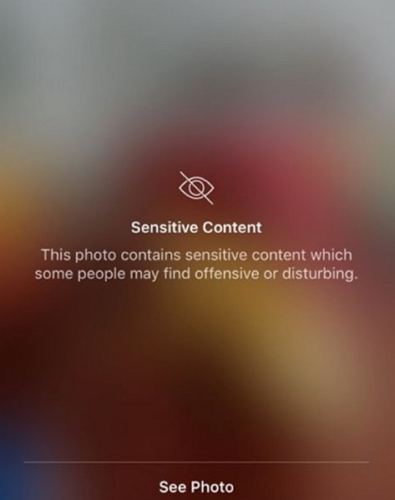 Fix 6. Update or Reinstall Instagram
If Instagram not updating feed even after the above methods, you can try uninstalling the app and then reinstalling it on your device.
Tap and hold on the Instagram app, tap X, and select Delete to delete the app.

Head to the App Store and download and reinstall Instagram.
Fix 7. Contact Instagram Help
If nothing else works, your last resort is to report the issue to Instagram so they can work on it and fix it in their updated app. You can report a problem to Instagram as follows.
Open Instagram, tap on your profile, and tap the settings icon at the top.

Scroll down and select Report a Problem.

Tap on Something Isn't Working.
Type in your issue and Instagram will be notified.
Bonus Tip. How to Recover Lost Instagram Photos on iPhone without Backup
If you have lost any photos due to the Instagram issue on your iPhone, you might want to recover those photos. There is a software called Tenorshare UltData and it allows you to recover lost data on your iOS-based devices. Using this tool, you can recover all of the photos that you lost due to your Instagram problem. Here we show how you can use this software for recovering and restoring Instagram photos.
Download and open the software on your computer. Then, click on Recover Data from iOS Devices.

Choose all the photo options that you want to recover from your iPhone and click on Scan at the bottom.

Preview the photos that you want to recover, select them, and click on Recover to PC.
That is how you recover lost Instagram photos on your iPhone.
Summary
If your Instagram feed not updating, it basically renders the whole Instagram app useless as you can not get access to any new content. Luckily, using our methods above, you can fix the issue and get Instagram to deliver you new content. If you lost important Instagram photos, give Tenorshare UltData a try to recover Instagram photos on iPhone.