How to Fix iPhone White Screen
by Jenefey Aaron Updated on 2019-10-18 / Update for iPhone Fix
If you are one of the users that are complaining about their iPhone white screen, then your hunt is over. Many Apple users nowadays are complaining about their iPhone abruptly turning into a lamp and showing nothing but white screen. Let us have a look at possible reason behind iPhone X/8/7/6/5 stuck white screen.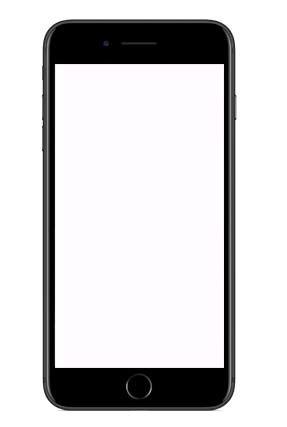 Part 1: What Causes iPhone Stuck on White Screen?
Usually, there are two main reasons for iPhone white screen of death: software problem and hardware problem. Let us see in detail as to what causes white screen of death on iPhone.
Software Problem: Most of the time, users encounter the "iPhone blank white screen" issue due to software problems. These problems arise due to many reasons such as while updating the app or the latest version of iOS 13/12.4.
Hardware Problem: And if it is not the software then definitely it is the hardware. A loose connection or a broken component can cause the white screen on your device turning it into a table lamp.
Part 2: How to Fix iPhone White Screen of Death
As you are now aware that software and hardware issues cause iPhone white screen of death, let us have a glance at the possible solutions that might solve iPhone with white screen and lines issue.
Solution 1: Three Finger Tap
Chances are very low for this solution to work for you. This will only work if you have accidentally zoomed in your screen on something white, which makes it look like white screen of death. If so is the case, then you can zoom out and use your handset as normal.
All you have to do is bring the magnification back to normal by switching off the magnification. You can do this by heading to Settings >> General >> Accessibility >> Zoom >> Off.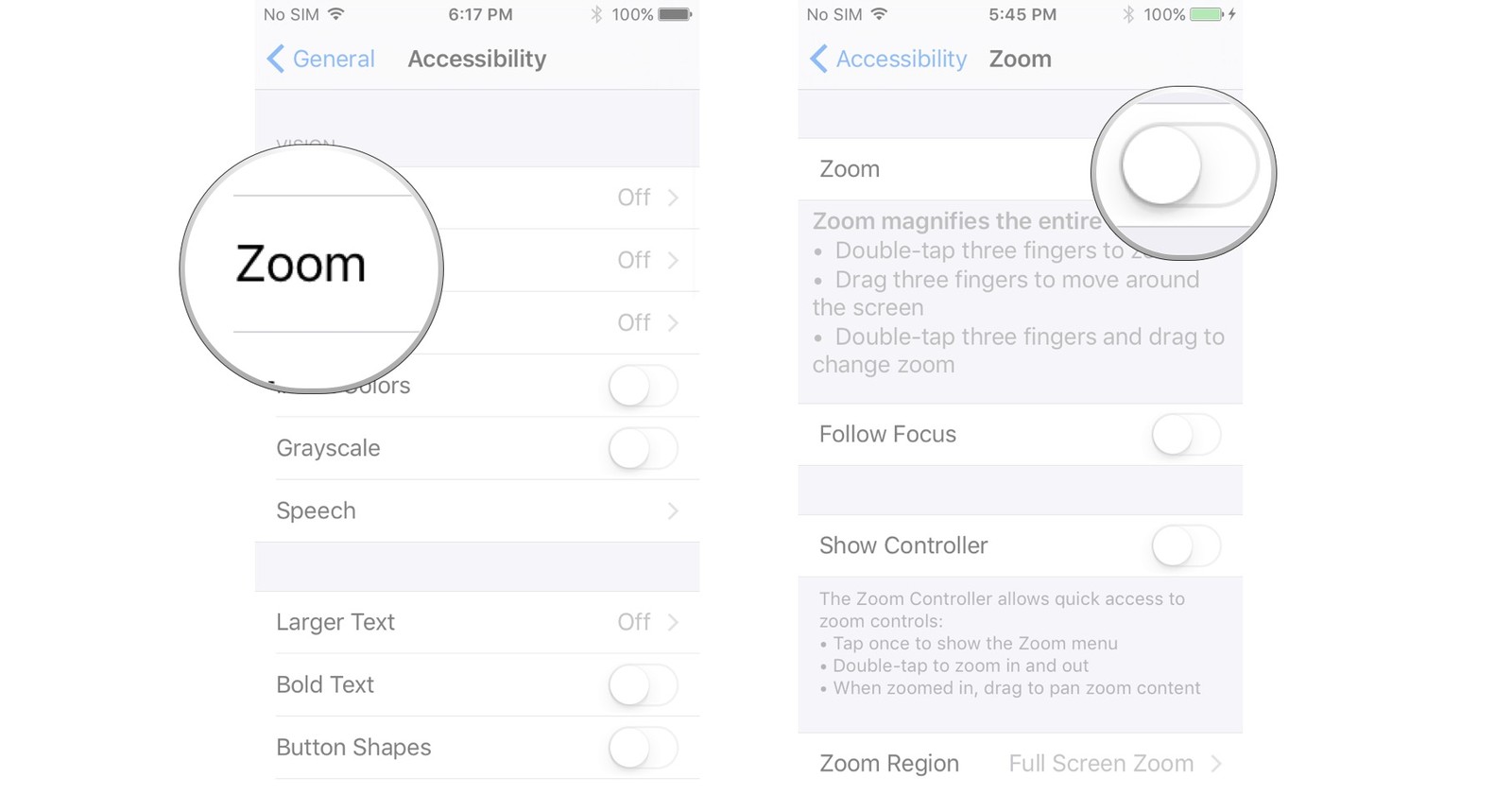 Solution 2: Hard Reset iPhone
Hard resetting iPhone is nothing but force restarting iPhone. And you are well aware what magic a restart can do if you need to solve any issue. There is no harm in trying to hard reset your iPhone. Follow these steps to hard reset your iPhone.
For devices earlier than iPhone 7, long hold the Sleep button and the Home button till handset restarts and Apple logo appears.
For iPhone 7/7 Plus, long hold the Sleep button and the Volume Down key till handset restarts and Apple logo appears.
For iPhone X/8/8 Plus, quickly press and release volume up and volume down button. Now long hold the Sleep button till handset restarts and Apple logo appears.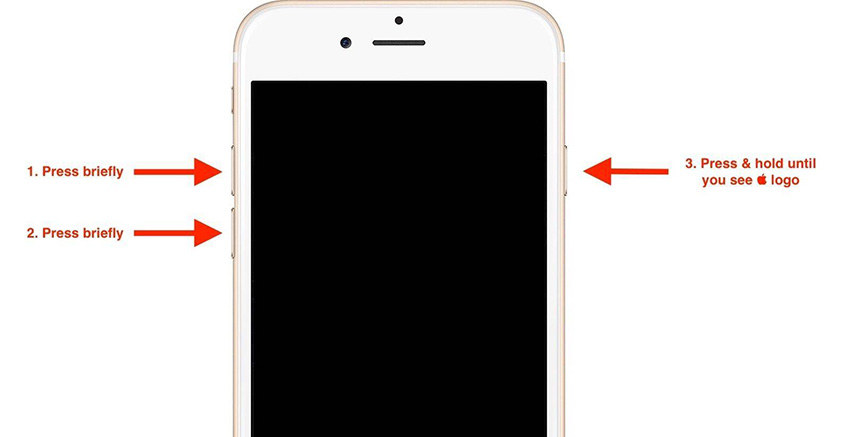 Solution 3: Try Power, Home, and Volume Up Button
If the above method does not have any effect, then there is one more solution that you can put your hands on. You can try using the combination of Power, Home, and Volume up button. Follow these steps:
Step 1: Press all the three buttons (Power, Home and Volume up) at the same time.
Step 2: Hold these buttons for at least 5–10 seconds until the apple logo appears.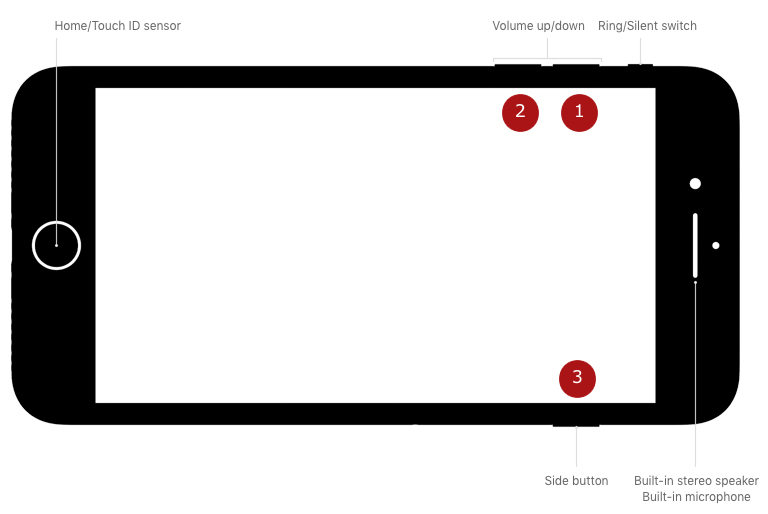 The solution will work only on those models having a Home button. Of course, this solution will not work for iPhone 8/8 Plus/X as well as iPhone 7/7 Plus since they do not have a physical Home button.
Solution 4: Turn Off Auto Brightness
This can sometime come handy. Auto brightness adjusts the brightness of your device according to the lighting condition around you. Sometimes it might go wrong and end up with white screen.
You can go to General >> Accessibility >> Display Accommodations and then toggle off the option for Auto Brightness.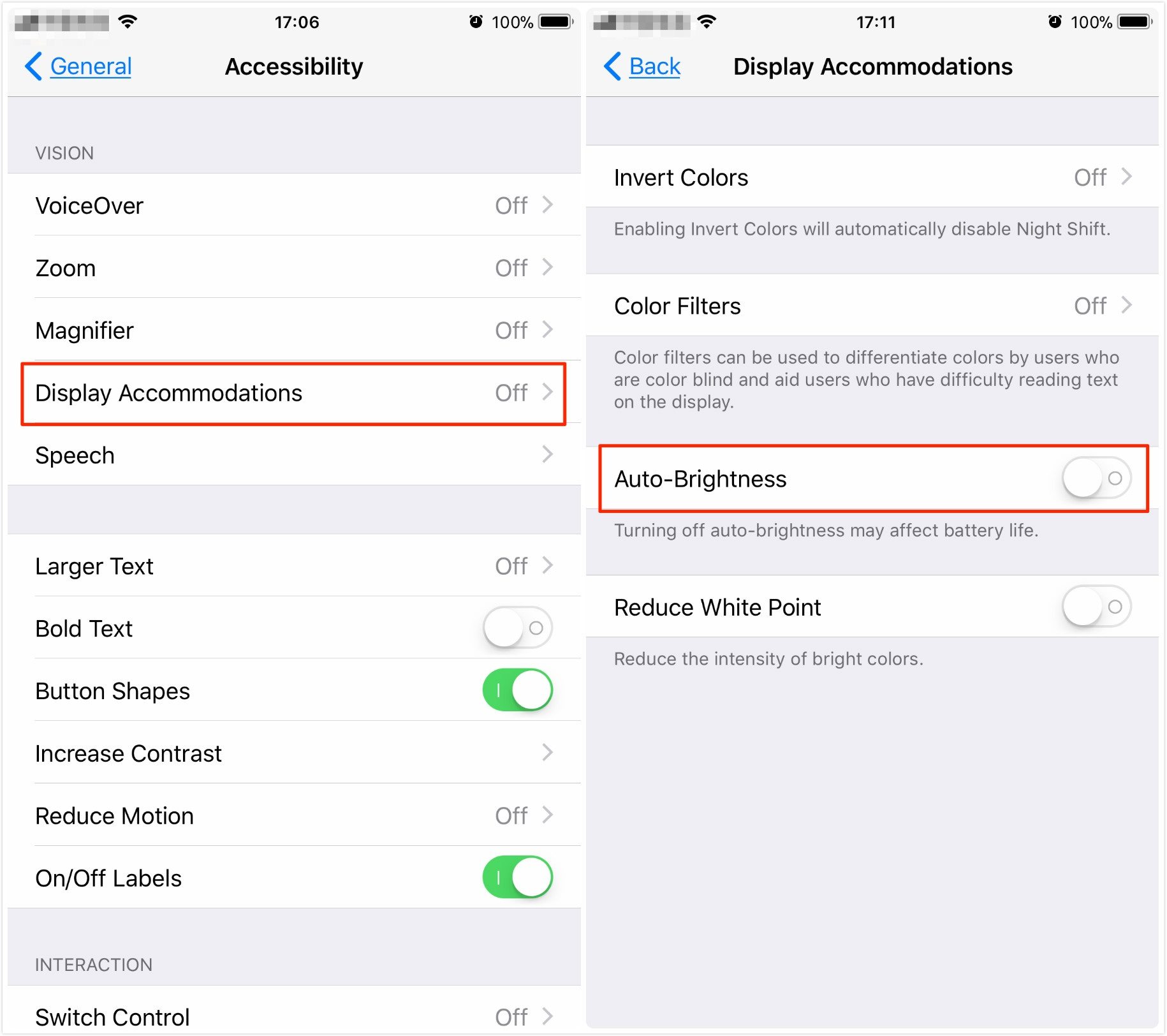 Solution 5: Use Recovery Mode
Recovery Mode also plays an important role in solving issues that are related to software problems. And if software problems are the reason behind iPhone white screen, then using Recovery Mode assists you on how to fix iPhone 6 white screen of death. Here are the steps on how to use recovery mode.
Switch off your device and launch the iTunes.
Press and hold the Home button before you connect your iPhone to the computer.
Release the Home button when the "Connect to iTunes" screen appears. This makes your device enter in the Recovery Mode. To get it out of this mode, just press and hold the Sleep/Wake button.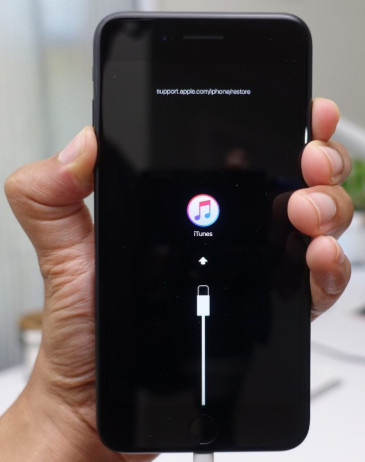 Solution 6: Fix iPhone White Screen without Data Loss
If you unluckily failed to fix the problem with the above methods, you can try an easy tool Tenorshare ReiBoot to fix this issue without data loss. Using it is similar to using a joker in card. This tool provides solution to all types of problems related to iPhone/iPad/iPod touch. With several simple clicks, it empowers you to repair various iOS problems including white screen of death, black screen, blue screen, apple logo , etc. Here are the steps to use the software.
Step 1: Install and run the Tenorshare ReiBoot tool on your computer. Now, connect your device to the computer using a USB cable. Click on "Fix All iOS Stuck."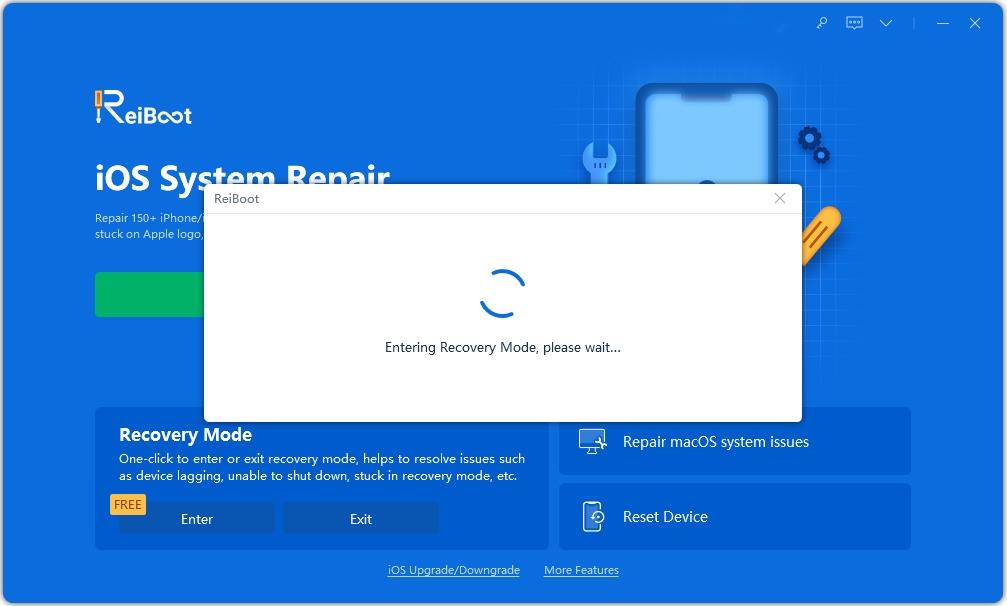 Step 2, tap on "Fix Now" option and then download the required firmware package online for your device. The downloading process will begin once you click on Download.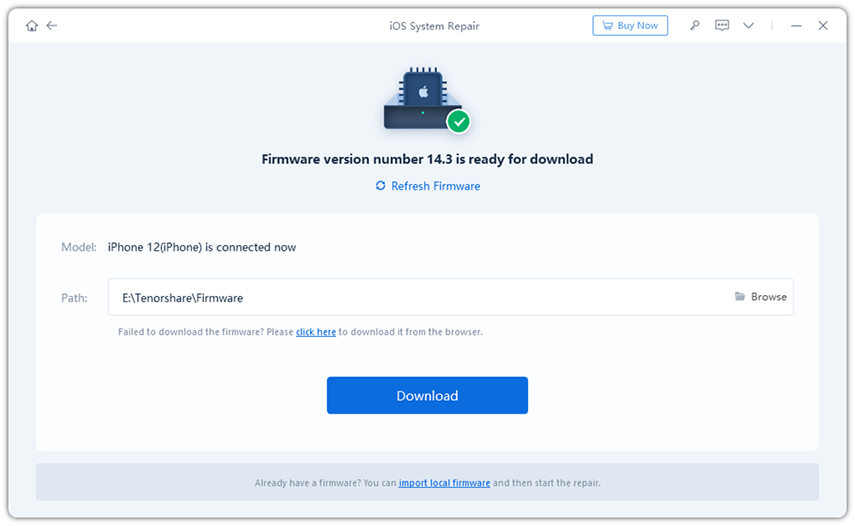 Step 3, tap on "Repair Now" as soon as the download is completed. After a few minutes, the issue will be solved. Also your device will show the latest version of iOS.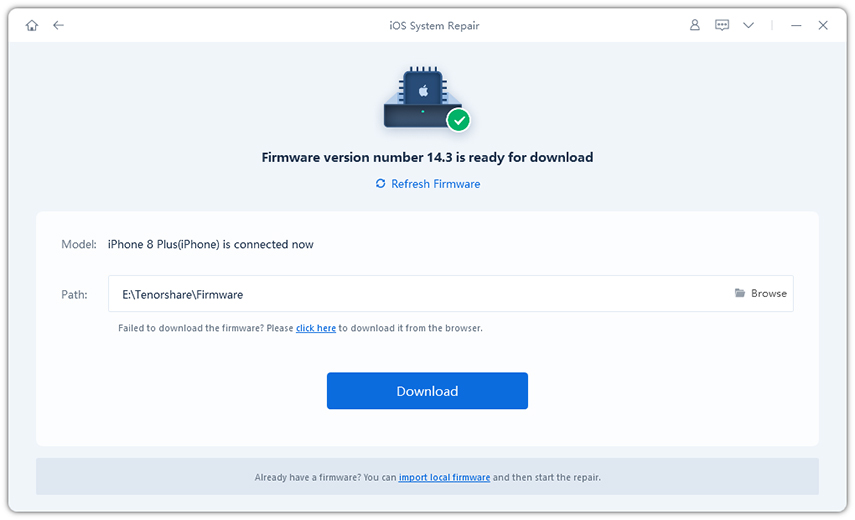 Solution 7: Remove iPhone Battery
If you are stuck with your iPhone showing white screen, there is nothing much that you can do. At such times, you will require to remove the battery of your iPhone. If your device is in warranty period, avoid removing the battery on your own. If you are not aware of how to remove the battery, do not try. Straight away head to Apple Care Center! Else you can do it on your own.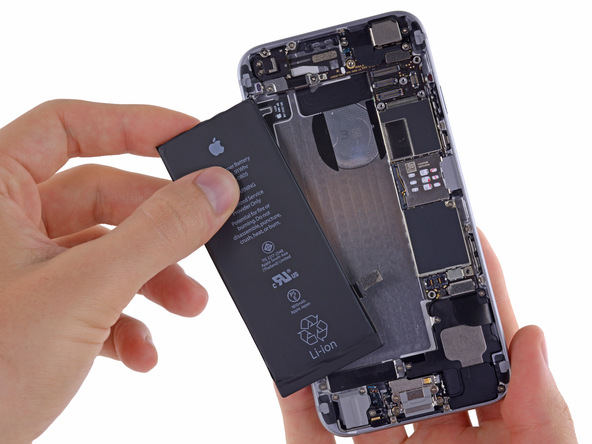 Solution 8: Restore iPhone via DFU Mode
Using DFU mode can also come handy while fixing iPhone white screen. Even though DFU Mode and Recovery Mode seem to appear similar, they are completely different. Here are the steps to follow for entering DFU mode.
Step 1: Press Home and Power button at the same time for almost 10 seconds. Keep holding both the keys till the screen turns black. Release the Power button and keep holding the Home button for 10 more seconds. This will place your iPhone in DFU mode.
Step 2: Now, hold Home and Power button together for 5 seconds. Release the Home button and continue to hold the Power button until the Apple logo comes into view removing your device out of DFU mode.
Summary
Long story short, you just went through the top 8 possible solutions that will tell you how to get rid of white screen of death on iPhone. Do not forget to share your feedback by commenting below. Also share with us different solutions, if you have any.