Safari Not Loading Websites on iOS 15? Solved!
by Sophie Green Updated on 2021-08-23 / Update for iOS 14
safari not loading when on cellular Iphone 13/12 pro!
Is Safari not loading websites on your iPhone 13? This is a common issue encountered by iOS 15 users. If you're facing this issue, then you'll be glad to hear that you're in the ideal place! In today's guide, I'll briefly elaborate on why you might be facing this issue as well all the reliable fixes and solutions that you must try to be able to use Safari.
Reasons for Safari Not Loading Websites on iOS 15 beta
Why is safari not loading certain websites? And some probable reasons are listed below. Be sure to go through each scenario and counter your issue with the appropriate solution.
The URL entered while trying to open a site might be incorrect or unavailable.
An unstable Wi-Fi connection can prevent safari from loading certain sites.
Your DNS server might be blocking the site that you're trying to reach.
The page might be restricted to load on Safari.
Largely occupied cached memory might be preventing the site from loading.
Your cellular data provider isn't compatible with iPhone 13 now.
How to Solve 'Safari Not Loading Websites' with Success
Now, let's take a look at all possible solution to resolve the issue of Safari websites not loading. Give each method a try and find out what works best to instantly solve your issue.
Type Correct URL to Fix Websites Not Loading Properly Safari
If you're accessing your site by entering the URL, then you should double check it before actually searching for it. An incomplete or incorrect URL might prevent you from reaching the desired site.
Check Wi-Fi Connection & Change DNS Server(Optional)
If you're using an unstable or inefficient network connection, then this may lead to websites not loading properly Safari. You need to make sure that your internet connection is functioning properly with an appropriate network speed. If you're on cellular data, I'd suggest you switch to Wi-Fi connection as it is much more reliable. If you still face the same problem, then you may try to modify your DNS server settings on your iPhone. To do so, follow the steps below.
Go to 'Settings' and select 'Wi-Fi'.
Tap the 'i' button in front of your Wi-Fi network connection.
Press the 'Configure DNS' option and select 'Manual'.
Select 'Add Server' and add the Google DNS server by either entering 8.8.8.8 or 8.8.4.4.

Select 'Save' to finalize the changes.
Clear Caches and Cookies
Why is Safari not loading websites mac? A reasonable explanation could be because of the stored cached data and cookies. You can easily clear this unnecessary data by following the steps below.
Go to 'Settings'.
Navigate to and select 'Safari'.

Select 'Clear History and Website Data' to instantly get rid of all cached memory and cookies.
Turn off Safari Extensions
Turning off safari extensions can solve your issue of websites not loading on Safari. In some cases, these extensions may prevent Safari from running properly. The steps below indicate how you can turn off such Safari extensions.
Go to the Safari Menu/Preferences page.
Tap the 'Extensions' tab.
Select the extension that you need to remove and press 'Uninstall'.
Turn off Safari Experimental Features
Safari offers iPhones users a number of experimental features that can, at times, cause complications like websites not loading properly Safari. In this case, you must turn off all Safari experimental features by following the procedure below.
Go to 'Settings'.
Scroll down and press 'Safari' to enter the Safari menu.
Go to the bottom of the page and press 'Advanced'.
Select 'Experimental Features' and turn off all features.
Check Content Restriction If Certain Pages Won't Load on Safari
If iPhone 13/12 Pro Safari is not loading websites, then you need to ensure that no content restrictions have been placed on the site that you're trying to visit. You may also try and fix the issue with the help of Tenorshare ReiBoot.
ReiBoot is one of the best iOS recovery tool for iPhone 13 and iPad users in 2020. It can help you get past the issue of websites not loading on Safari if this is caused by a faulty iOS installed on your device. The complete process of using ReiBoot for this purpose is described below.
Download and install Tenorshare ReiBoot on your computer. Connect your device with the computer via a USB cable.

For the home page, select 'Repair Operating System'.

Hit'Fix Now' to the next step.

Then, browse the desired destination and press 'Download' to get the firmware package.

Afterward, press 'Repair Now' to get started with the recovery process.

When the repair is complete. Wait for the device to reboot, then do as the screen said.
If you have tried to work out safari not loading when on cellular iPhone 13, go to contact your carrier and report this problem.
Conclusion
With a constantly evolving tool like Safari, frequent bugs and errors like Safari not loading websites are very likely to occur. Be sure to try Tenorshare ReiBoot to ensure that you never get held back by such glitches caused by a faulted iOS version.
What's New about Safari on iOS 15
With the recent release of iOS 15, several new additions have been made to Safari. Following are some of the major changes seen after this update.
New 1: Built-in Translation Feature
Translating from different languages to English has been made much more convenient with this new built-in translation feature. All it requires is a single click to translate a complete page from any language to English.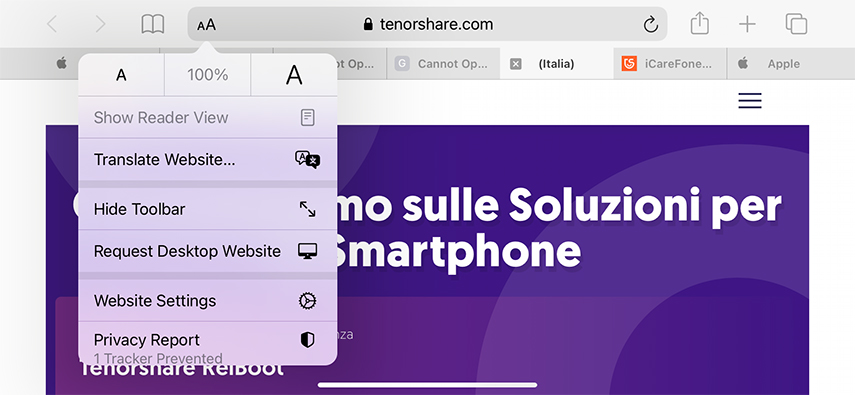 New 2: Privacy Report
All privacy requirements are fulfilled with Safari's new privacy report feature that prevents all cross-site tracking while visiting sites on Safari.