[iPhone 15] Fix Apps Disappeared from Home Screen iPhone & iPad
by Anna Sherry Updated on 2023-09-14 / Update for Fix iPhone
You may swipe left and right to look for the app you need right now, but cannot find it anywhere. This is a problem reported by many and searched on Internet as 'apps disappeared on iPhone'. It looks like a frustrating issue, but it can be solved using some techniques. Let's see how to fix apps disappeared from home screen iPhone 15 now.
10 Tips to Solve Apps Disappeared on iPhone
1. Find iTunes Hidden Purchases
You may have hidden a certain application from App Store purchase list, so neither you nor others are able to access this app. And if your apps have disappeared from iPhone, find Hidden Purchases to unhide and re-download them.
Open App store and tap on your profile picture to open accounts, then tap on your name and ID.

Sign in with your Apple ID account. Scroll down to find Hidden Purchases.

See if there is the app you need. Select it you want to unhide and tap on the Unhide button.
Back to App Store and download the app again.
2. Disable Offload Unused Apps
To reduce background operations and save storage, iPhone 15 has a feature - Offload Unused Apps that automatically deletes applications which haven't been used for a while. In such a case, you may not be able to find an application that you are looking for. To fix apps disappeared from home screen iPhone, disable Offload Unused Apps:
Open Settings, and find App Store. Now, just locate the offload unused apps toggle and turn it off.

Also in Settings > General > Storage. If Offload Unused Apps is enabled here, tap on it to disable this feature.

And then scroll down, find and tap on the app that is disppeared to Reinstall App. It will appear on your iPhone 15 home screen again, and no data will be lost.
3. Add Apps to Home Screen on App Library
If apps disappeared from iPhone home screen, you may accidentally hide an app to App Library. App library helps organize apps into specific groups and keep your home screen clean and less crowded, but you can still add the app to home screen here as you like. To fix apps disappeared on iPhone 15:
Swipe left from iPhone 15 home screen to reach App Library. Search for the disappeared apps in the search bar.

Once you find the app, long press the app icon and tap on Add to Home Screen.
4. Unhide Home Screen Pages
It may happen accidentally that you have hidden a home screen page along with all the apps on it. It can be the reason of apps disappeared on Home Screen iPhone 15, and it can be solved by:
Long press the background of your home screen until the apps jiggle. Now, tap on the dots at the bottom half.

In case any of these pages is unchecked, it means it is hidden. Check this homepage so it can be seen now along with all the apps on it.
5. Allow Apps in Screen Time
Content & Privacy Restriction in Screen time is a good option for parental controls or stopping inapproriate content and addiction to mobiles. So if you disallow that app in screen time settings, you cannot find some application. To allow apps disappeared on iPhone:
Open Settings > Screen Time. Tap on Content & Privacy Restrictions.

Tap on Allowed Apps and look for any app that has been toggled off. Turn it back on.

Or select Content Restrictions > Apps, and tick Allow All Apps to remove age limit.
6. Reset Home Screen Layout
If you have been looking around messing with all these settings and still cannot find apps disappeared on iPhone 15, then you should reset home screen layout. It will list all the applications in a default order.
Open Settings and go to General > Transfer or Reset iPhone 15. Tap on Reset and then Reset Home Screen Layout.
7. Use Siri & Spotlight to Search Apps
If your apps disappeared from iPhone 15 home screen, Siri & Spotlight is one of the easiest ways to search for apps if you cannot find them. Remember to enable Siri and suggestions in Settings > Siri & Search.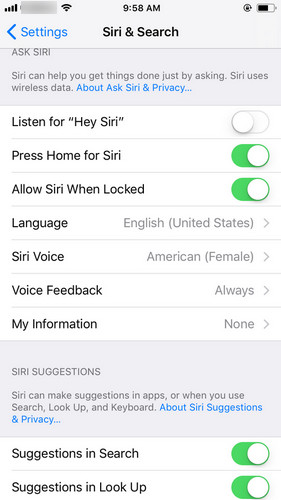 If you want to use Siri, say Hey Siri. This will activate Siri, and then give a voice command to launch the app you were looking for.
Or swipe down the center of home screen to access the search bar and look for the app.
8. Re-install Disappeared Apps
The most direct way to solve apps disppeared from iPhone 15 is to re-install these apps. This one involves using the Open App Store and search for the app you are looking for. If it says open then it means the app is present and needs to be moved to a more accessible place. If it says install then it means you have to reinstall the app.
9. Restart iPhone 15
If you meed some problems while using iPhone and see apps disappeared from home screen iPhone, but all the settings mentioned above is normal, then restart iPhone, which can solve many sudden small errors and bring back the app's icon.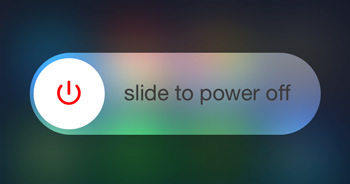 10. Use ReiBoot to Repair System
If you have tried all of the techniques given above and still cannot find apps disappeared on iPhone 15, then you can use Tenorshare ReiBoot to repair the system. Sometimes iOS software issues will cause apps not working well after update or in other situations.
Install ReiBoot on your computer and run it. Connect your iPhone to your PC and click Start to begin.

Choose Standard Repair, which will easily fix this all apps disappeared from iPhone issue without any data loss.

Now download the firmware package. This process takes a few minutes. according to your networkd speed.

Once the package has downloaded, click on Start Standard Repair.

Once the repair is completed, your iPhone will reboot automatically and your issues will be resolved.
Conclusion
Apps disappeared on iPhone is a common problem, and there is a plethora of ways that can solve this problem. Try each of them, one by one, until you fix apps disappeared from home screen iPhone. And last but not least, repairing your iOS software problems by Tenorshare ReiBoot is also a good option.