iPhone Keeps Restarting? Here's The Fix (iOS 14.2 Supported)
by Jenefey Aaron Updated on 2020-11-27 / Update for Fix iPhone
I have an iPhone XS Max that was working fine when I was using it but now that I started using it it keeps restarting itself and I'm not sure what to do and it's updated to iOS 14."

-- Apple Support Communities
Now and then we can find people seek for solution for "why does my iPhone keep restarting", "iPhone keeps restarting when trying to restore" or "my iPhone keeps turning on and off" even "Since my recent update yesterday to the newest iOS 14, my phone keeps restarting itself". It could be disastrous when something get wrong with our device. The reason why iPhone randomly restarts may be related with a recent update, or after you install a third-party app. Whatever the reason is, we are up here with some of the patches that can fix the iPhone 12/11/XR/XS/X/8/7/6s/6 keeps restarting problem with iOS 14.2/14 or earlier iOS.
Note: Before you start using tips below to fix iPhone constantly restarts itself, you'd better backup your iPhone beforehand because some tips below will erase all data on your iOS device. If you aren't a techie person and do not want to lose a bite of data in your device, then we strongly suggest you directly using the the method 7 that can help you fix the problem quickly without data loss.
Solution 1: Hard Reset Your iPhone
Sometimes, by performing a hard reset simply takes away the bug. So if something is bothering your iPhone and making the iPhone keeps restarting over and over, you can hard reset your device to make it work normal. Follow below steps to perform a hard reset and solve iPhone keeps on restarting issue.
If you own iPhone 12 to 8, swiftly press the volume up button and then the volume down button, simultaneously press the side button until you see the Apple logo displayed on the screen.
If you own iPhone 7/7 Plus, press and hold the Sleep/Wake button along with the volume down button. Release once the Apple logo is displayed on the screen. For earlier iPhone models, they are Home and Power button.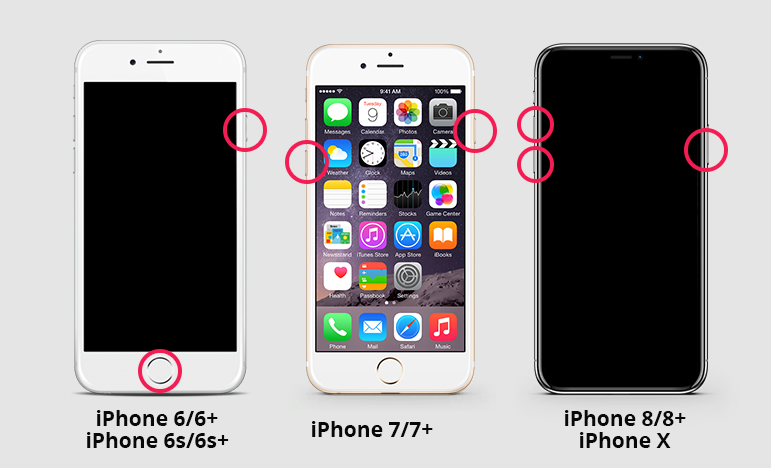 Solution 2: Check for Faulty Apps and Remove them
Sometimes, the issue is not with your iPhone or iPad but with the apps in your device which are responsible for the abnormal behavior and so iPhone keeps turning off and back on. It may happen that few of the apps are faulty and having bugs. This will result in a strangely behaving device, that is, iPhone turns off by itself or frequently restarting of iPhone/iPad. So simply find such apps and delete them from your phone. Follow below steps to find the faulty app remove it:
Step 1: Go to Settings > Privacy > Analytics > Analytics Data. Scroll down the list to find any apps appeared.
Step 2: If you can find one app there, go back to Home screen and long press the faulty app icon that you wish to remove until the app icon wiggles.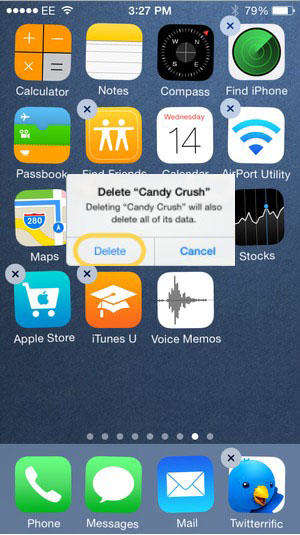 Step 3: Now you can see "X" symbol at the top left corner of the app icon. Click on the "X" symbol and tap on "Delete" when asked.
Solution 3: Update the iOS to the Latest Version
If your iPhone keeps restarting and stuck on apple logo, then probably it is something related to the software and not hardware. And here, when we say software, we point to the operating system. There might be some glitches in the operating system that may lead your device to abruptly shut down. Hence, if you have not updated your device to the latest version of iOS, this is the right time. New iOS update might have some patches or fixes for iphone keeps restarting itself issue.
Here is the step-by-step guide as to how can update your device to the latest iOS version and solve iPhone constantly rebooting problem.
Step 1: Head to the Settings and then go to General. Click on the "Software Update" option.
Step 2: If you have the latest iOS version, then a message will be shown stating the version number of the iOS and "Your software is up to date" message. If you do not have the latest version, download it. The installation process will begin automatically.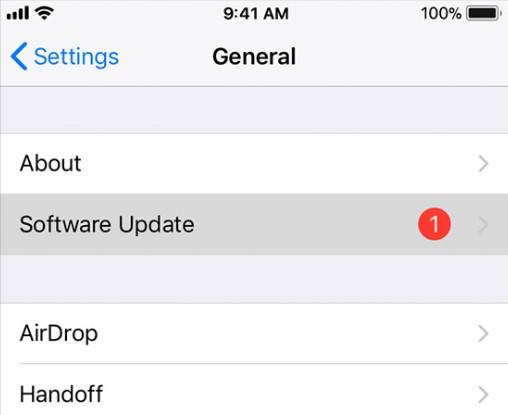 Solution 4: Reset All Settings
Reset all settings on iPhone is an easy way to help you fix iOS problems caused by software issues. Go to Settings -> General -> Reset -> Reset All Settings to restore your iPhone's settings to factory defaults. No data loss will caused by this method.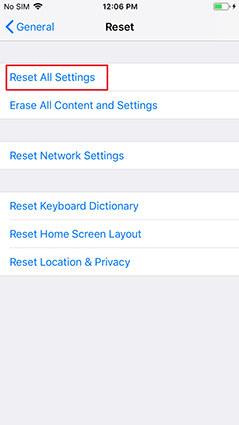 Solution 5: Remove Your SIM Card
If your iPhone has problems to connect to your wireless carrier, it will also lead to iPhone boot loop. A simple trick to resolve this problem is remove the SIM card from iPhone and see if everything is ok now.
You do not need to worry removing SIM card could cause any damage. Your iPhone will automatically reconnect to your carrier as soon as you put it back on.
If removing the SIM card resolves the iPhone reboot loop issue, put the SIM card back in your iPhone to see whether the problem happens again. If the problem reoccurs after inserting the SIM card, you'll need to replace the SIM card with your carrier.
Solution 6. Restore Your iPhone Using iTunes
iTunes restore is a common way to solve many iOS problems. The defect of this method is that all data will get erased after restoring. Before you restore with iTunes, make sure your iPhone is backed up. You can free backup your iPhone beforehand using iCareFone.
Step 1. Launch iTunes on your computer and connect your iPhone/iPad with a USB cable.
Step 2. On the iTunes, click on your iPhone and then look for the "Summary"; tab on the left side panel.
Step 3. Under the "Summary"; tab tap on the "Restore iPhone" button and then confirm your actions by tapping "Restore" when prompted.

Solution 7: Fix iPhone Keeps Restarting without Data Loss
This is the recommended way to fix problems with iOS system. Tenorshare ReiBoot is professional iOS repair software that can fix over 50 types of iPhone problems effectively. So, it certaily can fix iPhone keeps restarting/stuck in reboot loop problem. What makes it distinct is your device data still keeps intact after system repair.
Below is a step-by-step guide to solve the iPhone 12 to iPhone 5s randomly restarts with iOS 14.2, iOS 13 and iOS 12.
Step 1: Download and launch the Tenorshare ReiBoot software on your PC or Mac. Once you have downloaded the device, connect your device using a USB cable.
Step 2: As soon as your device is detected, click on "Repair Operating System" option to recover iOS system by downloading the newest firmware package.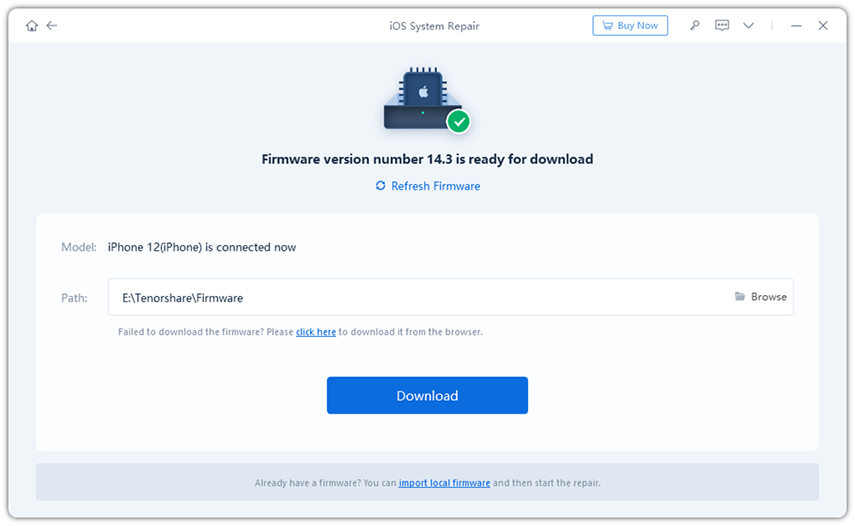 Step 3: Once the package is successfully downloaded, tap on "Start Repair" option to start recovery of the system.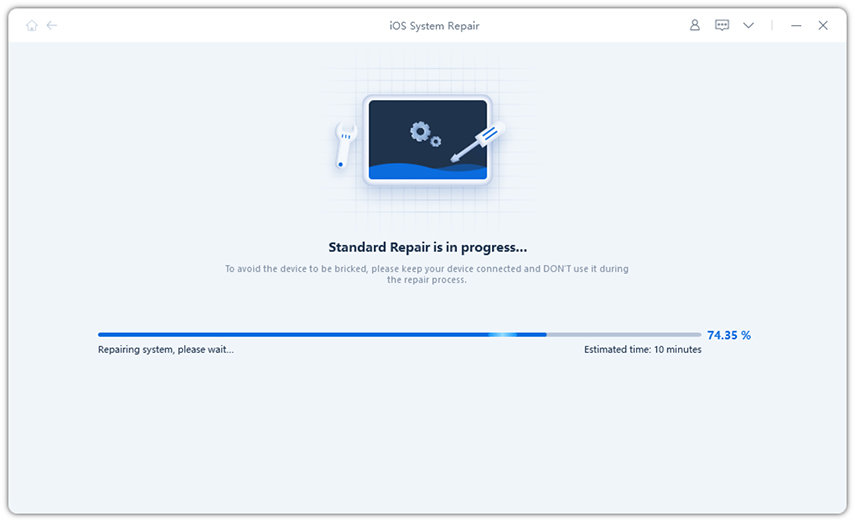 Well, wait for a few minutes, your iPhone will restart after system recovery. You can now use your iPhone without any abruptly restarts.
Solution 8: Check for Hardware Issues
Hardware problem such as water damage will also cause iPhone keep restarting. So check if there is a hardware issue with your iPhone. And if possible, make an appointment with the Genius Bar and get help at your local Apple Store.
Why Does My iPhone Keep Restarting?
Well, there can be numerous answers for your question. The reason can be as simply as a faulty app or as complicated as a software bug. However, in any case, you need to get out of the problem. But before going to any solution, you should be aware of the reason why exactly your iPhone/iPad is behaving abnormally. Check the following few things to know why is your iPhone/iPad keeps restarting:
Hardware failure
Any software bug, for example, iOS 14 bug
Apart from technical issues, other things can also create problems such as:
Cold weather
Fishy and fake apps in your iPhone
Summary
Long story short, we had a look on the full solutions to solve iPhone keeps restarting/rebooting problem. Apart from the common tips that may help relieve the problem, you can use the system repair tool ReiBoot to fix the problem by several clicks.