6 Ways to Solve iPhone 13 Screen Unresponsive Issue
by Anna Sherry Updated on 2021-09-25 / Update for iPhone Fix
Just unboxed new iPhone 13 Pro Max went through the setup restore procedures installed IOS 15 and ended up with a device that has absolutely no screen response whatsoever. Doesn't matter if I hold it, lie it down, it just doesn't work. I expected better from Apple... No one else has issues?"
-- From Macrumors
There are many iPhone users face this problem -iPhone unresponsive screen when they got a new iPhone or use it for a time. No matter you are a iPhone 13/13 Pro Max user or iPhone 6/7/8 user, in this article we will guide you how to fix this problem in 6 ways. Let's dive right in.
Here Are the Ways to Solve iPhone Screen Not Working
Way 1: Force Restart iPhone
This is the most standard solution everyone thinks of when their iPhone screen is not responding. There are different ways for different models of iPhones. Find out below how to force restart each model.
Force restart iPhone 6/6S and earlier:
If your iPhone 6 screen is unresponsive, tap Home & Sleep/Wake simultaneously and hold it till the Apple logo appears.
Force restarting iPhone 7/7 Plus:
Tap Volume & Sleep/Wake key simultaneously and hold it till the Apple logo appears.
Force restarting iPhone 8/8 to iPhone 13/13 Pro Max:
Tap Volume Up & Volume Down one by one and quickly release those buttons. Then press and hold the Sleep/Wake key till the Apple logo appears.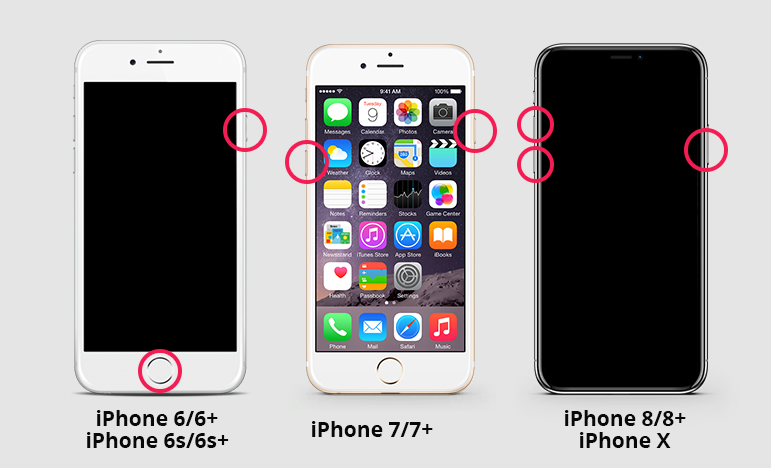 Way 2: Free Up iPhone Storage
If your iPhone touch screen is not responding properly, it may be due to your iPhone being full of many files and folders and that makes your phone sluggish and very slow. It doesn't even respond as quickly as you would want it to, and ultimately makes you feel frustrated and annoyed. You can clear up some space in your phone by deleting all the unused applications stored on your phone. This way the iPhone becomes much faster!
First go to Settings, then General and navigate to iPhone Storage. Now, tap any app you want to delete and tap "Delete App".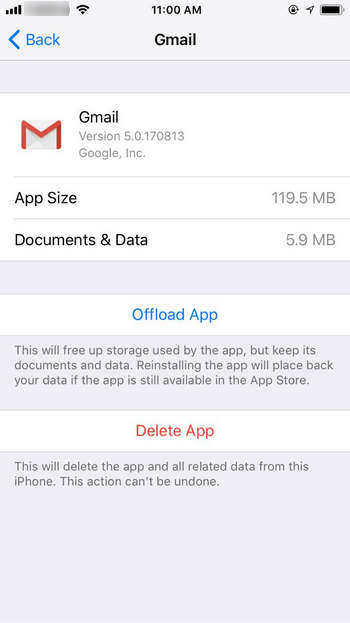 The selected application will get uninstalled right away. In this way delete all the other non-important applications.
Way 3: Delete and Reinstall Application
If in case some particular application is showing unresponsiveness towards touch, then an easy way is to uninstall that particular application and then reinstall it again.
You can do this by just pressing and holding the application showing issues and then tapping on the "Cross" symbol appearing over the application. This way it gets uninstalled. To reinstall it, you simply have to go to the App Store and search for this application by typing its name in the search bar and then reinstalling it again.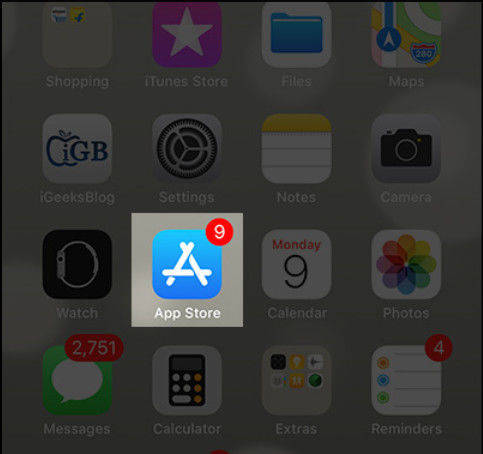 This way, that particular application should start functioning properly.
Way 4: Repair iOS System without Data Loss
For repairing your iPhone's software without losing any data, you can use Tenorshare ReiBoot. This is a highly recommended software for identifying and repairing all the technical glitches in your iPhone. You can use ReiBoot to fix touch unresponsiveness too by following the steps below.
Download and install Tenorshare ReiBoot on your PC/Mac and once installed, launch it.

Connect your iPhone which has the issue, to the PC/Mac with the help of USB lightning cable.

ReiBoot will now detect your iPhone. Now, tap on "Start" and wait for a while and then proceed further to click "Standard Repair".

After the latest firmware package has been downloaded, start repairing process and your iPhone will then be repaired without the loss of any data.
Way 5: Change 3D Touch Settings
If your iPhone screen unresponsive to touch and this is caused due to the 3D touch settings, it can be easily sorted out. You can do this by adjusting the sensitivity of the touch by following these steps below.
Step 1: Open "Settings" on iPhone and from there proceed further to access the "General".
Step 2: Navigate/scroll down and tap on "Accessibility" and from there you can choose 3D Touch.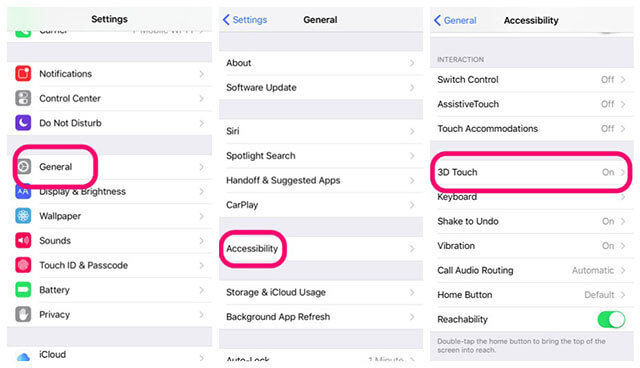 Step 3: This option will have many settings which you can adjust; basically you can adjust it mainly to any of the three sensitivities, light, medium, firm. If you want, you can even turn off the feature.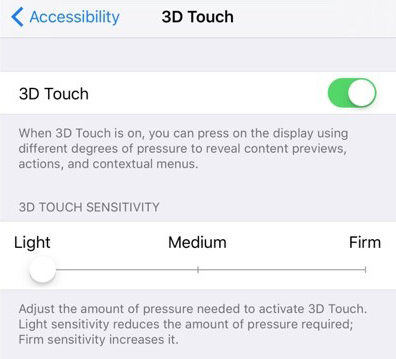 Way 6: Hardware Issues
If in case your screen is unresponsive due to hardware issues such as screen crack, then the above methods won't be of any help to solve your problem. You will need to either mail the customer care centre of Apple or you yourself will have to go to the nearest service centre to get the screen replaced.
Conclusion
The iPhone touch screen not working is a highly annoying problem which can be faced by anyone. If you have any such issues, and you want to know how to fix iPhone 12 Pro Max unresponsive screen, you can easily refer the above 6 ways to effectively solve your problem. Tenorshare ReiBoot is the highly recommended repair software which is the most effective out of all.
Fix iPhone Stuck Issues without Data Loss