How to Fix iPhone iBooks Problems 2023
by Jenefey Aaron Updated on 2022-01-04 / Update for Fix iPhone
If you have an iPhone or iPad, there's no need to buy an e-reader. Apple offers the iBooks app that allows users to browse millions of books. You can purchase and download any books using Apple ID and share them in different iOS devices. However, some people reported that iBooks not working on iPhone or iPad, such as app doesn't open, cannot download files or not syncing. Here we'll list the most common issues on iBooks app and the possible solutions, check them out and have a try.
Part 1: Common iBooks Issues on iPhone/iPad
1.iBooks Not Opening Books
This issue has been complained by a lot of users, especially those who using an iPad. Some purchased books are downloaded successfully but you are not able to read it. There are also complaints saying the local files are not readable.
2.iBooks Showing Blank Pages
Some users encountered all the books are showing blank pages while some reported only part of the books is blank. When trying to download the files again. It did nothing. This problem is usually related to the internet connection on iPhone.
3.iBooks Not Syncing Between iOS Devices
You can share files among different iOS device once you sign in the same iCoud account, but some PDFs not syncing after iOS 11 update is occurred frequently. Actually, this is not a big problem; some users may forget to check the iCloud book settings.
4.iBooks Won't Download PDF
When downloading PDF or other files from iBook store, the downloading process can't be accomplished. This problem has been talked a lot on the Tech forums and still happens a lot. Network connecting and Apple ID verification are usually the major reasons for it.
5.Can't Send Email From iBook
Normally we are allowed to print or share files in iBooks, but sometimes the email option become unavailable according to some users' complaints. After tapping the share icon from the upper left corner, the app only show the print option. This is because some PDFs are protected in some way or there's something wrong with the system.
6.iBooks iCon Missing on iPhone/iPad
iBooks icon disappeared from iPhone is usually happens after a new software update. You can use the spotlight search screen to find this application. However, what's annoying is that it is usually not able to retrieve the icon.
7.iBooks App Keeps Crashing/Closing
iBooks crashing and running slow issue is likely caused by a software glitch, that explains why many people encountered this issue after iOS update. Some users feel frustrated when they try to read something the app stuck all the time.
Part 2: How to Fix iPhone iBooks Doesn't Work
1.Check Network Connections
Many iBooks not working issues are related to network, make sure the cellular or Wi-Fi on your iOS debvice is on. Also go to Settings -> iBooks, check the Wireless Data under Allow iBooks to Access is enabled or not.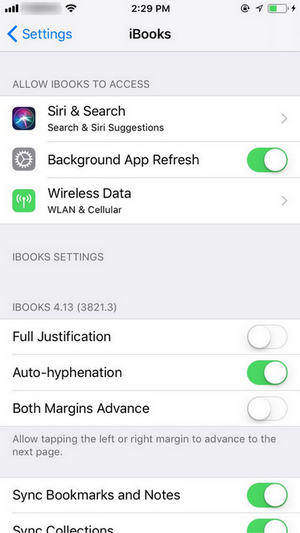 2.Unhide iCloud Books
In iCloud, there's an option of hide iCloud photos which can also hide the books synced from iCloud. Sometimes iBooks not downloading or showing up due to the "Hide iCloud Books" feature is enabled. In the iBooks app, tap on the "All Books" and make sure this feature is off.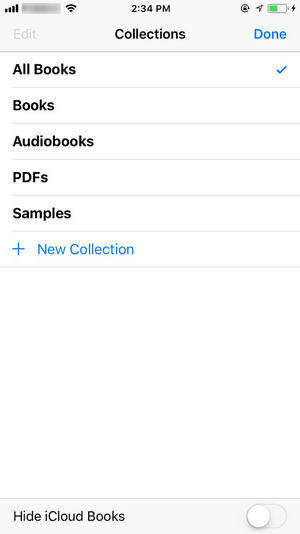 3.Check iCloud Drive
Sometimes iBooks not syncing PDF between iPhone and iPad after update isn't because software problem, iBooks isn't enabled in iCloud drive may be the real reason. Go to Settings -> iCloud. Find iCloud Drive from the list and make sure iBooks is on.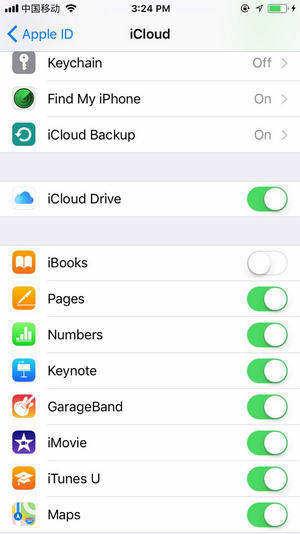 4.Sign Out Apple ID and Sign In Again
If iBooks not downloading or buying books, try to log out your Apple ID for purchasing in Settings -> iTunes & App Store -> Apple ID -> Sign out, and then sign in again to see if it helps.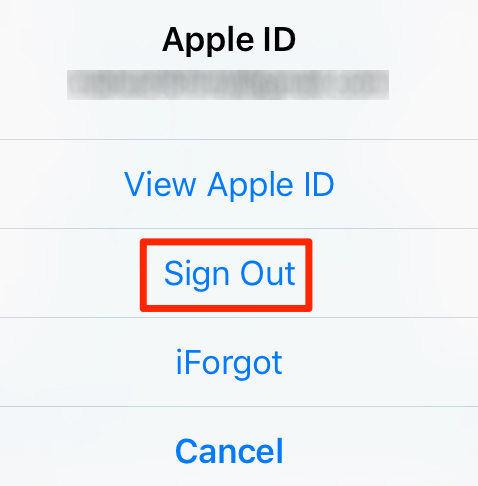 5.Force Close the App
Quit iBook app and launch it again is an easy workaround when facing some unexpected situations. Just double press the home button and swipe up the app to close it, and then open it again to check if the problem still exists.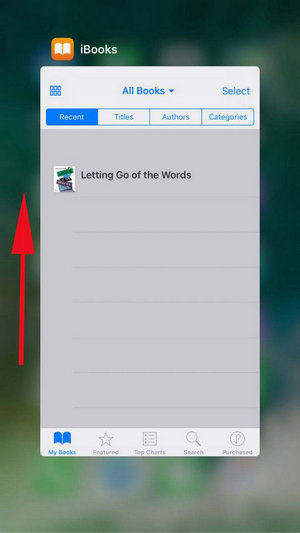 6.Power Off iPhone and Reboot
If the iBooks app is crashing or stuck on loading, reboot your device will usually fix. Press the power button on your iPhone and then tap "Slide to power off". After second, press the power button again to reboot iPhone.
7.Update Software
Sometimes iBooks not displaying books or texts after a software update might be a bug in that version software. Wait for a new iOS update and it will help. To update software, go to Settings -> General -> Software Update.
Tip: When trying to update iPhone but unfortunately gets stuck and screen become responsive, try iOS Fix Tool ReiBoot, which is able to fix all iOS stuck issues by repairing operating system, no data damage.
Also Read: How to Fix iOS 11 Recovery Mode on iPhone.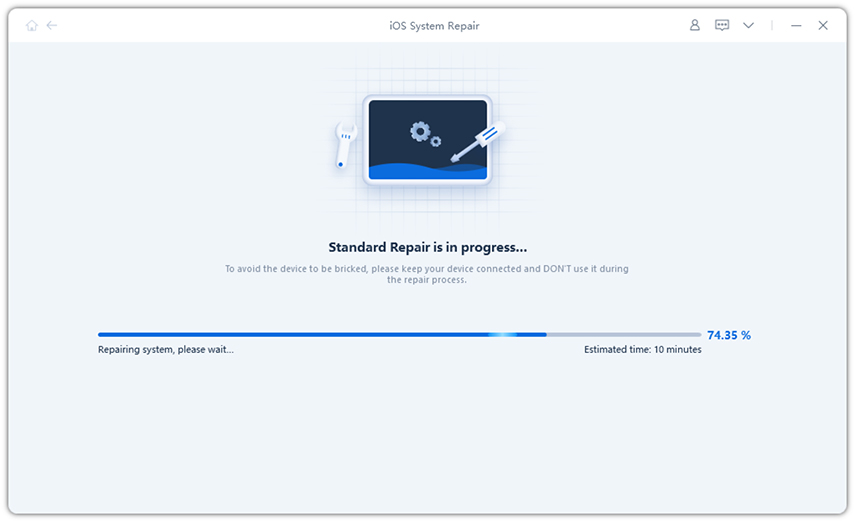 8.Back up and Reinstall iBooks
For some users who failed to fix their issues with the above methods, maybe delete the app and install again will also be a choice. Remember to make backups beforehand to avoid any data missing.
Summary
This article has shown you the common iBooks problems on iPhone/iPad and listed you the easy fixes. If you have any other questions about this post or you have better solutions for iBooks issues, contact us by commenting below.