8 Prominent Ways to Fix iPhone Charging Slowly
by Sophie Green Updated on 2021-05-07 / Update for iPhone Fix
iPhone XR suddenly charging really slow from a fast charger. Lightning cable and adapter are in perfect condition, and port is clean."
Does the above situation seem familiar to you? Is your iPhone not charging as fast as it is supposed to? Do not worry! This is a fairly common issue reported by several iPhone users. There are several ways in which you can fix your iPhone charging slowly. In this article, you will learn about the 8 most effective ways to fix your iPhone charging slowly. Read on to know more about this in detail.
Part 1. Why is My iPhone Charging Slow?
There may be plenty of reasons why behind your iPhone 6 charging slowly. Some of the most common reasons are listed below.
There might be some dust or debris accumulated in the iPhone's charging port.
Your lightning cable that you use for charging your iPhone may be damaged or frayed.
The power source might be weak.
There may be some issue with the software of your iPhone.
Part 2. How to Fix iPhone Charging Slowly Simply?
Now that you know what the most probable reasons behind the problem of my iPhone is charging slow are, you can take the help of the solutions given below to resolve the problem.
1. Clean Out Your iPhone Charging Port
Check your iPhone's charging port and remove any sort of gunk, debris, or dust accumulated in it carefully. You can use a static toothbrush to effectively clean the charging port. You can even use a new toothbrush to clean out the gunk.
All you need to do is stick the toothbrush into the charging port carefully and scoop out the dirt in it. Try charging your iPhone after this to see whether it is charging normally or not.
2. Check Your iPhone Lightning Cable
If cleaning out the charging port does not help, move on to the next step, which is checking your lightning cable.
If the charging cable is damaged, it can be the reason behind your iPhone charging slowly. Inspect your charging cable to look for any damages. If it is indeed damaged, try using a different charging cable and check whether the problem persists.
3. Change to Another Power Source
Are you wondering why is my iPhone charging slow? The problem may be with the power source used by you to charge your iPhone. If you generally use your laptop or computer to charge your iPhone, try charging your iPhone this time by plugging the charger to a wall charger.
4. Try USB-C to Lightning Cable and USB-C Power Adapter
You can also try the fast charging options like USB-C to lightning cable and USB-C power adapter for your iPhone. Apple offers iPhone 8, 8 Plus, and iPhone X owners a fast charging option by way of the £19 USB-C to Lightning Cable and £49 USB-C Power Adapter.
5. Stop Using iPhone While Charging
Many of the iPhone users use their iPhones while it is being charged. This is pretty common but what these users do not realise is that their usage is causing a significant amount of battery consumption.
This might be causing the problem of your iPhone 6 Plus charging slow. To resolve this, try refraining from using your iPhone while it is charging.
6. Turn off Background App Refresh for Quicker Charge
An excellent tip to make your iPhone last longer and charge faster is by turning off the background app refresh. You can do this by following the steps given below.
Go to "Settings" from the main menu and tap on "General".

From the available options, tap on "Background App Refresh" and tap on "Off" option.
Check the charging speed of your iPhone now.
7. Force Restart Your iPhone
Some minor technical glitches may be causing the problem of your iPhone 6 charging slow. This can be resolved easily by force restarting your iPhone in the following way.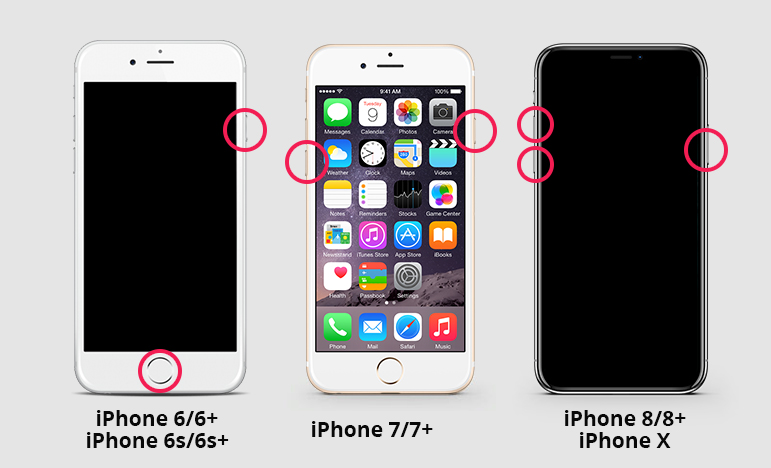 For iPhone SE, 8, X, and higher models, press the Volume Up button and release it quickly, press the Volume Down button and release it quickly, and then press and keep holding the side button till the Apple logo appears on the screen.
For iPhone 7/7 Plus, press the Volume Down button and the Wake/Sleep button together and hold it till the Apple logo appears on the screen.
For iPhone 6S and 6E, press the Wake/Sleep button and the side button together and hold it till you see the Apple logo appear on the screen.
Once you force restart your iPhone, charge it and check the speed.
8. Speed up iPhone Charging by System Repair
If there's an issue with your iPhone's software, your iPhone may charge slowly even if there's nothing wrong with your Lightning port, Lightning cable, or power source. To fix a potential software problem, you can perform a system restore with Tenorshare ReiBoot. Tenorshare ReiBoot can help you in resolving every kind of technical glitch on your iPhone that may be causing the problem of slow charging. Here is how you can use this tool to your advantage.
Once installed, launch the program on your computer, connect your iPhone to the computer, and click on "Start".

From the main interface, first pick "Standard Repair".

Click on "Download" to download the latest firmware package.

Click on "Start Standard Repair", you can check the repair progress on your screen.
Once done, you will be prompted. If this mode does not solve the issue in your iPhone, you can select "Deep Repair" instead from the main interface and repeat the steps. However, not that when you pick "Deep Repair" all the data on your iPhone will be lost.
Summary
Thinking about why is my iPhone charging so slow? Tenorshare ReiBoot makes system repair a hassle-free ordeal. Although there are plenty of ways to fix the problem of your iPhone charging slow, using Tenorshare ReiBoot to perform a system repair is the best way to resolve this issue, and this is why it is highly recommended by several satisfied users.