How to Fix iPhone Stuck in Recovery Mode(with Video Guide)
by Jenefey Aaron Updated on 2020-05-23 / Update for Fix iPhone
Read Before:What is Recovery Mode?
Recovery mode helps iPhone users solve numerous problems—from simple erroneous abnormal working of app to complex software issues. But however, there are times when you get stuck in recovery mode (support.apple.com/iphone/restore error) itself. this article guide you to solve iPhone stuck in recovery mode won't be restore or connect to iTunes screen issue.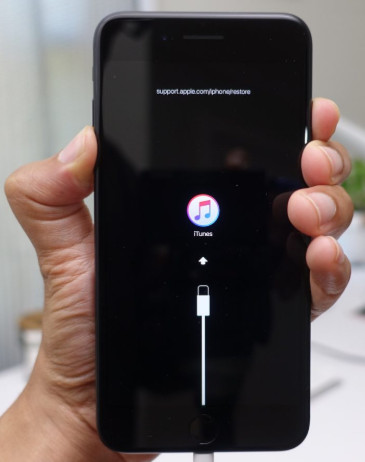 Part 1: Why is My iPhone Stuck in Recovery Mode?
Many reasons exist for getting your iPhone 11/X/8/7/6 stuck in Recovery mode. The most common situations that may cause your iPhone stuck in recovery mode if:
You were trying updating iPhone to iOS 12.4, or iOS 13 beta.
You were trying to jailbreak your iPhone.
You've been usnig an iOS beta and do not like it, and decided to restore your iPhone to factory settings and then restore from backup. But iPhone is now stuck in recovery mode and won't restore or update.
iPhone automatically installs iOS updates and randomly in recovery mode.
iPhone were dropped to ground, and screen was fine but nothing was reacting . When you tried to reboot it and then got stuck in recovery mode.
Other situations like battery replacement, faulty operations, water damage and so on.
Now that we have known all the possible reasons why you deal with iPhone stuck on iTunes logo issue, let us discuss the possible solutions.
Note: If you upgrade to iOS 13 or iPadOS 13 and iPhone stuck in recovery mode iOS 13 (like the image below), you can also fix it with these solutions we will cover in the following parts.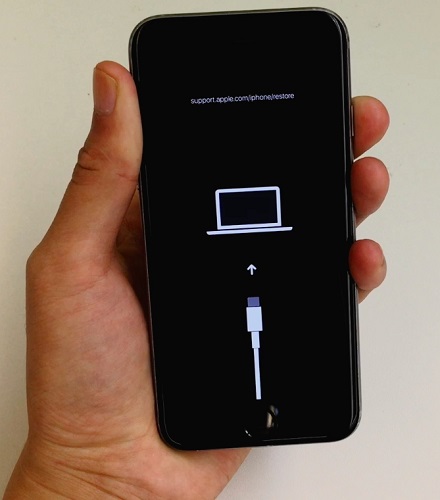 Part 2. No Data Loss Solutions to Fix iPhone Stuck in Recovery Mode
Typically, when an iPhone 7 stuck in recovery mode, most people think they have to kiss goodbye to their iPhone data and settngs, and do an iTunes restore in order to get iPhone out of recovery mode. You are lucky if you have a backup beforehand, while it can be a tragedy if you have not.
Fortunately, you come across this article and we will tell you several methods that can exit recovery mode without data loss. Let's check them.
Option 1. Get iPhone Out of Recovery Mode without Computer
The first way to force iPhone out of recovery mode is force restart. Many times, force restarting kicks the issues out of your iPhone. Follow below steps to force restart your iPhone.
If you have iPhone 8 or later:
Press and quickly release the Volume Up button
Press and quickly release the Volume Down button
Press & hold the Side button till the time your iPhone's screen is off and again turns on. Let go the button as soon as you see the Apple logo.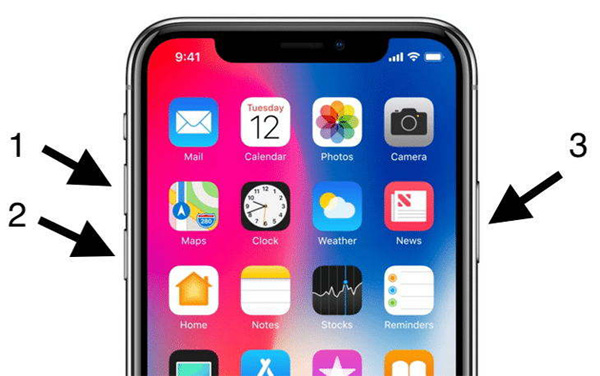 If you have iPhone 7 or iPhone 7 Plus:
Simultaneously press and hold the Power button and Volume Down button. Let go both the buttons when Apple logo is displayed on screen.
If you have iPhone 6 or earlier:
Concurrently press power button as well as Home button. Hold the buttons till the time you see Apple logo. Now let go the buttons and wait for the restarting process to finish.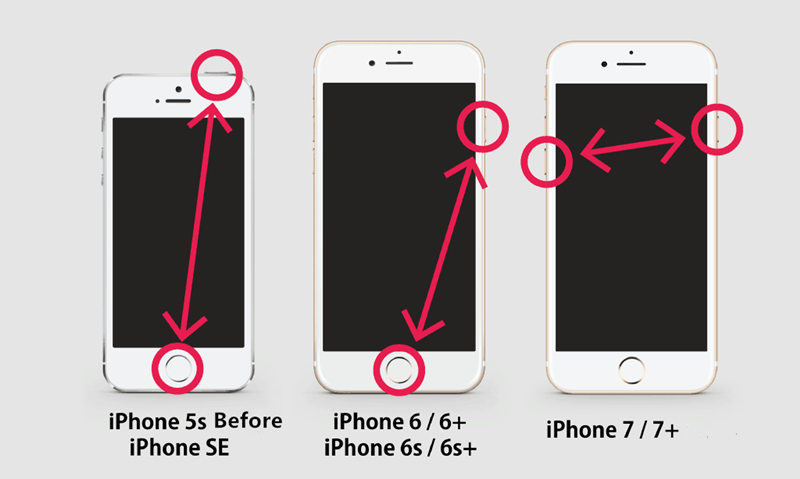 Option 2. Use Free iOS Repair Software ReiBoot
There are also some iOS recovery mode tools that can help you fix iPhone stuck in recovery mode. One of the products recommended by many technology sites like 9to5mac or macworld in recent years is ReiBoot. This software is featured many outstanding features that even better than iTunes, including getting iPhone out of recovery mode without restoring. Recently this software has updated to support iOS 13, iOS 12.4/12.3. Hence, if your iPhone X stuck in recovery mode after update to iOS 13, or your iPhone 8 stuck in recovery mode when you were trying to downgrade from iOS 13 beta, don't miss to try this tool. In most chances you can fix this problem without data loss, and for free. ReiBoot can freely put iPhone in Recovery mode and exit.

Firstly, to use this software, you will need to download it to a Windows or Mac computer, and connect your stuck iPhone to computer with lightning cable.

When your iPhone is stuck in recovery mode, this repair tool will detect it and the free feature "Exit Recovery Mode" feature is clickable.

Click the Exit Recovery Mode option and wait for this software to get iPhone out of recovery mode.

In less than 10 seconds around, your iPhone has exited recovery mode successfully.
A Useful Tip: If the free exit recovery mode does not help fix the problem. You can upgrade to "Repair Operating System - ReiBoot Pro" feature to fix recovery mode stuck and won't restore with iTunes ultimately. It is a more powerful system repair function that can fix 50+ system problems without data loss.
Option 3. Try Recboot to Exit Recovery Mode
Recboot has a reputation at an early age, it can enter and exit recovery mode by a click away. To get iPhone out of recovery mode with Recboot, follow these steps.
Downoad RecBoot, and connect your iOS device to computer using USB cable.
Click Exit Recovery Mode button
Wait for it to exit recovery mode on iPhone.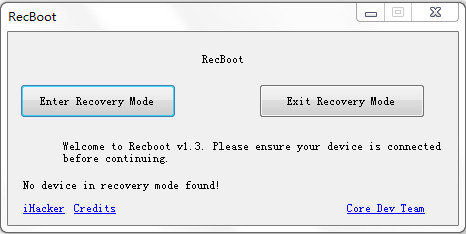 Note: RecBoot has stopped update since 2017. So it does not support to fix iPhone 8/X stuck in recovery mode and it can't fix iPhone stuck in recovery mode iOS 12.
Option 4. Try Tiny Umbrella
Tiny Umbrella is also recommended by CNET or Softpedia that can be used to fix iPhone stuck in recovery mode, fix iTunes error and other problems. It works on devices with iOS 7 through iOS 12.
Download and install Tiny Umbrella from its official site. This software has both Windows and Mac version.

Connect your iOS device to computer with USB cable and wait for the software to recognize your device.

Once it detects your iPhone, the Exit Recovery option is higlighted. Click this button to kick your iPhone out of recovery mode.
Part 3. Risky and Data Loss Solutions to Get iPhone Out of Recovery
Option 1. Restore iPhone in iTunes
The general method of fixing iPhone problems is using iTunes. If you have recent backed up your iPhone, you can use this method to get iPhone out of recovery with iTunes.
Launch iTunes on computer and connect your iPhone to your computer with USB cable.

If iTunes can detect your iPhone in recovery mode, you can go to Summery tab and click Restore iPhone...

iTunes will download the latest iOS firmware package and install it to your device.

Step 4. When the process is done, your iPhone is out of recovery mode and you can set it up as new, or you can restore from backup.
Also Read:
Option 2. DFU Restore iPhone to Get Out of Recovery Mode
DFU mode stands for Device Firmware Update, a condition in which iPhone cannot load bootloader but can be detected in iTunes. This method is the least recommended unless you have to. Because it is complicated for novices. If the operation is not correct, it will cause more serious damage to the phone.
Read here to learn how to put iPhone in DFU mode.
After entering DFU mode, iTunes will detect your iPhone and require you to update or restore it.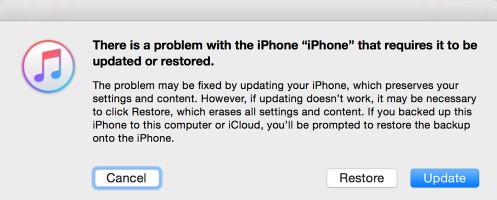 You may also interested in:
Other Options
If above all the solutions fail to get your iPhone exit Recovery mode, you require to take help of Apple. There is a probability that instead of any software issue, your iPhone is dealing with some hardware problem, and hence above solutions are not giving you success. Therefore, you should contact Apple for support and find out what exactly the issue is.
Summary
The above article gives a brief on what is recovery mode, reasons why your iPhone gets stuck in Recovery mode and all the possible solutions for how to fix iPhone stuck on iTunes logo problem. Hope one of the above solutions worked for you and you have successfully exited recovery mode. We highly recommend Tenorshare ReiBoot to exit Recovery mode without data loss. Share your feedback with us by commenting below.