How to Fix iPhone Email Not Updating Automatically [iOS 13 Included]
by Jenefey Aaron Updated on 2020-07-23 / Update for Fix iPhone
One of the most important benefits of an iPhone is that you can constantly keep in touch with contacts from anywhere through email. Your iPhone becomes the lifeline of your communications and interactions with the whole world. It is highly frustrating when the email function collapses and mail won't update inbox in iPhone. It becomes doubly frustrating when you are expecting an important mail concerning your work. This is a serious issue when emails do not get pushed. When you exchange plenty of emails, particularly when it comes to your work situation, email not getting updated on your iPhone can turn into a serious issue and it has to be solved as early as possible. This article will help you with a comprehensive guide on how to use relevant software when iPhone email not updating automatically.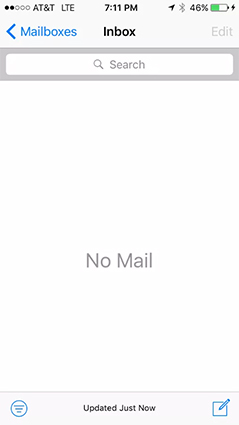 Part 1. Why iPhone Mail Won't Update Inbox?
There are several issues that can contribute to iPhone email not updating automatically. One of them could be occurring after iOS updates. There are other issues which result in your iPhone not being able to download email. Just like other smart phones, iPhone can get stuck somewhere in the middle or in the recovery mode or will simply not be able to refresh the incoming mail.
Some other cases will result in your iPhone not being able to update emails automatically and you may have problems even after you refresh it. The updating system of Apple is dependable but it can still give some niggles to the email function on your iPhone. You may have had some experience about getting messages about not being able to reset or even disconnecting the iPhone during various phases of an update process. In rare cases, something may go wrong and the iPhone may get bricked. This refers to a state when your iPhone cannot get connected to iTunes and becomes unresponsive. Every user of iPhone would like to upgrade to the latest iOS offer and there may be situations when after an upgrade, the phone may get stuck in a continuous restart type of loop.
Part 2. Fix iPhone Email Not Updating Automatically
Many users get a headache when this happens. They try reaching the App Store Customer Care and consult technical experts. This invariably does not offer instant solutions. People have tried deleting their mail account and then reinstalling it but without success. Often, they are able to send emails and check their sent mail section but the problem is that the mail won't update inbox. They are certain that there should be mail waiting for them. When they check on their CPU, they find that their mail box is updated but the problem remains with just the iPhone. However, you may still try out these possible suggestions.
Method 1: Enable Fetch New Data
Go to Settings > Accounts & Passwords. You have to scroll down to the bottom section to locate the option of Fetch New Data and ensure that you select Push for Emails. First up, opt for the Push Method after you open your Settings and then tap into Mail. You will see a list of several email accounts that are set up in the Mail App on the iPhone. Back out on one Settings Screen and tap on every fifteen minutes for the Fetch schedule. This will condition the iPhone to check and refresh your mail once every fifteen minutes instead of the hourly schedule on default.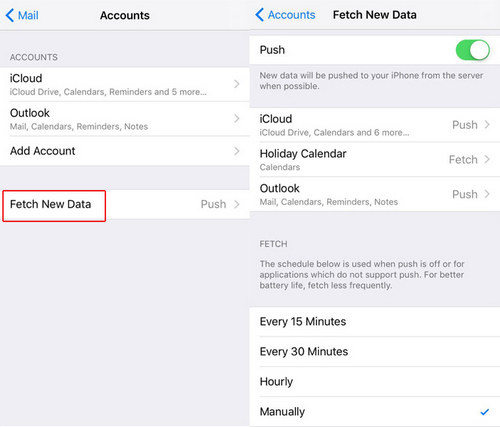 Method 2: Check Network Connection
Make sure that the iPhone is connected to Wi-Fi or is under the network connection. If necessary, reset those network settings or power the iPhone off and restart it. Before you begin fixing the iPhone when iPhone email not updating after iOS update, you need to be aware that iOS backups that are made in iTunes and iCloud actually backup the mail settings, but not necessarily the emails. Be careful here for if you delete or make changes to the settings of the email account, all previously downloaded mail will get removed from the iPhone. When you are clear, ensure that the iPhone can get connected to the internet. You may go to Safari and try to open any web page.
Method 3: Start Using Third Party Mail Apps
There are several options available. One of them is CloudMagic, which is named Newton now. This app is blazing fast and has a transparent user interface to manage which is free of complicated slides or buttons. The management features of this app make it very distinctive from Apple's Mail system and all other desktop clients for managing mail. The base interface has three columns – mail folders and accounts on the left, a message list in the center and the large column on the right for reading and responding to messages. You can adjust these columns and the source column on the left can be tucked away, entirely.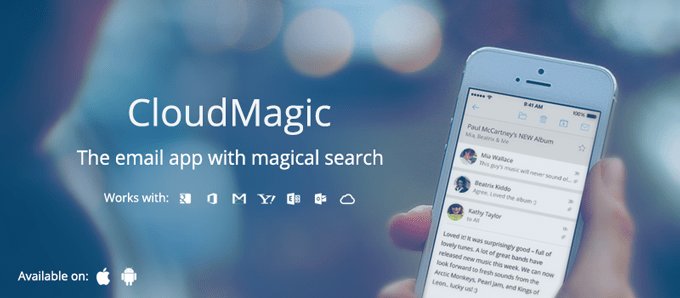 Related Read: how to delete all emails at once on iphone
Method 4: Use ReiBoot to Fix the Issue of iPhone Email Not Updating
If the mail fails to refresh still and does not download into the inbox of the iPhone, then ReiBoot software will do the job for you and it is the best possible solution as an outstanding iOS repair tool for not only the iPhone but for all iOS products. ReiBoot is calble of repairing iOS system to iPhone email problem and other 50+ iOS problems without data loss: iPhone stuck in recovery mode , iPhone keeps restarting, iPhone black screen, won't turn on, etc.
Download ReiBoot freeware and install it on your computer. Open ReiBoot and then connect your iPhone to Mac/PC through a USB cable.

After the iPhone is detected by ReiBoot, click on "Enter Recovery Mode" option to begin fixing the iPhone not showing emails in inbox issue.

When you enter the recovery mode, you will have to wait for about half a minute and there will be confirmation of your iPhone entering the recovery mode successfully. You will get a display of the USB cable and the iTunes logo on the iPhone's screen.

After the confirmation of entering the recovery mode successfully, you will find that an option titled "Exit Recovery Mode" gets highlighted. Click on it to come out of recovery mode and reboot the iPhone.
You will have to wait for a little while after you exit the recovery mode for the refreshing process of all functions to complete. Once the process is completed, the iPhone's iOS device will be back to a normal state of functioning. The email updating function will now be normal on your iPhone.
Conclusion
Receiving email on your iPhone is an essential task that you should expect out of your smart phone. The Mail Inbox is that one crucial place where you can expect important work messages, receipts, correspondence from colleagues and newsletters. You email address actually serves as a digital passport for your identity. When mail does not refresh as soon as it arrives, then you have a serious problem on hand. I believe you have got the point on how to fix iPhone Email not updating automatically.