"I checked my iPhone and found there are 1500 emails in my Mail inbox, I want to bulk delete iPhone emails but recent ones. Is there an easy way to do this other than one-by-one manually?"
-Apple Community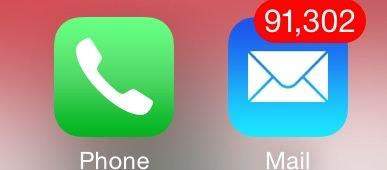 This is one of the common complaints about iPhone. The initial design of device doesn't allow people to remove a large amount of emails at once. Users want to erase unwanted iPhone/iPad emails from the Mail app have to tap every email individually, which is a tedious and time-consuming process. If there are enough email messages stored in your iPhone requiring bulk deletion, your email workflow is likely very inefficient. Luckily for us, there are two easy solutions to delete large number of emails on iPhone without resetting device even doesn't involve restoring from a backup.
Note
:To avoid any data loss due to mistaken operation, you'd better back up your device before deleting and erasing unnecessary emails, try to use
Tenorshare iCareFone
, the best software to help you back up your precious iPhone data.
Free Download
For Win 10/8.1/8/7/XP
Secure Download
Free Download
For macOS 10.13 and below
Secure Download
How to Delete Large Amounts of Emails on iPhone
It took me several days to figure out how to erase emails from iPhone in bulks, just follow the simple steps below to get the old mail messages batch deleted from your iPhone7/7 Plus/6/SE/6s/6/5s/5 with ease.
Method 1: Selectively Delete Emails in iPhone Inbox
Step 1: Go to Inbox on your device, tap Edit, then Mark All, and then Mark as Read.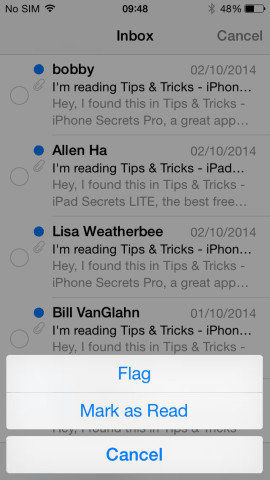 Step 2: Tap Edit again, and select the top message in the inbox. Press and hold the Move button with your thumb. While holding the Move button, uncheck the top message, and then release the Move button. If you have a large number of emails in the inbox, wait a couple of seconds without touching your screen.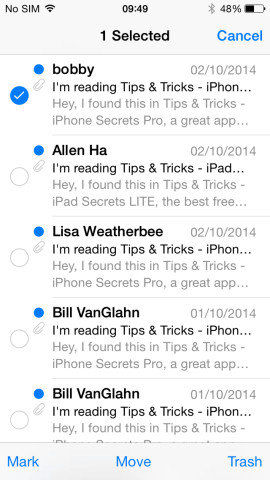 Step 3: After a while, you can see the move screen. You are allowed to move all the selected emails in bucks to any of your folders. Here we are moving them to the "trash" folder.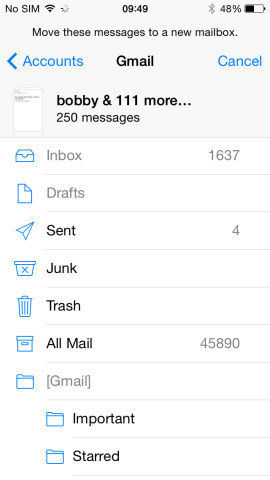 Once you have moved all email messages to the trash you can either leave them there for the scheduled cleaning or empty it right away by doing this: go to trash folder and touch Edit. Press Delete All button at the bottom of the screen, then the mails will be erased out immediately.
Method 2: Erase Unwanted Mail Messages in Gmail
Gmail app is one of the popular email programs as massive users it has. Here are the detailed steps to delete iPhone email history in Gmail.
Step 1: Open Gmail and login your account.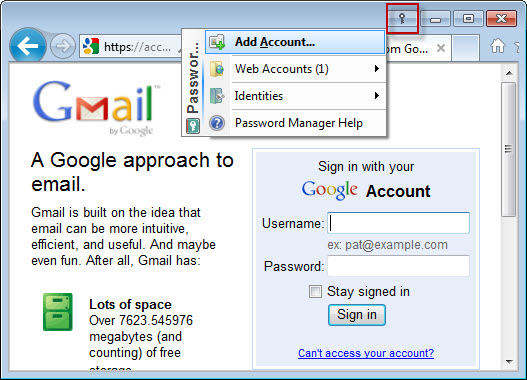 Step 2: In the search bar, type the follow:
Label: inbox is: read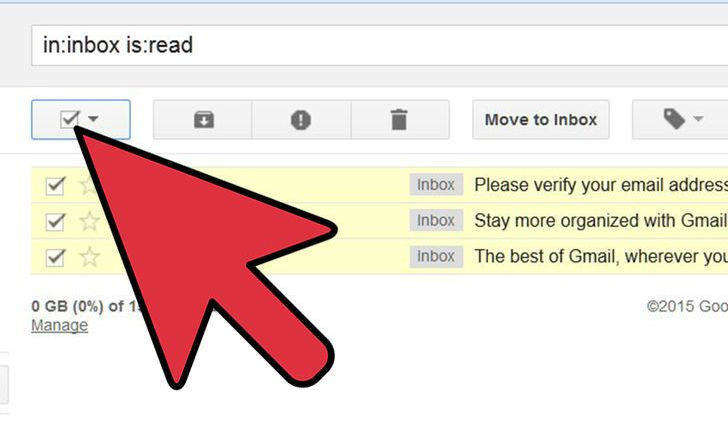 Step 3: All the read emails from your inbox will be listed, click "select all conversations that match this search".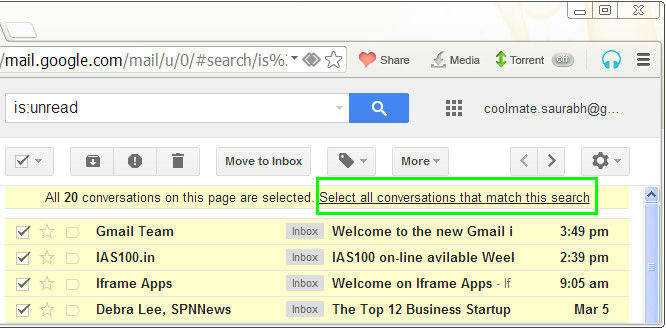 Through these steps by hand, the Snapchat cached data can be cleared on your iPhone. Unfortunately, you'll find new caches and temporary files are eating up the iPhone's storage. So, we recommend you to use the method 1 and use Tenorshare iCareFone to clean up iPhone on regular basis. It is super easy and time-saving.
Tip: To erase all the unread emails from inbox, in the step 2, type Label: inbox is: unread, and all the unread ones will be moved out.
The methods above are the most effective ways to move and delete iPhone email messages, just try the one that suits your needs. If you have any questions or any better ideas, please share them with us in the comment section.
Free Download
For Win 10/8.1/8/7/XP
Secure Download
Free Download
For macOS 10.13 and below
Secure Download
Related Articles
comments powered by