6 Ways for How to Get Candy in Pokemon GO
by Anna Sherry Updated on 2023-12-05 / Update for change location
An undeniable thing that any Pokemon go fan is looking for would be candy. Candy is by far the most important resource for a Pokemon go player. Just like in general, a VIP person gets treated by all the lavish things in the world, the same goes for Pokemon go players. They will do anything to get more candy.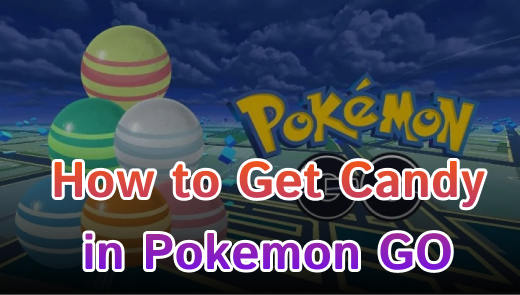 Therefore, we are here to help our Pokemon go players find candy because we are about to cover how to get candy in Pokemon go. So why wait further, let's look for ways and guides.
Types of Candy in Pokemon GO
Mainly there are four types of candies that one can get in order to explore and enjoy the amazing features that are received after having more candies. The four types are as follows:
Candy is a Pokémon family-related resource that can be used to strengthen Pokémon. It gives the Pokemon strength to enjoy the various features that one can get only when they have enough candies. One can start having candies from the start of the game.
Candy XL is a special type of candy that allows users to level their game up. This candy starts appearing after level 31. If a user achieves 100 regular candies, it can be converted into one XL candy.
Rare Candy is an advanced version of candy that can be fed to any Pokémon species. It's one of the few possible Raid Rewards. When this candy is used on Pokemon, it turns into Pokemon candy.
Rare Candy XL can be obtained after reaching level 40. This candy was first introduced in Generation VI. This version is a more updated version of regular candies. If a user achieves 100 regular candy, it can be converted into one XL candy
How to Get Candy in Pokemon GO-6 Methods
Pokemon go players can get more candies by opting for various methods. There is no hard and fast rule that one can only get candy by only one method. Following are some methods one can opt for in order to explore how to get Pokemon candy.
1. Catching Pokémon
Let's keep things simple and easy first. The best way to get more candy is by catching Pokemon. This solution works the best, although it needs more effort. If you want to collect candy of some exactly, you can find the spawn location on the Pokemon GO map. Then catch a lot of them in one time.
Numbers of candy you can get: 3 Candies-5 Candies-10 Candies
2. Using Pinap Berries [Recommended]
How to get more Pokemon candy? Using Pinap berries also works great. New berries have been added since the update of Gen 2 Pokemon. Pinap berries are also a new addition. Pinap berries work by doubling the amount of candy if the next catch attempt is successful.
Numbers of candy you can get: Twice as much as candies from catching Pokemon
3. Walking with Your Buddy Pokémon
How to get charmander candy? Just walk with your charmander buddy. This method works by assigning a Pokemon as the user's buddy. After one gets a buddy, he or she can set the walking distance and the buddy will give candy. Some Pokemon takes longer distance.
Numbers of candy you can get: 1 Candy
4. Transferring Pokémon
Who knows transferring a Pokemon can also give you candy? Yes, that's right! You can get one candy in return by transferring Pokemon. This method has an added advantage it will clear your inventory and bring you candy as well.
Numbers of candy you can get: 1 Candy
5. Hatching Eggs
This method of hatching eggs is also one way to get candy. Eggs basically display the distance user walks for the egg to hatch. Once the required distance is met, a screen will pop up which will show eggs getting hatched. Tap on the screen to speed up the animation process.
Numbers of candy you can get:
2km egg: between 5 and 15 Candies
5km egg: between 10 and 21 Candies
7km egg - between 10 and 21 Candies
10km egg - between 16 and 32 Candies
12km egg - between 16 and 32 Candies
6. Trading Pokémon
Trading Pokemon is although a difficult task, but when one does the job wonderfully it rewards in a way that has no comparison. The utmost requirement of it is the distance that was spent while the Pokemon was caught. The transfer rate sometimes also increases in specific events.
Numbers of candy you can get:
For 10 km-1 Candy
From 10km to 100km-2 Candies
For over 100 km-3 Candies
How to Get Candies in Pokemon GO without Walking
How to get more candy in pokemon go? Tenorshare iAnyGo is the ultimate solution to your problems. You can use it to teleport yourself to the nest of Pokemon and then use the method of 1 and 2 mention above to get candies. Follow the below steps and see how exciting is the Change location feature.
Launch the iAnyGo and connect your iPhone to the computer. Select the joystick's mode. It will appear on the lower left corner of the screen.

Start your program and link your iPhone or device you are using with your computer. Whether you are walking, cycling, or running, you can adjust your speed. The maximum speed is about 72 km per hour.

And then drag the middle button to the point on the circle. You can also change the direction by stimulating GPS from left to right with the help of a keyboard.
Conclusion
In this article, it was covered how to get candy in Pokemon go. Hope our users have a complete idea about ways they can opt for in order to get more candy.