Quick Look: What Is Pokemon GO Fest 2022/2023
by Jenefey Aaron Updated on 2023-09-18 / Update for change location
Pokemon Go fest 2022 is bringing so many fun and exciting rewards for trainers all over the world. The Pokemon fest is considered one of the biggest events of Pokemon. This year's Pokemon go fest is packed with legendary Pokemon and so many giveaways to avail.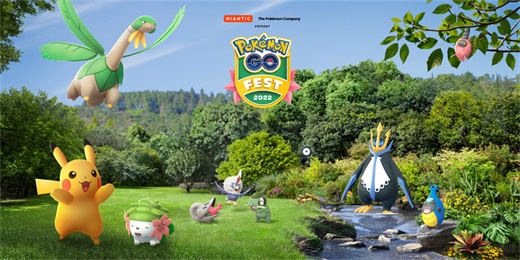 Here is a guide that will explain everything related to this year's Pokemon go fest and what you can expect from it.
Part 1: Brief Introduction of Pokemon GO Fest 2022 
Starting with the most important information of Pokemon GO fest 2022 research, the dates of Pokemon fest 2022. Mark your calendar for June 4, 2022, and June 5, 2022, since two important events will take place on these dates. 
Moreover, the Pokemon go fest grand finale will take place on August 27, 2022. In the finale of Pokemon fest, you will get to know and can explore many rewards by Pokemon go. 
Furthermore, this year many legendary Pokemon are also appearing in the Pokemon finale so it's a good chance to catch them. 
Part 2: Detail of Pokemon GO Fest 2022 Raids  
No one wants to miss Pokemon GO fest 2022 raids since it's the best part of the fest. In the Pokemon go fest finale you can catch plenty of rare and legendary Pokemon by participating in raids. 
The legendary Pokemon Palkia, Zacian, Zamazenta, and mythical legendary Pokemon will make a comeback in the five start raids of the finale of Pokemon go fest this August. 
Part 3: Detail of Pokemon GO Fest 2022 Tickets 
To participate in the fest, you need Pokemon GO fest 2022 tickets. Each day of the fest will offer you a different type of experience. 
Tickets for the fest are available for US$14.99 which covers the participation cost for both events on June 4th and 5th. If you bought tickets for the June event of Pokemon fest then entry to the special finale of the fest will be free for you. 
There is no extra cost for the finale for the trainers who purchased tickets for the initial events. Moreover, tickets for the fest finale are available for US$10.99 and you can buy these tickets in-game shop.
Part 4: What Do You Get from Pokemon GO Fest 2022 
Pokemon GO fest 2022 rewards are going to be really cool. In this fest, 
You will see global challenge Arena coming back for the event. Completing this global challenge each hour will unlock many in-game rewards for trainers. 
This fest is going to be all about Shaymin, a Gratitude Pokemon. If you have a ticket for the fest, then it's a better chance to encounter this mythical Pokemon along the way. 
Participating during event hours will enable you to claim a short research story.
Moreover, you will get a chance to encounter many Pokemon as shiny Pokemon during the fest. These Pokemon are present in city habitat, plains habitat, rainforest habitat, and tundra habitat.
Part 5: How To Spoof Pokemon GO Fest 2022 without Moving 
Almost 70 rare Pokemon are appearing in the fest this year and this is a great chance to catch any of them. You will see no shortage of cool Pokemon during the event. For this, you need to complete each habitat hour's collection challenge. Only this way you will be able to catch the Pokemon you encounter during the event. 
Having said it, you need to get up and move to make progress in the game. Doesn't it sound tiring already? No worries, Tenorshare iAnyGo let you participate in the game without moving. You can fake your location using this software and manually control your movement during the event without getting red flagged in the game. 
With iAnyGo Joystick movement you can flexibly control your movement in the game. It includes changing directing, setting speed, and automatic movement. Here is how to start your movement in Pokemon go without moving in reality.
Download and Launch Tenorshare iAnyGo on your PC. Connect your device to the computer and choose 4th option "Joystick movement" from the interface.

Set the movement speed you want to have in the game. You can also choose between walking, driving, and cycling speed. 

To start your automatic movement, circle the middle button, and release it. You will start moving in the game at the set speed automatically. You can easily tweak direction to 360 degrees anytime anywhere.
Final Words 
Pokemon go fest 2022 event really excites trainers. The reason behind this is very obvious, the unseen Pokemon and a lot of in-game rewards, raids, and more. Such events double the joy of players and encounter so many things during the event.
So go and get your tickets to participate in the game. Don't forget to use Tenorshare iAnyGo along the journey since it has all to make your time enjoyable in real terms.