Pokemon GO Coin Hack For Beginners [FREE]
by Jenefey Aaron Updated on 2023-04-14 / Update for change location
Every Pokémon GO player wants to earn a lot of poke coins to shop for everything. For this purpose, he must move around and hit the gym to catch Pokémon and earn coins. This is a lot of effort, right? We have a Pokémon GO coin hack for you that will help you to earn without spending a lot of time and effort.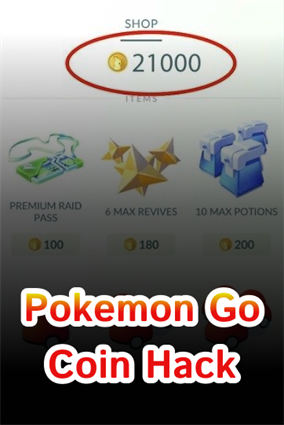 How to Get Pokémon GO Coin 
If you are a beginner, then you must have some questions in your head about this game. You might be wondering what are these poke coins, what are they for, and how can I get them. Don't worry! We have all the answers. There are two easy ways to get them.
1. Buy It
You can either buy these coins by spending money or time. The choice is yours. You can buy coins by spending dollars on them to level up your game.
2. Rewarded from Defending GYM 
If you don't want to spend dollars buying coins, we have another way to get them. You should move around and hit the gym. The earnings will depend on which defender you have chosen. If you have a bulky Pokémon, then you can earn at least one coin within a few minutes. 
The Details of Wining Coin from GYM 
Wining coins from Gym is not as easy as it looks. There is a space of 6 Pokémons in the gym. All of them must be the same colour. If the gym colour differs from those of Pokémon, then it's your opponent's gym. 
You have to choose a defender to knock out the opponents in the gym. After this, you can stay there if there is no other rival. 
If you stay there for 10 minutes, you will earn 1 coin. And this will continue until another opponent arrives. No matter how many Pokemon you leave in the gym, you will only get up to 50 Poke Coins per day.
You should choose healthy Pokémon like meta gross Dragonite as a defender as it is difficult to knock it down. You can leave your Pokémon in different gyms depending on where it fits.
How to Start a Pokémon GO Coin Hack 
If you want to get poke coins without buying or doing gym, here is a simple and quick poke coin hack for you. Here are a few steps that you have to follow:
Go to Youtube.
Search Pokemon GO coin hack.

Choose a video and follow the instruction to get unlimited Poke coins.
As we tested, however, the method on Youtube to start a Pokémon GO Coin Hack doesn't work at all. In the end, we need to use the spoofing tools to get poke coin hack.
Can We Get Pokemon GO Unlimited Coins 
The answer is NO. There is no way to cheat the game to get Poke coins directly to your account like the video guide on Youtube. If it works, which will immediately be detected by the Game because this behaviour damages the balance of the game.
Most players start pokemon go pokecoins hack by taking as much as gym they can to win the defending rewards. They usually use Pokemon GO spoof tools to reach the places normal players can't reach. So they can defend a lot of gyms and just wait patiently to get Poke coins. 
The Best and Safest Way for Pokémon GO Coin Hack 
How does Pokemon GO get free coins work? Just try Tenorshare iAnyGo with safe and easy working but also has some astonishing features to start your Pokemon GO coins hack.
With iAnyGo's Joystick movement, you can spoof your location without jailbreak or can also stimulate GPS according to your own choice. This will provide an amazing platform for Pokémon GO users to earn coins effortlessly within a safe environment.
Launch the program and connect your device to the computer. Select the joystick's mode. It will appear on the lower left corner of the screen.

Start your program and link your iPhone or device you are using with your computer. Whether you are walking, cycling, or running, you can adjust your speed. The maximum speed is about 72 km per hour.

And then drag the middle button to the point on the circle. You can also change the direction by stimulating GPS from left to right with the help of a keyboard.
The End 
Getting poke coins is not quite simple but you can use the Pokémon GO coin hacks that we have explained earlier for a better experience. Moreover, by using these shortcuts, you can save money and time. So, enjoy Pokémon GO shopping with unlimited coins.