How to Throw a Curveball in Pokemon Go (Excellent Throw Tips)
by Anna Sherry Updated on 2021-12-27 / Update for iPhone Tips
Hey folks! I have been using Pokemon Go for quite some time. My friends who are experts at it often talk about Pokemon Go curveball tricks. Can you please enlighten me on what's a curveball throw and how to throw a curveball in Pokemon Go?"
One of the great challenges in playing Pokemon Go lies in throwing curveballs. Depending to the accuracy in the aiming of Pokemon character, gamers can gain different throw bonuses. If you are one of those Pokemon Go gamers who expect to find ways to make an excellent throw, then you're at the right place. We'll go through the greatest tricks on throwing Pokemon Go curveballs in this article.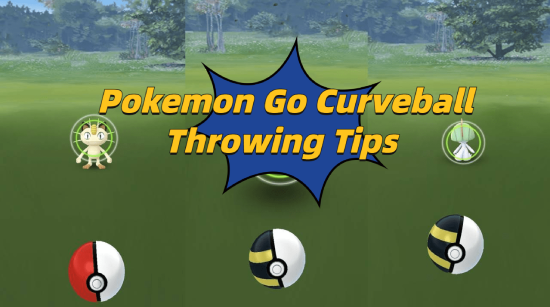 Part 1: What's a Curveball Throw in Pokemon Go?
One primary event in Pokemon Go is to catch a Pokemon. You throw your Pokeball at them, and they get caught. But, as in the actual series, capturing the Pokemon is quite tricky. One good trick is to go for Pokemon Go curveball.
When you go near a Pokemon, a circle will appear around it. You should aim to the center of the circle and manage to land the ball inside the circle, so that you can succeed in catching the Pokemon. The curveball throw has different bonuses and XP levels depending on how near to the center your Poke ball goes. The more your ball curves, the more there will be chances of you catching the Pokemon.
There are four categories of scores you will achieve while catching a Pokemon:
Curveball Throw:
It is a basic throw which happens when your ball curves and a successfully landed curveball will give you 10XP. Besides, you'll be provided with a higher chance of capturing Pokemon.
Nice Throw:
The Nice throws are those that lands at the time when your radar circle is at its widest (lined up with the white circle). You'll earn a 10XP bonuns for catching a Pokemon with a nice throw.
Great Throw:
The Great throw occurs when your PokeBall lands around the middle of the radar circle of your Pokemon – when it is half-sized. You'll receive 50XP when you have a great throw.
Excellent Throw:
The Excellent throw happens when your Poke Ball lands in the smallest radar circle or near the center point. An Excellent throw will earn you an extra 100 XP onto whatever other XP you accrue from catching the Pokemon successfully.
Part 2:Greatest Tricks on How to Throw a Curveball in Pokemon Go
If you're one of those players who ask themselves, "how do I throw a curveball in Pokemon Go" then you're not alone, as many other gamers are as clueless as you. You don't need to worry too much because you can do some pretty easy and helpful tricks to have a better curveball throw in the game.
How to Throw a Curveball in Pokemon Go?
Below are the basic steps for throwing a curveball in Pokemon Go.
To start with, choose the Pokemon character that you want to capture.
Select a Pokeball, press and hold on the Pokeball to make the circle appear around the Pokemon. If the Pokemon monster is a rare one, you'll need to select an advanced Pokeball like Ultra ball to get a higher catch rate.
Before throwing it away, do a super spin by spinning the PokeBall in a clockwise or counter-clockwise direction with the finder until the phone starts vibrating and the ball starts to sparkle.
When you get ready to take a swipe at the Pokemon, throw your curveball, without losing the chance to catch the target Pokemon.
How to Throw a Nice Curveball in Pokemon Go?
For doing a nice throw, you can follow these tips.
Pick and press your Pokeball to set a ring, then focus on the ring instead of the Pokemon.
Hold the Pokeball and wait for the inner circle to reach its largest radius.
Target the circle and throw your Pokeball at the Pokemon. You'll will achieve a nice curveball.
How to Throw a Great Curveball in Pokemon Go?
To land a Great thow, spin your curveball and release it once you notice that the circle is around half as big as the center circle. When the Poke ball is landed close to the center of the circle, you will achieve a great curveball throw.
How to Throw an Excellent Curveball in Pokemon Go?
With the Nice throw being easy to make, an Excellent throw is by far the most difficult to make due to the small size of the inner circle. Though being chanllenging, it is still possible for you to throw an Excellenct cruveball as long as you follow the tricks below.
Touch and hold the Pokeball. Don't release it until you see the target circle shrinks down to its smallest size.
Wait for the Pokemon master to start its first attack.
When the Pokemon launch its attack, spin the pokeball so that you can curve it.
Once the Pokemon gets to about 3/4 through its attack, you now need to throw the curve ball as close to dead center as you can.
Other tips to catch Pokemon easily
Turn off the AR mode. It will save the phone's battery, and your Pokemon will remain fixed in a position that makes it easier to throw balls at.
Use your index finger and flick it to throw the ball at the left or right edge of your screen. Once it reaches the edge, twist your arc back to the Pokemon at the last second to catch it.
This method is also called the L and J throw.
Bonus Tips: How to Catch More Pokemons Using Tool
Catching Pokemons in the Pokemon Go game is not as easy as your think because you have to struggle to find the right Pokemon and the correct location. If you're lucky, you might find a rare Pokemon for you. However, it will take lots of time and energy. What if we tell you there is an easy way that helps you catch more Pokemons without even struggling?
Well, this tool named Tenorshare iAnyGo is made for this purpose and it can change iPhone location without jailbreak. You might find many fake GPS location apps in the Internet, but Pokemon Go and its developers soon filter out these fakes and permanently ban you for cheating. However, iAnyGo keeps the GPS spoof as realistic as possible, so there is almost zero chance of you being caught.
Here is how you can spoof your iPhone location using Tenorshare iAnyGo:
Download Tenorshare iAnyGo on your PC or Mac and run the program to install it. Once installed, connect your iPhone to the PC and trust the computer to move further.

Go to iAnyGo's main interface and select the "Change Location" mode. Tick the disclaimer option and press Enter.

You will see a map of your neighborhood. Pick the desired fake location you want to inside Pokemon Go by entering the coordinates or address of the destination place (inside the search bar). You can also drag your cursor or zoom in on the map to pinpoint your required location.

Once you pick a selected location, the sidebar will show you all the location details. Once you decide the location, click on "Start to Modify," and you will reach a new destination inside your Pokemon Go game.
Conclusion
This article tells you how to throw a curveball in Pokemon Go. It is not impossible to achieve an excellent throw Pokemon Go. Practice will help you out.
The easiest and most secure way to spoof your location is through Tenorshare iAnyGo. It wouldn't violate any ToS and is the safest spoofing software, faking your location flawlessly. Installing this app would help you explore the virtual Pokemon world.