Guide: How to Spoof in Pokemon GO without Getting Banned 
by Sophie Green Updated on 2023-09-18 / Update for change location
With the worldwide popularity of pokemon, many ways to simplify this game have been devised. Spoofing location is one of those ways to get progress in the game quickly and easily.  
Moving around, in reality, seems like a hectic task especially when you have an opportunity to spoof location and play the game without any hassle.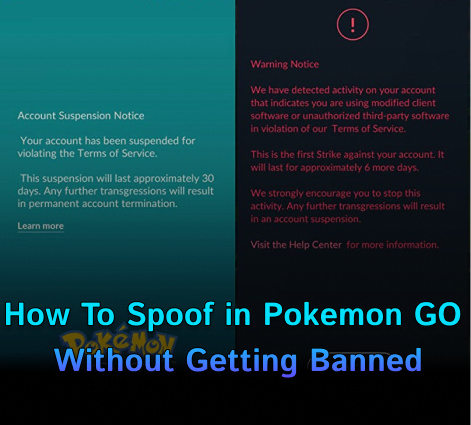 However, due to the extensive use of spoofing apps, users get banned from the game. We have made this guide to better explain to you how to spoof in pokemon go without getting banned. So read it till the last word.
What Action Will Trigger Soft Ban
Before starting how to spoof pokemon go without getting banned 2023, you should know the actions which can trigger a soft ban of your pokemon account.
A soft ban isn't a real strike on your account; however, it can restrict your activities in the game for a certain time. T
Why Will You Getting Banned
If you want to spoof pokemon go without getting banned, it is better to know how the punishment system works in the game.
1. Mechanism of Pokemon GO Soft Ban
When looking for ways how to spoof pokemon go without getting banned in 2023, you should bear in mind that there are certain things you need to avoid at any cost.
While spoofing location, whenever you come across a wild pokemon, pokestop or gym for a long disctance, a timer will automatically begin counting base on your spoofing disctance which prevents you from performing any action from a certain range. 
You can do anything, however, and go anywhere unless you haven't interacted with these three things (wild pokemon, pokestop, and gym).
Once you are done, you should wait for another two hours to perform anything outside of your last location's range. If you are planning to fly to another, make sure you do it slowly like 100 meters at a time. 
Explanation: How to spoof in pokemon go without getting banned?
2. Follow The Rules, Never Getting Banned
There is no other better way to avoid a soft or permanent ban than care. But you can still spoof the game by respecting the cooldown timer in spoofer.
Be careful and follow the rules. Don't try to rush things or play too fast because this can give a signal to Niantic which may result in a big loss.
So, you should stick to the rules and play the game in a normal flow. Explore things at a normal speed than getting red flagged in the game.
How Long Does Pokemon Soft Ban Last
The duration of the pokemon go soft ban varies depending upon the kind of action the player indulged in.
If your account was soft banned due to the spoofing location, you can expect a soft ban of 2 hours (The Longest Ban). Be aware of the do not trigger this ban for many times since it can cost you a lot.
Question: What about Changing Location with VPN on Pokemon GO
You may have heard that certain VPNs offer you the freedom to play pokemon go without any need to worry about the rules.
However, the method of using VPN to spoof Pokemon GO is absolutely a JOKE.VPN can not fake gps location on the game, and also not let you move freely in the game like the other spoofing tools like iAnyGo, iPogo, and PGSharp.
For Android: How To Spoof in Pokemon GO Without Getting Banned
For Android users, if you are looking for how to spoof Pokemon go without getting banned then consider using PGSharp.  
This app is well known for spoofing purposes on Android devices and the best part is that no technical knowledge is required. It's easy to set up with minimal experience.
Moreover, it helps you to spoof location on your android phone conveniently without any need of installing other apps which is why many game users find this app helpful. 
For iOS: How To Spoof in Pokemon GO Without Getting Banned
Tenorshare iAnyGo is a reliable and professional software that is extremely helpful to spoof location in iOS devices safely. It makes sure that you are spoofing the location without any worry of getting banned/detected if you follow the rules to spoof pokemon go. 
Here is how to spoof in pokemon go without getting banned 2023 using the Tenorshare iAnyGo Joystick movement feature.
Launch iAnyGo software and connect your device with the computer. Select the "Joystick movement" option from the main interface and proceed.

Set your desired speed by moving the speed slider. You can also set walking, cycling, and driving speeds for movement. The maximum speed limit in this tool is 72 kilometres per hour.

Lastly, circle the middle button and release it to start an automatic movement. You can tweak the direction to 360 degrees anytime anywhere.
The Bottom Line
We hope this article better guided you on how to spoof in pokemon go without getting banned. So, don't try to conquer everything in just one night. Make sure you use reliable software like iAnyGo to spoof which helps you to follow the rules more effectively.