Pokemon Go Spoofing Reddit Reviews: Guide For Beginners
by Jenefey Aaron Updated on 2022-04-13 / Update for change location
Spoofing in the Pokémon Go game is very trendy these days. This allows trainers to catch rare pokemon quickly that they would not have access to. There are many ways to do so on both Android and iOS devices. Here we are going to explain a few spoofing Reddit reviews for iOS and Android.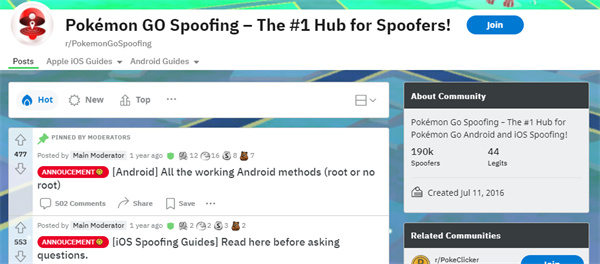 Review 1: Does Pokemon Go Spoofing Reddit For iOS Work
Due to strict security policies, iOS spoofing is more vulnerable to being detected. However, Reddit Pokemon go spoofing is somewhat safe on iOS by using an external BT dongle like iTools mobile. Here is how pokemon go spoofing Reddit for iOS works using iTools mobile.
iTools BT is a Bluetooth device that works with a companion app known as iTools BT app. Both iTools device and iTools app work together to spoof the location of your iPhone. 
When you connect both, all your movement will be done on the iTools BT app. It looks like a map having icons for gyms, pokestops, and other places. 
Pros:
It doesn't interact with the pokemon go app. So, you can use it with pokemon go, client.
Its Bluetooth function eliminates the need for a dongle hanging off of it. It can spoof in plain sight of people.
It supports auto walk. It can also auto-create gpx based on the certain places in pokemon go like gyms/stops within a certain distance. 
Cons:
Sometimes, pokemon go get little slower after some distance.
This device works efficiently on iOS 12 or earlier. If you are using an iOS 13 device then you won't be able to spoof distances more than 20km.
You will have limited raid cords, quest cords, and nest cords.
The installation instructions are kind of poor.
Review 2: Does Pokemon Go Spoofing Reddit For Android Work
Pogo spoofing Reddit does not work for android 5 or below. However, for android 6, 7, 8, 9, 10, and 11 different methods may work. Here is how pokemon go spoof Reddit for android work:
Without the rooting method in which you need to downgrade google play services work for android 6, 7, and 8 however it doesn't support the later versions. 
The other is a rooted method with magisk in which you need to unlock the boot loader first > Google the name of our device > Unlock the boot loader. This method works for only android 8 and 9. 
Smali patcher works for android 10, and 11. In this method you need to run "smalipatcher.exe"> Select your desired patch > Install magisk module > Enable Smali patcher module in magisk.
Pros:
Some method provides high accuracy.
With the smali patcher, you can spoof your location without rubberbanding.
Cons:
No method works for all android operating systems.
You need some old and cheap devices for these methods to work.
You need some old and cheap devices for these methods to work.
Complicated Guide VS Easy Tool: Which Will You Choose 
Complicated Guide: The above-discussed guides of pokemon go spoofing Reddit work for Android and iOS in one or another way. However, there are many complexities regarding the results of these methods. Moreover, it's very difficult for a non-tech person to get benefits from their guide since it's very complicated and tough to operate such spoofing methods on different Android and iOS devices.
Easy Tool: Compared with the above-discussed methods, Tenorshare iAnyGo, a professional iOS location changer software, offers a very smooth and easy method to play Pokemon go. You don't need to be a tech guru to understand the steps as it's quite easy for a beginner-level person to understand it. You can freely change GPS location without any need of jailbreaking your device. 
Here is a simple step-by-step guide to using iAnyGo' joystick movement feature to play Pokemon Go. 
Launch Tensorshare iAnyGo on your PC and connect your device using a USB cable. From the home screen of iAnyGo, select the "Joystick Movement" mode (4th one in the lower-left corner of the screen).

Next, you will have an option to select the speed for your movement by dragging the slider. You can select any walking, cycling, or driving speed. The fastest speed in this slider is 72 kilometres per hour. 

At last, drag the middle button to circle and release it. Make sure the mouse pointer must be placed in the circle when you drag the middle button. After this, GPS will start moving at the set speed. During movement, you can tweak the direction anytime in 360 degrees. 
FAQS About Pokemon Go Spoofing Reddit
Most of the trainers ask about pokemon go spoofing as it's becoming very common in the game. Here we have gathered some of the commonly asked questions regarding spoofing in Pokemon Go for your help.
1. To Spoof or Not to Spoof
Spoofing is highly addictive. It offers many leverages to you in the Pokemon Go game. You get to know the real fun of the game due to quick access to rare things in the game which comes only when you play the game regularly.
2. GPX Routes Pokemon Go Spoofing Reddit
GPX routes can be a great plus in the game as you can make your pokemon trainer auto-walk in the game. You can use Tenorshare iAnyGo as it supports importing gpx files allowing you to start moving between two already arranged spots. 
3. Question for iOS Users: Do I Have to Jailbreak iPhone for Spoofing
Some spoofing tools involve jailbreaking your device for spoofing. However, with Tensorshare iAnyGo it's completely safe as you don't need to jailbreak your iOS device and you can freely change your GPS location.
The End
Pokemon go spoofing Reddit reviews show some methods to fake your location on Android and iOS devices. However, these methods are quite complex to understand and work on selected devices with different conditions. So for iOS users, we recommend you to use a safe and easy option Tenorshare iAnyGo which can serve you in the best possible way.