Guide: How to Delete Pokemon GO Account
by Sophie Green Updated on 2022-10-19 / Update for change location
If you have been a fan of the pokemon go game for a long time and now want to take some rest from this game then you should. Some people raised concerns explaining that they found issues with the pokemon app which were serious to consider.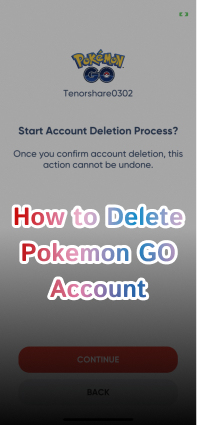 For example, this game requires you to play by moving around and due to this reason, many traffic accidents, injuries and robberies have been reported. So, whatever, your reason for deleting this game here is how to delete pokemon go account.
How to Delete Pokemon GO Account on Pokemon GO
Deleting a pokemon go account doesn't take a lot of your time. All it requires is to submit your request to delete your current pokemon go account and it will be deleted from the pokemon go user's profile. Here is how to delete a pokemon go account. 
Go to SETTINGS.
Scroll down to find Advanced Settings.

Tap on Delete Account.
How to Delete A Pokemon GO Google Account
Most of the time, users choose a google account as a source to sign up for Pokemon go account. In this way, you can access your pokemon go account using the google account. So, if you are looking for a way to delete a pokemon go account linked with a google account then here is how to delete a pokemon go google account.
Visit the google account settings page.
Find the services option then select pokemon go.
Scroll the page to the bottom and press "Delete your account."
Confirm your decision and press "delete account" to finalize the deletion process.
This action will delete your account permanently.
Can You Recover Pokemon GO Account After Deleting
After knowing how to delete your pokemon go account, the next concern you may have is the chance to recover your account. Until now, pokemon go accounts are not deleted for staying inactive in the game. 
It's only possible if you initiated the deletion process. This process is irreversible. However, the deletion process takes a few weeks to complete. So, you can request customer support of pokemon go to help you in restoring your account.
How to Set Up A New Pokemon GO Account
As we have discussed how to delete my pokemon go account now you must know how to set a new pokemon go account in case you want to have another fresh pokemon go account. Here is how you can set up a new pokemon go account.
Open the pokemon go app and you will see an option to sign up either with google or with the Pokemon trainer club. Tap on the second option if you don't have a google account.
Click on register, and the process will take you to the official website of pokemon to complete the signup process.
Provide all the information in the respective boxes including date of birth, and country. Tap on continue.
The next screen will show you a box asking for a username. Set a unique username.
Next set a password, and enter your email address.
Check the box to agree to the rules and regulations of Pokemon and tap continue.
Verify your email and log in to your PTC account.
Tired of Playing Pokemon GO? Try iAnyGo to Play it Without Moving
If you are deleting Pokemon go just because you are tired of playing it by moving physically on rough tough days then we have a solution. Why not try spoofing in pokemon go? It's a way to fake your location and play the game with boom and explore more features quickly. 
Tenorshare iAnyGo provides a way to spoof your location virtually and go anywhere you want in the game. Doesn't it sound exciting already? Yes, it is. Because you don't need to worry about your progress in the game and move in extreme weather outside. Here is how to do so:
Launch Tenorshare iAnyGo on your computer and connect your device with it. Select the 4th option "Joystick movement" and proceed.

Choose your required speed. You can also set cycling, walking, or driving speed. The maximum speed you can have is 72 kilometers per hour.

Now bring the joystick into the circle and release it to start an automatic movement in the game.
The End
That's all about how to delete pokemon go account. Deleting a fully active pokemon go account is the hardest thing. If it's because you are too tired of playing it by going around then you must think twice. Since Tenorshare iAnyGo offers a way to play it while staying on your couch and get as much progress as you want. Just a few clicks and you are in another corner of the world.