How to Move in Pokemon GO without Walking 2023
by Sophie Green Updated on 2022-12-16 / Update for change location
The Pokemon go game holds a lot of surprises for those who play it regularly. As we all know playing requires physical movement which sounds impossible at least daily. However, there is a better way to play pokemon go while staying home but still showing on the map that you are moving.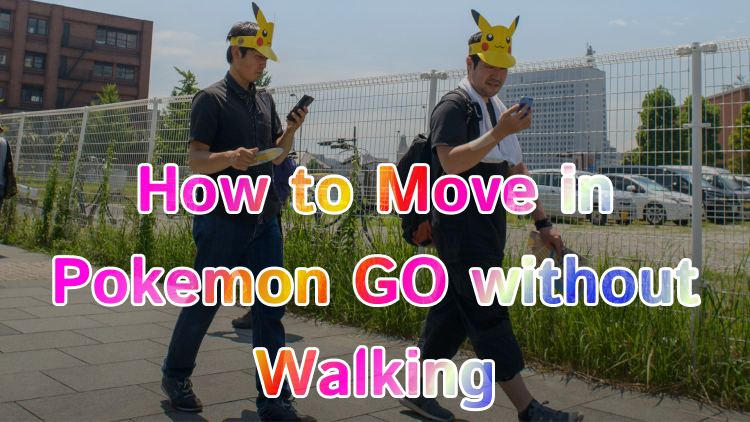 If you are wondering how to move in pokemon go without walking 2023, then this article will help you out.
Can You Move in Pokemon GO without Walking 
A big YES! You can definitely play pokemon go without walking. To play this, you need to spoof your location in the game using a reliable and effective location spoofing tool. There you get different options to walk in any region in the whole world. 
Moreover, it doesn't require you to have even a little bit of physical movement. You keep going and progress in the app without walking an inch. 
Video Guide: How to Move in Pokemon GO without Walking 2023?
For iOS Player: How to Move in Pokemon GO without Walking 
Talking about iOS users, then the options to spoof in pokemon are gradually increasing as new apps are popping up in the market every passing day. So, to help you out in this matter we have boiled down all the available options to the safest one and that is Tenorshare iAnyGo.
This location spoofer helps to fake your location to any part of the world and stimulate GPS movement without any need to step out. With iAnyGo, the question of how to find pokemon in pokemon go, how to spin pokestops from home, and hatch eggs in a quick way will no longer be a problem. 
The availability of the Joystick movement feature from iAnyGo makes it super easy for you how to play pokemon go while sitting at home. With this, you can stimulate GPS movement, and control your speed and direction of movement. That all adds to your realistic movement in the game. Here is how to play pokemon go while sitting at home.
Download and launch iAnyGo on your computer and connect your iOS device to it. Proceed with the 4th option "Joystick Movement".

Set your desired speed from the speed slider.

Next, bring the joystick into the circle and release it. This will start your automatic movement in pokemon go. You can tweak direction anywhere using the keyboard.
For Android Player: How to Move in Pokemon GO without Walking
Spoofing on Android is also not hard but there is no built-in feature to support spoofing. Due to this, you can use a spoofing app. PGSharp is a pokemon location spoofing app that is particularly designed for android devices. 
There is no iOS version available. Make sure you remember the login credentials of your PTC pokemon go account before you delete the pokemon go app. Here is how to play pokemon go at home without moving using PGSharp.
Download the PGSharp app by visiting its official website. Then install it on your android device.
Find out the Beta key from the PGSharp official website. There sign up for a free trial and create a password to login.
Now copy and paste from the login credentials of the PTC Pokemon go account and the beta key you just got once you complete your sign-up process to get a PGSharp free trial.
Now you can use this program on your android device.
Tips for Moving in Pokemon GO without Walking
Spoofing in the pokemon go game is safe but with few conditions. Excess of everything is bad so it's your responsibility to use this option wisely. In this section, we have mentioned the most important tips to help you in this process.
1. Be Careful of the Soft Ban
There are certain things that lead to softban. Among those playing pokemon go using a spoofing tool excessively is one. You should minimize the use of spoofing all the time in the game. Make sure you don't change your location multiple times in a day and try to walk at a natural speed. 
2. Walking Speed Limit You Should Know
Moving fastly in pokemon go gives a red signal to Niantic that something is fishy. So, you must maintain a natural speed for your movement. The fastest speed you can have without facing any issues is 4 m/s which is approx 8.95mph. Exceeding this speed may lead to inoperative movement.
The End
We hope this essay has helped you understand how to move in pokemon go without walking 2023 and provided recommendations to make your adventure more effective and safe. If you have an iOS device, don't forget to give iAnyGo a try because it is the safest method to play Pokemon and gives you total control over your movement in the game.