How to FIx PGSharp Can't Login With Google 2023
by Sophie Green Updated on 2022-12-16 / Update for change location
Users are facing PGSharp login issue as the PGSharp can't login with google 2023. This complaint has been around for quite a time as PGSharp is not supporting the google login directly.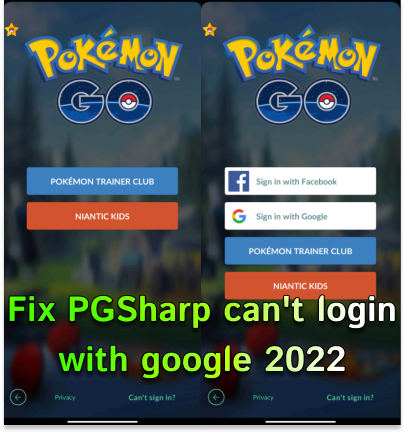 There are certain reasons why one isn't able to login using PGSharp. So, what to do about this? Will users be never able to use PGSharp or is there any other alternative that one can opt for to avoid this issue? Let's look into it further then.
Surrounding the enormous complaints that revolving around about PGSharp can't login with google. Basically, the actual reason behind this is the birthday you choose is younger than 18 years old. If you set a teenager's birthday on PGSharp, then the Google login and Facebook login option will be unavailable.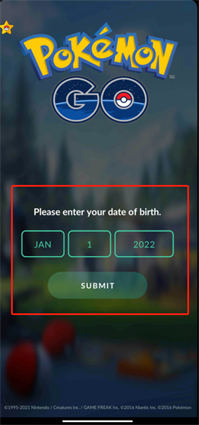 How to Fix PGSharp Can't Login With Google 2023
As we figure out why PGSharp can't login with Google, then we are able to fix it. Follow the steps to fix this problem.
Delete the previous PGSharp on your device.
Download a new PGSharp on your device.
Note: Launch PGSharp and select the birthday, select a birthday that is older than 18 years old.

Now you can see there is Google login on the login option.
How to Fix PGSharp Can't Login With Facebook 
If the PGSharp can't login in with Facebook is caused by Facebook login option not showing up, that you can try the solution above to fix the problem.
If you see the Facebook option and still unable to login with Facebook, here you can use Google account to login the game.
Hopefully, this will solve the issue of the PGSharp Facebook login not working out and will help in a successful login.
Will You Be Banned while Using PGSharp 
Most of the time players get banned while using PGSharp. Here we will suggest some of the precautions that players can opt for and avoid soft bans and permanent blacklisting.
The first tip would be to use a reliable tool like PGSharp for android and for iOS users tenorshare iAnyGo would be a good option. Because both of these application works efficiently and are super reliable. 
Secondly, don't trigger the soft ban too many times. This can happen because of various reasons like changing your location too frequently or using unreasonable movement which looks fake and can trigger soft bans. So, make sure not to trigger it too many times as it can lead to permanently getting banned.
Also, don't use a third-party client to catch the Pokemon, as it can also lead to getting easily caught.
These tips will help players not get banned and enjoy the game with ease. 
PGSharp iOS Substitute-iOS Pokemon GO Spoofer You Are Looking for 
Although PG Sharp is good option for location spoofing, however, it only works on Android device. There is another alternative that can help in spoofing locations for iOS device, which is Tenorshare iAnyGo. The joystick feature makes this app the best among others and helps in a smooth movement. 
Launch the program on your computer. Connect your iPhone to the computer. Now choose the joystick movement mode on the home screen. You will find the joystick in the lower-left corner of your screen.

Now set the movement speed by dragging the slider.

Now use the joystick to start the automatic movement. This is how you will use the iAnyGo go joystick movement which is very simple and easy to use.
The End 
We hope now our readers won't face the issue of PGSharp can't login with google 2023 as we gave some useful solutions for logging in.