Top 5 Ways To Fix Pokemon Go Black Screen [iOS/Android] 
by Jenefey Aaron Updated on 2023-01-04 / Update for change location
Oftentimes when playing the wonderful game, pokemon go, users witness a pokemon go black screen that causes your screen to go blank and you will not be able to see anything: your movement, the buttons, the scores, nothing. Don't worry, this article summarizes the cause and cure of pokemon go black screen 2023 for you.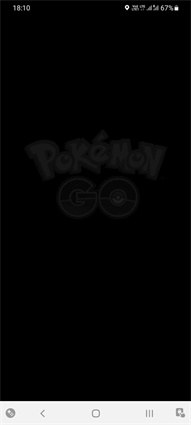 Part 1: Why Does Pokemon Go Black Screen Pop Up 
The most common reason that a pokemon go black screen of death pops up in your window is because you turned on your battery saver mode. This function causes your game to hang and also triggers black screens and invisibility. This error is pretty common and disrupts the general user experience. Here are a few reasons why it comes up: 
Cache buildup: Regular and excessive gameplay causes cache buildup, most of which is corrupt files. 
User settings: Personal settings and preferences on your phone can also trigger the error, such as battery saving mode, etc.
App issues: This problem come up when people download apk from fake sites, etc.
Part 2: How To Fix Pokemon Go Black Screen 
We understand how disturbing and irritating a pokemon go black screen iOS can become for its users. For your betterment, we have listed the five best steps to fix pokemon go black screen 2023. 
1. Force Quit Pokémon Go 
This method is helpful if your game crashes often and you are not much worried about losing immediate or new data. 
Leave the game.
Swipe up on the home screen to force quit.

Re-launch the game.
This method is effective to get rid of the pokemon go black screen iOS. For android, if you don't find this option in the multitasking screen, try going to storage>apps>pokemon go>force stop.
2. Clear Pokémon Go's Cache (Android Users) 
For android users, your pokemon go could be crashing because of cache buildup and corruption. To solve the problem, follow this:
Go to the storage.
Choose apps.
Go to installed apps.
Locate pokemon go.
Click and choose cache.

Click on clear cache and select ok.
Your cache will be deleted, after which your app should work well. Note that cache can slow down your game and affect performance. Clearing it often is beneficial for your app and device both. 
3. Toggle Off GPS Setting on Your Phone 
To get rid of pokemon go black screen after Niantic logo, you can also try toggling the GPS setting on your phone off and on.
For iOS Users: Go to Settings > Privacy > Location Services. Toggle the Location Services.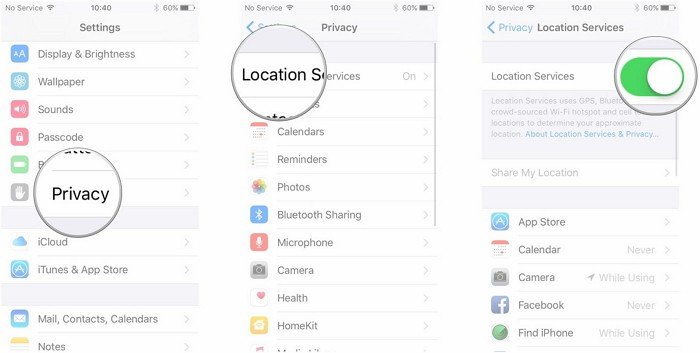 For Android Users: Go to Settings >Scrollw down to the Location>Disable and enable it.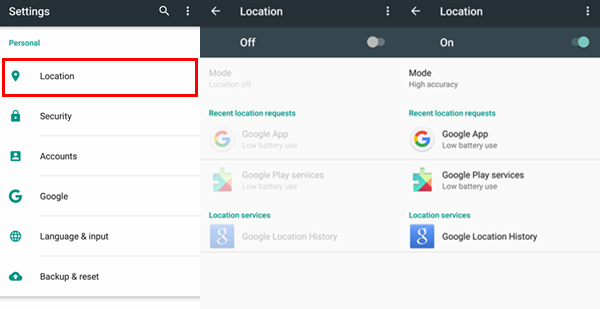 4. Update Pokémon Go To Latest Version 
Most often, users that face pokemon go black screens do not have the latest version of the application on their device. 
Go to your play store or app store.
Search pokemon go.
Click on update.
After updating, you will have unlocked so many new functions and features and your game will run smoothly.
5. Reinstall Pokémon Go 
Rarely, users do not find any success in removing pokemon go black screen by either of the steps mentioned. In that case, the only unfortunate option will be reinstalling the game.
Uninstall the app.
Install again from the play store or app store.
Login using your credentials.
Hopefully, you will be taken to your trainer account with all pokemon intact. 
Part 3: Tips: How To Play Pokemon Go Without Moving 
Are you also done with having to walk for hours and hours in hopes of encountering cool pokemon, especially the shadow pokemon everybody's been talking about? We have the perfect saviour for you. Presenting, Tenorshare iAnyGo. 
Tenorshare iAnyGo is an excellent GPS spoofing software that lets you fake your location and teleport to any place on earth in seconds. Catch your dream pokemon from the comfort of your homes by using this messiah!
Download the software to your pc. Launch it and select the joystick mode on the software.

Now connect your phone or tablet with a USB. The joystick will appear in the lower-left corner.

Drag the slider to adjust the speed of movement to match walking, cycling, driving, etc.

Drag the joystick to begin movement. You can tweak direction using the joystick or the arrow keys on your keyboard.
Extra tips:
Zoom into your GPS map to have a closer look at your surroundings.
Stop anytime by tapping the middle button
You can also quickly teleport to a different nation by adding the coordinates derived from poke snipers.
Conclusion  
Say goodbye to the days when pokemon go black screen prevented you from enjoying the game to the fullest. With wonderful tips and the best teleporter, your pokemon go gameplay will surely skyrocket to the highest. What are you waiting for? Teleport in the Pokemon Go today and grab all your favourite pokemon before the next battle league!