Spoofer Ru Review/Download: Does It Really Work
by Jenefey Aaron Updated on 2022-06-17 / Update for change location
When you use a location spoofer like spoofer ru to teleport virtually, you can get access to newer Pokémon, gyms, and battles that you wouldn't otherwise ever be able to visit! Let us have a look at everything there is about spoofer ru, and if it works anymore.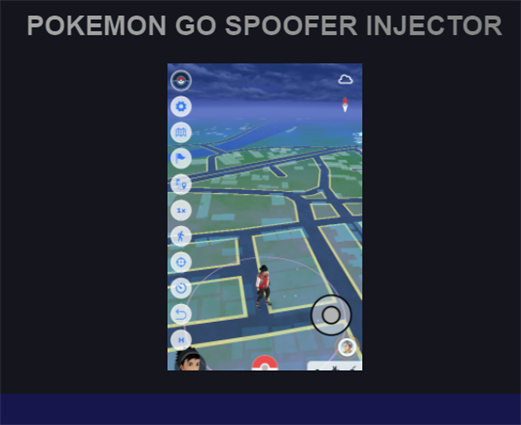 Part 1: What Is Spoofer Ru 
Spoofer Ru is an insightful tool available to use online that users worldwide can use to spoof their location and teleport virtually to any place they want. Specifically designed for Pokémon go players, the software gives provision for Pokémon trainers to change their location. When they reopen their game, they will be at a different location and have access to multiple games, Pokémon, battles, and gyms. Features of Spoofer RU:
Feed radar.
Auto-generate GPX.
Nearby radar.
Auto walking.
Joystick and more.
Sounds interesting right, so how to download Spoofer Ru? Check the next part.
Part 2: How to Download Spoofer Ru 
Downloading spoofer ru before using it is an important step. You can not use spoofer ru unless you download it on your system. However, the tool will require you to first inject the application on your computer as a one-time procedure before you can actually install the tool. Follow these steps to download spoofer ru:
Visit the official website of the tool.

Now, inject the tool into your iPhone.

Follow the steps shown on the screen.
Note that there is no technical evidence to support this, users have experienced unsafe behaviour with the app after injecting it into the computer system. As we tested, it is not able to download from its official web after clicking Inject and finishing other processes. If you have time to give it try, here is the link.
Part 3: Does Spoofer Ru Actually Work on iOS 
Much to our surprise, spoofer ru doesn't work on iOS anymore. The reason is unknown, but most of the time it lags and doesn't really fulfil its purpose when you use it as spoofer ru iOS. There's no need to worry, though. We have the perfect alternative of the spoofer ru iOS that you can use to safely, securely, and professionally spoof your location on Pokémon go. 
Tenorshare iAnyGo is a new-age technology. A tool that helps you spoof anywhere on earth in seconds, at the ease of your fingertips. Let us learn more about this safe alternative for spoofer ru iOS. 
Part 4: Professional and Safe Pokémon Go iOS Spoofer-iAnyGo 
Tenorshare iAnyGo is the professional tool you've been looking for! Game up your performance on Pokémon go with this ultimate solution and teleport in seconds. With enhanced features, an easy-to-use interface, and several ways to control how you virtually move, Tenorshare iAnyGo is the real future of teleporting online. Features:
GPS joystick lets you control direction freely.
Spoof up to 15 devices using a single PC.
Supports the latest iOS devices.
Works with every location-based app.
You can use the joystick mode to efficiently play Pokémon go without letting the game catch you spoofing your location. (Yes, it is possible.) Try out the following steps to use the joystick mode of Tenorshare iAnyGo to successfully spoof online. 
Download and launch the software on your device. By default, the change location screen will appear. Choose joystick movement and click enter.

Set the movement speed in the setting bar. Make sure to not make it unrealistic, otherwise, you may attract suspicion. 

Use the joystick to begin automatic movement. Move the joystick to change direction in 360 degrees. Click on Pause or Stop as and when required.
Tips and tricks while using Tenorshare iAnyGo:
Zoom into the map to get a better view of your new locality.
Avoid Changing Location too often with Pokémon go. This will draw in suspicion.
Don't let your speed exceed the possible speed of a human walk/run. 
You can also use multi-spot or single-spot movement to fake steps in Pokemon Go.
It's that easy! Now you can use coordinates from poke snipers to catch rare Pokémon and build your dream army. You can also participate in international battles, leagues, and more using this efficient tool and teleporting. Play Pokémon go even if you're grounded or in the countryside with little to no Pokémon. The world is yours. 
The Bottom Line 
Till here, you might have found that Spoofer Ru is a total scam to trick readers to visit their web. However, there is still a safe and reliable tool for Pokemon Go players to spoof the game. Don't hesitate to use iAnyGo, it will never fail you.